Recently Microsoft conducted a battery test to find out which browser consumes more power while using the internet on laptops. In this test, three laptops of the same configuration are taken, and in each one laptop Mozilla Firefox, Microsoft Edge, and Google Chrome browsers are opened. To prove the results to everyone, Microsoft recorded the test video so that there will be no more issues with the results.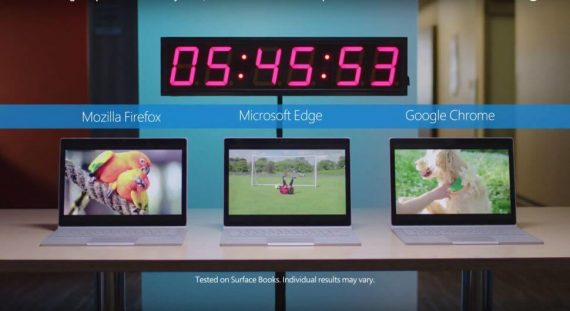 In battery saving test, Microsoft edge browser obtained the top place followed by Google Chrome and Mozilla Firefox browsers. Microsoft edge dominated all the popular desktop browsers lasting up to 35% longer than the Google Chrome and 77% longer than the Mozilla Firefox browser. So with the results, we can conclude that Microsoft edge browser takes less power consumption than the other popular internet browsers, so using edge browser in your laptop will save your battery backup.
Microsoft Edge Browser Results
Here are the browsers total streaming reports, the Microsoft edge browser had lasted up to 12 hours and 31 minutes of streaming before the power off while the Mozilla Firefox browser lasted for 7 hours and 4 Minutes, the Google Chrome managed to last for 9 hours and 17 minutes of streaming without any issues. Both browsers tried to perform well, but due to the inbuilt plugins and extension, Firefox and Chrome take more power than the edge browser. The edge browser doesn't use any external extensions and plugins this is the reason why edge browser performs faster and consumes less power during operation.
Also Read: How to install Microsoft Edge browser on Windows 7
As we said, all three laptops used for the test run with identical surface book models equipped with a 2.4GHz i5-6300U processor with an 8GB RAM and the Intel HD graphic 520 GPU processor configurations. Microsoft maintained transparency during the tests by using similar hardware configuration and the each device is muted, the brightness is set to 75% and all the Bluetooth, location other services are disabled during the test.
Recently Microsoft launched Windows 10 creators update for Windows users which are free to download, in creators update Microsoft introduced a lot of advanced features such as 3D paint, night mode, enhanced privacy settings and also upgraded the previous windows services. So in Windows 10 creators update, Microsoft edge browser performance has been improved to reduce the power consumption. The other new features also upgraded to battery-friendly browsing sessions, so compared to popular Chrome and Firefox browsers, the all new Microsoft edge browser allows you to reduce your power consumption while browsing the internet