Microsoft rolls out the preview build 22563 update for Windows 11 that comes with added features and changes in the Taskbar section. This new update from the company brings improvements for the tablet mode with subtle changes. These changes from Microsoft will make the tablet experience much better.
The tablet users who run the latest Windows 11 OS can utilize these new options in the latest build. This new look on the tablet mode will enable a less cluttered space overall along with easy gestures. The new taskbar now shows minimal yet most important stuff instead of other unimportant information.
Latest Windows 11 Update with Improved Taskbar Details
Microsoft's new Preview update of Windows 11 will come with an updated taskbar; that comes with less and essential information shown in the tablet mode. The mode shows information such as the time and date or network and battery status. Moreover, the taskbar comes with a collapsed version that gives a better UI look for the tablet.
The UI of the taskbar looks the way it is on the new update because the new update hides the search, Widgets, app icons, and the Start button. You get more screen real estate in the Tablet mode, as the regular taskbar already gets thicker than the previous generation of Windows. However, you can use the swipe gesture on the taskbar that reveals hidden icons.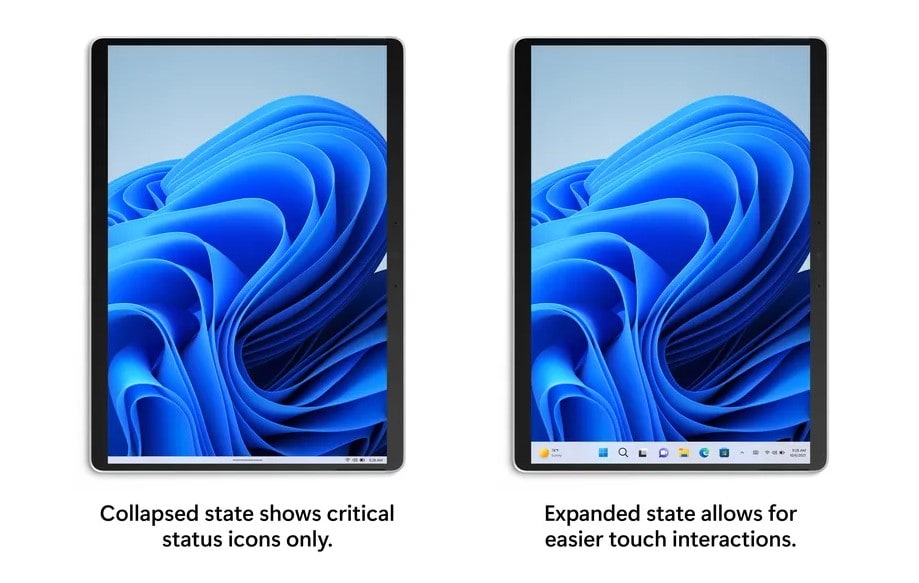 Furthermore, Microsoft has made some tweaks with its widgets on the Windows 11 operating system. Previously, the widget section used to stay on the right of the taskbar on Windows 11. Now, Microsoft has changed the placement of the widget section of the latest version; providing even more substantive information for users than the previous builds.
The widget feed comes with more personalization and gets more discoverable on the desktop.
Speaking of other improvements, the update brings easier multitasking with the Snap option making its way through the Edge browser as well. Coming to the other changes in the new build, you can witness 37 new emojis testing on the operating system featuring; the troll, beans, and melting face emoji similarly paving its way to the iOS and Android smartphone.