Microsoft integrated OpenAI's ChatGPT services onto its Bing search engine platform in February, Since then, the platform has seen a slew of updates and improvements with each update. Apart from Microsoft Bing, recently, the tech giant has integrated the GPT tool on its Microsoft Office 365 and Edge browser with Bing.
Now, the company has introduced a new way to interact with Bing on Windows PC. Microsoft Bing will now support Voice Chat for PC users. This means users can interact with AI Chatbot using their voice on the browser's desktop version. The feature is now available for users on the Edge browser for the Windows system.
Bing Voice Search Supports Multiple Languages
The new voice-based chat cum search feature is a new addition for the Windows PC users of Bing. The users can just tap on the provided microphone icon in the chat bar and ask questions to receive human-like responses from the AI bot. Furthermore, the Bing Voice search will now support up to five more languages and more launches will be added in the near future.
The five languages supported on Bing are Japanese, French, German, Mandarin, and English. In the next updates, Microsoft will add the Hindi language along with many more global languages for voice-based searches. Additionally, the chatbot will support the answering of queries in a digital voice.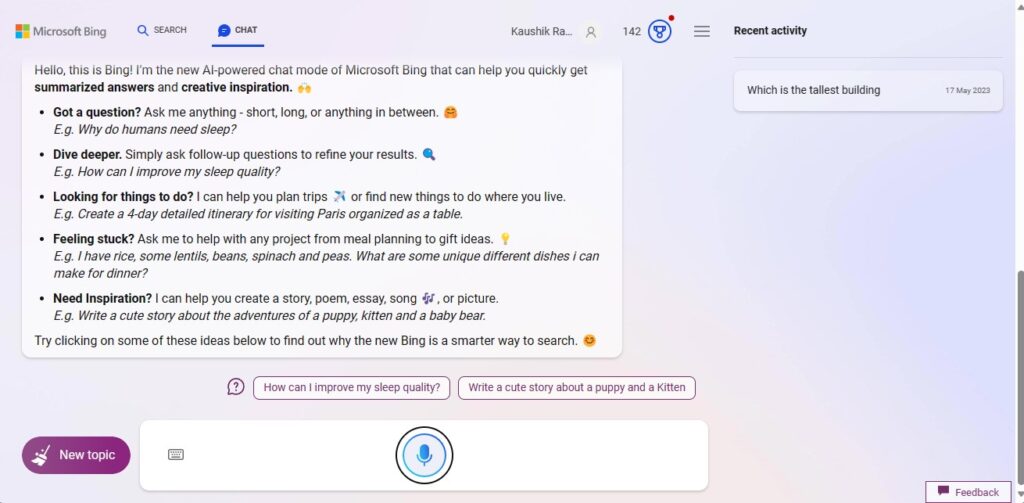 The support for Bing's voice searches on its AI-based chatbot came just after the news of Microsoft discontinuing Cortana, their very own digital assistant. The company has made a lot of progress with the AI tool in recent times. Soon, Microsoft will integrate AI into all of its products to generate better outcomes for the provided prompts.
Microsoft is ahead of its game when it comes to integrating Artificial intelligence into most of its services. Google has recently engulfed its journey of AI and made the Bard AI chatbot public in select countries. However, Microsoft has brought AI features to its most popular platforms like Microsoft 365 Office and its Edge browser.
Speaking of the Bing AI chatbot, Microsoft has increased the conversation history, a user can make during a session. Previously, the AI Chatbot had a limitation of only 20 responses at a time in a single session. Now, users can have 30 responses at a time as the bot was getting weirder if there were more responses in a single session.