The Messenger from Meta came up with many upgrades and changes in the past couple of years; that significantly changed the way the application works. This time, the social media giant is testing a new split payments feature on the messaging application.
The sole purpose of bringing this new feature is to implement a basic system of equal contribution among users while billing any type of payment.
Facebook begins testing Split Payments on Messenger
Messenger is a popular medium for many around the world for texting, voice, and video calling applications derived from Facebook. Recently, the introduction of Facebook Pay on the application; has paved a new way for using it not only for texting but even for chatting.
Now, Meta has started testing the Split Pay feature progressively on the application to make shared payments easier on group chats.
This new Split Payments feature on the application works on group chats; as well as individual chats and works flawlessly to split equal shares among a bunch of friends.
For example, you might have gone with your friends to have lunch and are in dire need to split the bill. The Split Payments feature will calculate and split expenses right away without having to go out of the application.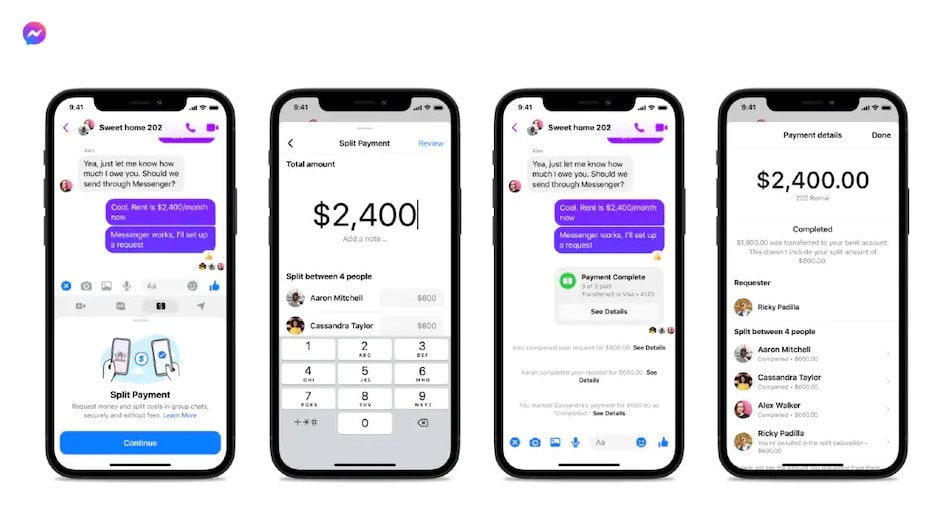 The users will get a prompt with a "Get Started" button; when they are in the Payments Hub section of the Messenger application. After clicking the "Get Started" button, users can split a certain amount among their group members to share the expenses.
The user even can change their contribution right in the feature and after filling in the Facebook Pay details; group members will receive a notification to pay their share.
The social media entity has announced the feature in a blog post for Messenger; although the feature is still in its Beta stages. As per the announcement post, the feature will make a debut in the United States as of now; and there's no information regarding the availability in other countries.
The rollout of this new Split Payments feature to the users in the United States will begin early next week on Messenger.