Musical.ly is a Chinese video social network application, which allows users to record videos and sync it with sounds available on the platform. The application has become so popular that it reached 100 million downloads around two years ago.
Facebook wants to dominate this industry too. We already know the company grabbed Instagram and WhatsApp too. After the failed attempt to acquire Snapchat, they brought a number of Snap-resembling features to own apps.
Facebook Users will be able to Lip-sync Live to Their Favourite Tunes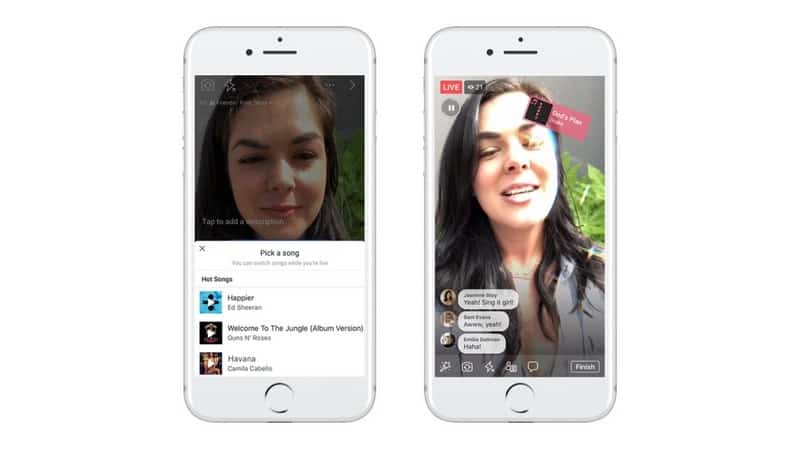 You might have seen a lot of lip-synced videos on social networks, which carried a Musical.ly tag. Users can make their own versions of movie scenes with the original audio. Maybe, the enormous popularity of such videos made Facebook take this step.
Yesterday (05-06-2018), the company has made the announcement regarding this lip syncing via live streams. The company is collaborating with music labels to eliminate licensing issues.
As you already read, you will only get to choose a music of your interest in your live streams. You can do anything before the camera while the tune plays. Facebook will give you an option to add a description of the performances. Moreover, the feed will display the song and the artist for the viewers, giving them a chance to follow the musician on the platform.
When you compare Musical.ly with Facebook Lip Sync Live, it may seem there is no direct competition. However, the social networking mammoth has decided to provide the users with an option to use the lip syncing for video recordings. They won't release the feature for everyone, though.
Given the licensing deals, Facebook has closed with the music labels, you will get access to a large library. We haven't got any confirmation about the time Facebook gets the feature. As you already read, we can use it only for the live streaming sessions. Slowly, they will bring lip syncing for video recordings done through the platform.
They have announced the upcoming feature via a blog post. Of course, we can expect more similar features from them in the future. A Facebook statement read they are looking forward to continuing to work with the music industry to create new ways for people to connect and express themselves through music across our family of apps.
Facebook has almost two billion active users. Though the competitors, Google and Apple invest heavily in streaming industry, they stayed low. It is only now the company is making their way to the music industry.
Will they launch a music streaming service? Let's wait and see!