We are living in a time of transitions when things that once felt so new are slowly becoming the status quo, which is proven best by the fact that an array of new video/music players vies to boxes their way to your computer after Microsoft's confirmation of cancellation of Windows Media Player in Windows 10. Among them, 5KPlayer, as a media player for Windows that did not come into existence until a while back, has already been one of the most formidable contenders. Think I am bragging? Your mind will take a u-turn at the end of the passage.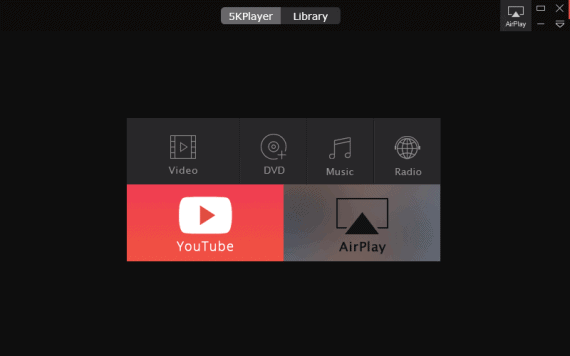 No other media players for Windows are as comprehensive as 5KPlayer, which is an all-round encapsulation of HD video player, music player, radio station receiver, AirPlay media streamer and online video downloader. The first three features are omnipresent while the latter two are unexpected functionalities rarely seen on congeneric software, and more on that later.
Back to Basics
As HD video/audio player, 5KPlayer not only supports playing 4K, 5K and 8K Ultra HD videos with multi-subtitle tracks, YouTube videos, HD Camcorder, Blu-ray videos in MKV/M2TS/MP4/AVI/WMV/FLV file extension, but MP3 music, DTS multichannel surround sound, AAC, AC3, WMA, and FLAC & ALAC lossless audio files.
5KPlayer could also serve you as a free-region DVD player, which is greatly demanded by many in view of the fact that Windows Media Player, along with DVD playback capability, won't see the light of day in Windows 10. However, if you want to backup DVD to hard drive or convert DVD to handsets, you should look elsewhere for a free yet professional DVD ripper.
Innovations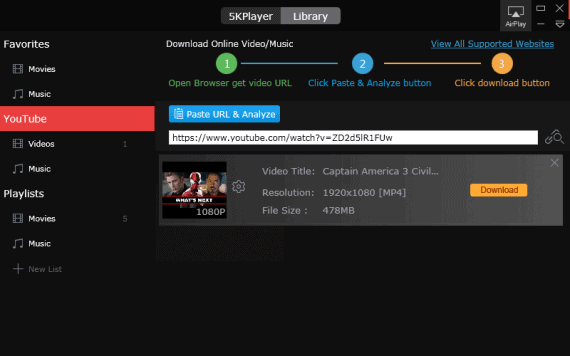 One of the bonus features boasted by 5KPlayer is free downloading online video. Without subscription, you can free download 4K, 5K, 8K, Ultra HD or 1080p HD videos in the form of   MP4/FLV/3GP/WEBM. Whether the video you long for saving to local disk is from YouTube or Vimeo, Vevo or Metacafe, you will be able to download it with only a few clicks due to the built-in video websites surpassing 300. Aside from that, 5KPlayer also converts the online videos to MP3 or AAC music format as an independent YouTube to MP3 video downloader and converter.
Apple AirPlay technology is another surprise hidden in this media player for Windows, meaning you are able to stream video (MP4, H.264 and M4V)/audio (MP3 and AAC) from device A to device B as long as both of them sport AirPlay tech and share the same network and the path of streaming is diverse, including iPhone, iPad and iPod to Windows; Windows to Windows; Windows to Apple TV; Windows to Mac; Mac to Windows. Your appetite for large screen can be easily satisfied.
BONUS: How to Connect Apple Wireless Mouse and Keyboard to Windows 
Conclusion
Everything together, there's no skirting around the fact that these many features flaunted by 5KPlayer come together to form a potent media player for Windows on a level which is rarely seen.