What we think about
Ninja Affiliate
Awesome plugin to manage your Affiliate links and to earn more money online with zero effect. Even you can earn $20 cash back if you use our link* This deal is available for 30 days from the date of article we published (we published this article on 19th August 2012)
Have you tried Ninja Affiliate? What is your online income? Adsense? Direct Advertising? Paid reviews? Affiliate marketing? When we ask any bloggers about this question, most of them would say all of them. But they will say Affiliate marketing is the main source of their income. In fact, 60% of bloggers income is from affiliate marketing.
Do you know you can convert your content into money? Yeah! I'm right, why don't you add affiliate links to your content. Ninja affiliate WordPress plugin from MaxBlogPress converts keywords in content to affiliate links which can drive a lot of income to your pockets. I'm using this plugin for one month and I observed some good results in my online income. This post is a small review on Ninja Affiliate WordPress plugin.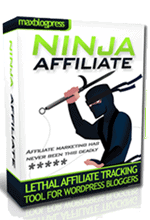 Ninja Affiliate Review
Check this small review on Ninja Affiliate premium WordPress plugin by MaxBlogPress and buy this plugin if you want to earn huge online income
What is Ninja Affiliate Plugin
Ninja Affiliate is an awesome plugin from MaxBlogPress which converts keywords or key phrases in a blog post or page into affiliate links. This plugin can do these things with zero effect from you. All you have to do is configure the plugin one time with your links and keywords and that's it, this plugin will do all the remaining process
What does Ninja Affiliate contain?
It adds affiliate links to keywords in blog post
It is capable of making those links No-Follow or Do-Follow
It is capable of opening those links in new tab, same tab or in new window
It has an option to exclude some categories and tags while adding the links
You can even order this plugin about how many links should be in each post. I mean if you need only 2 affiliate links in the post, it has an option to do it

Style your affiliate links with different colors and sizes
You can add same links to same keywords. In short, you can group more than 2 keywords into one. For example, you can add your Bigrock affiliate link to keywords like Hosting, Shared Hosting, VPS etc
You can even track click on those affiliate links
How to use Ninja Affiliate Plugin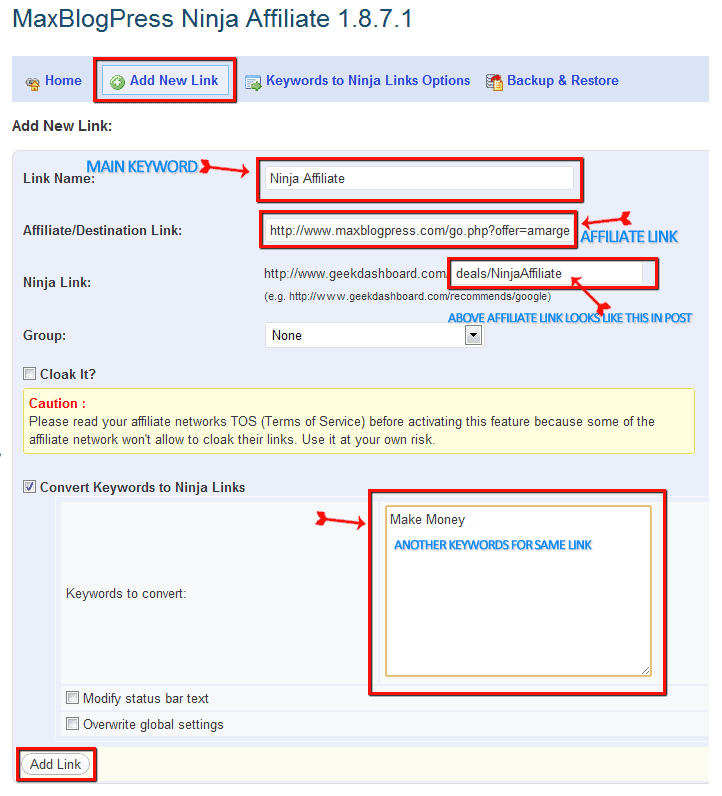 Buy and Download the Ninja Affiliate plugin
Go to Plugin Settings and click "Add new link"
Add Keyword at "Link Name"
Your Affiliate should be placed at "Affiliate/Destination Link"
Make your own affiliate link at "Ninja Link" In my case I used /deals/NinjaAffiliate"
If you want to add more keywords to your affiliate links add them at "Convert Keywords to Ninja Links"
Congratulations you have configured your link 
Why should you buy Ninja Affiliate?
All things won't come for free. We have to spend some money to experience awesome results. Think once, why don't you spend just $97 to earn huge online incomes. In general, you can earn that amount in the single day if you utilize it in right way.
What we think about
Ninja Affiliate