Nowadays more and more people like to take photos, but sometimes we may make some shortages to photos when we shoot them, and we always want to find some way to make up for these shortages made when take, so I think FotoJet editor is a nice tool for us, it can help us look professional ever we are not graphic artists. FotoJet is an all-in-one online graphic tool, and you can open it perfect on any browser and no need to download it to your computer.
FotoJet makes collage making, social media graphics designing and photo editing easy and quick. You can use it to make unique photo collage to remember the happy and important moments for you, and design all kinds of social creations and turn your common photos into art work and perfect photos. Let's have a try of how to make photos into splendid art work.
Open FotoJet editor
Open www.fotojet.com and click the EDIT or Edit a Photo button to enter edit mode. Here you have two ways to add your photo to edit, click the Open button on the top bar and upload your photo from computer or from Facebook. Of course you can play with the sample pictures provide by FotoJet.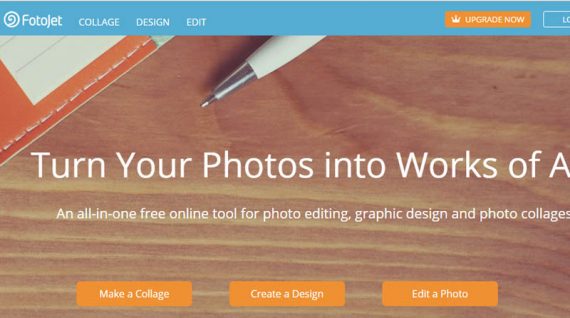 Give photo basic edit
Use the basic options to edit your photo. Here you can change size of your photo by cropping, resize and rotate, this can be done by click and drag, which is very easy to you. Then you can adjust its exposure and color, the two can help you a lot. What I need to mention is that you cannot miss to have a try of the Auto Enhance button, this option can beautify your photo much and you can finish it just by giving a click to the button. At the same time, you are allowed to use the advanced options to edit your photo. There are sharpen, dehaze, vignette, noise, focus, color splash and selective filter. The focus can help you to highlight the certain parts to you want show in your photo, and the color splash let you to color or gray the right parts only you need. All these options have great power to your photo, just try them out and find whether you need adjust them to pretty your photo.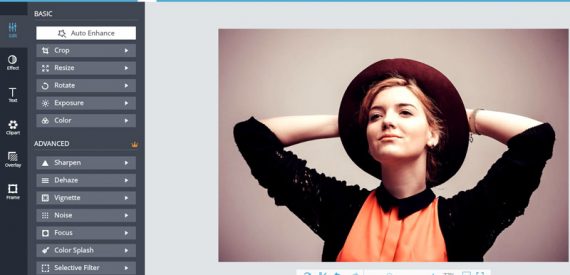 Add effect to photo
Add all kinds of effects to your photo. Editor provides you effects to modify your photo, they are black & white, sepia, vintage, chromatic, lomo, old photo and scene, you can have a quick preview of all by click them one by one or just pick out some of them to preview before you decide which one to apply to your own photo. You can also adjust its intensity to make it more suitable to photo.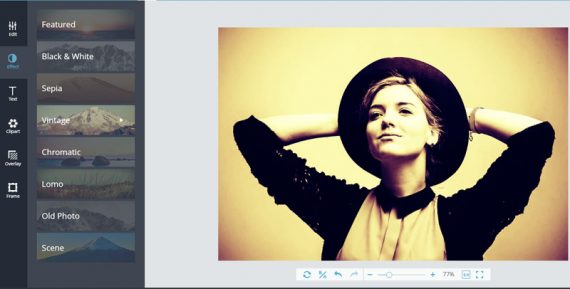 Use text and clipart to modify photo
You can add text and clipart to beautify your photo. Move mouse to them one by one, and choose the ones you need and make some adjustments. You can change the size, color, position and so on of text and clipart, and you can adjust their opacity so as to make them into watermark. As for text, you can also add outline and glow to them, which will make it more beautiful and suitable to your photo.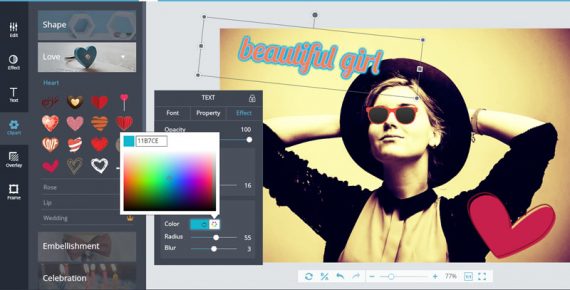 Overlay make your photo dreamful
Let overlay to make your photo looks dreamful. Editor offers you many overlays to use, and you can try any of them out and decide whether you add one to your photo. At the same time, you can adjust its intensity and blend mode, the options could make your photo looks different. It has light trail, cute, montage, space, burst, paper, fabric, paint and grunge. Just to preview them and you will definitely find one you love.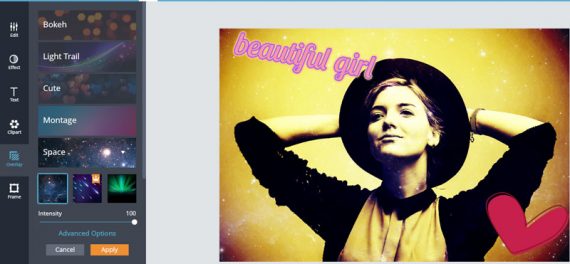 Frame is important to photo
Add a frame to your photo. Here are plenty of frames you can choose to us, just click and preview them and choose one you love most and add it to your photo. You can change its thickness; what's more, for the edge ones you can also change the color of border and background.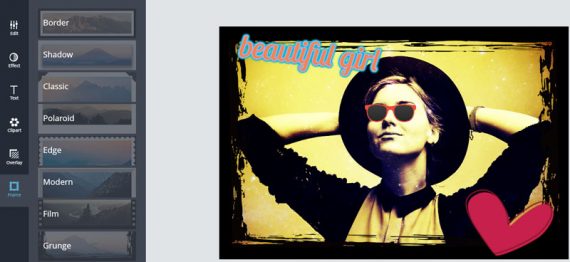 You can use FotoJet do more than what mentioned in the paper, you can use it to make all kinds of cards, collage, social banners and etc, and then save them to your computer, print out directly or share to your friends. If you have a desire to try, just open FotoJet and do not hesitate any more.