Who doesn't have several portable devices, say, iPad, iPhone 6 Review, iPod, Samsung Galaxy Note edge, Motorola Moto G running on CM 12 etc? And then, you will find that usually your favorite videos can be played on only one device. To deal with such problems, you may need a video converter to give you a hand. And you become a lucky star of the day, because we want to provide you with a giveaway video converter software – WonderFox HD Video Converter Factory Pro 9.0.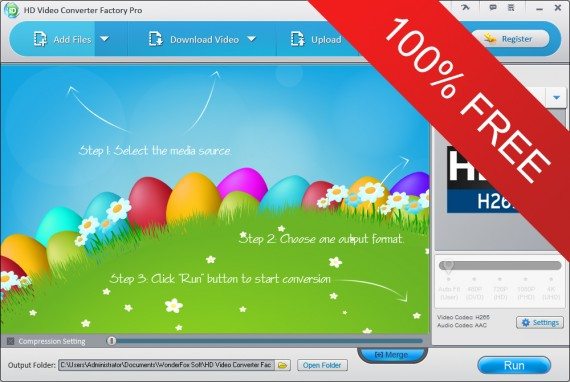 What is WonderFox HD Video Converter Factory Pro?
In certain cases, one device you keep can play this format, yet another device you fetched hates this format. You have to turn to a video converter for help when this occurs. And one best video converter with a large format support module indeed solves the problem. WonderFox HD Video Converter Factory Pro 9.0 version is a leading multimedia software, your best choice.
What can you do with WonderFox HD Video Converter Factory Pro 9.0?
I must say it's a powerful software that has a large format library that enables it to handle 200+ video / audio formats and devices. Let's say, the formats: 4k, Samsung S6/S6 Edge, Galaxy A7, Samsung Galaxy Note edge, MTS, HTML5 Video, WTV, H265, HTC One M9, and etc are all included.
What's more? HD Video Converter Factory Pro 9.0 takes the superior advanced H265 / VP9 encoder Tech, it allows you to make the best video compression with little quality loss. So does its decode code function, its unique technology allows you to convert H265 / HTML5 Video / VP9 etc. to the mainstream video or audio formats, such as WMV, M4V, MP4, AVI, MPEG, etc. And these features are not seen in the tons of normal video converters.
Some superior software still carries a big format library while the technology don't allow them a fast convert speed. So you wait long to convert another format video. Who can be patient with a low speed? Luckily, a tech team named WonderFox makes it quite fast. I don't believe a video converter can carry high speed and a large format library when I was in a low mood by using a slow conversion software minutes ago. But it's true. HD Video Converter is one ideal fast software with a 50x conversion speed.
Have your favorite video online but can't keep them to your own? The HD Video Converter Factory Pro comes to save you. You can download video from YouTube, Facebook, Vimeo, Liveleak, Metacafe and other video sharing websites with the giveaway on your Windows-based computer.
You can edit, crop, cut, merge video as you want. Also you can add effect to video and set video brightness, mosaic, blur. You'll find fun by using it after all.
Also Read: Wondershare Video Editor [One of the best video editor]
The software will cheer you up on its batch function. Batch processing video conversion or batch downloading videos online is a piece of cake.
In this wholly new version, it adds a new studio: Ringtone Studio. But the ring tone it produces can only play on iOS and Android devices.
Why you should get this giveaway?
This time, the $29.95 software turns to one giveaway present thanks of the Spring season. You can get one giveaway copy with no charge until May 10th 2015. It's a free giveaway without update support. It means you can use it in your lifetime as long as you use the giveaway license to register the giveaway software before May 10th.
Where to get one WonderFox Spring Giveaway Gift?
Reading through the above features and perks, you make up your mind to get one giveaway copy at last. It's a wise choice.
So, how to get your free license and software? Just show your love towards us by unlocking this widget and you will get this tool for completely free. Hurry up! Limited time offer
Download the Software from this page
License key 
VC-HDPB-B19E500781-0096E8DCF3-3C8766B86C
Have some fun with WonderFox Spring Giveaway!