Recently Indian Government made linking Aadhaar card to bank accounts mandatory.  Did you link your Aadhaar card with SBI – State Bank of India? If not, you must do it immediately. Without linking the Aadhaar card to bank accounts, it is not possible to get LPG Subsidy.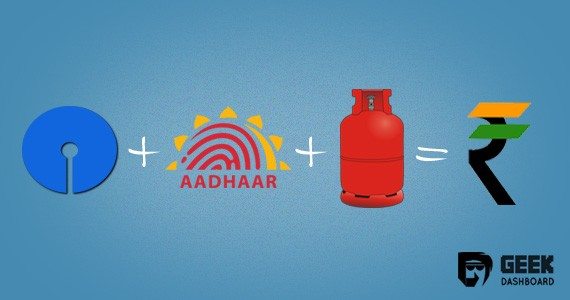 During recent pasts, it is really a time consuming and headache task to link Aadhaar to bank account. You must visit LPG distributor and fill a form and doing the same again at your bank branch. In most cases, doing all these stuff won't guarantee that your card will get linked. Thanks for the advancement of technology, Today you can directly link your Aadhaar Card from your home with SMS or Net Banking.
How to Link Aadhaar Card to State Bank of India (SBI)
Not all banks have the same method of linking Aadhaar to their bank accounts.Here in this guide I'm showing you two methods i.e, Offline and Online methods to link Aadhaar card to State Bank of India – SBI. For online procedure, you must have net banking.
Select the method you prefer:
Link Aadhaar Card to State Bank of India (SBI) – Offline Process
Not everyone will have net banking for their accounts. For people who are not aware of State Bank net banking, You don't have another best choice. You should link the Aadhaar card through Offline process.
Follow all below mentioned guidelines to get linked your Aadhaar card to State Bank Account.
Download Aadhaar card linking form and take a print out.
Fill the from with your Aadhaar card number, name, bank account number, Account name and address as mentioned in Aadhaar card.

Once you are done with above things, Pen your signature.
Now attach a photo copy of your Aadhaar card to the document.
Confirm the document by providing the details asked at the end of document.
Visit your bank branch along with filled document and original copy of Aadhaar card.
Bank officials with have a look and your form and original Aadhaar card.
Once verification is done, take back your original Aadhaar card and make sure bank official signed your submitted form.
Your work is done. You will get a confirmation call from the bank if process is done.
Once Aadhaar is linked to your SBI bank account, you can proceed to link the Aadhaar to LPG distributor.
Link Aadhaar Card with LPG Distributor to get Subsidy
Download Form 2 and take a print out of the same.
Fill the from completely along with your signature and rush to nearest xerox shop.
Now place the original Aadhaar card facing forward at the left side of the form and take a photocopy of the same.

Submit the final copy of application in LPG distributor office and wait till it get processed.
Link Aadhaar with SMS
You can simple send an SMS in the follow format UID <space> Aahaar Number  to the following numbers. You will get the conformation message once the Aadhaar is linked successfully and you can get the LPG Subsidy directly credited to bank account.
Indian Gas: 8970024365
Bharat Gas: 52725 or 57333
HP Gas: 9964023456
Please note, your mobile number must be already linked to your LPG connection.
How to Link Aadhaar Card to Bank Account for LPG Subsidy – Online Method[Easy Process]
The above process is big lengthy and time taking. If you have net banking access for your account, then your work is greatly reduced. You can now link the Aadhaar card to bank account directly using net banking in not more than 5 minutes. Like the offline method, here too we should link Aadhaar card and then we must proceed to link it with LPG.
Link Aadhaar Card to SBI with Net Banking Online
Login to SBI Net Banking account from here.

By default, you will be landed on My Accounts tabs, from the left side menu click Link Your Aadhaar Number.

In Aadhaar Registration page, Select your Bank Account and enter Aadhaar number couple of times and hit Submit.

Wait till you receive OTP (One Time Password) to your registered mobile number. Enter OTP and click Submit.

You will now see a success message and wait till bank approve it.
Once Aadhaar number is linked with your SBI bank account successfully, you can proceed to link LPG Customer ID
Link LPG Customer ID to SBI from Net Banking
Just linking Aadhaar card is not enough to receive the subsidy directly to bank account. You must also link LPG Customer ID. Follow the instructions given below.
From the left side options in My Accounts tab, click Link your LPG Customer ID

Select your account and Enter 17-Digit LPG customer ID couple of times and click Submit

Wait for the OTP and confirm the same by entering it and click Submit.
You will get a conformation message to your linked mobile.
It will take few days to process your link request and keep checking your mobile messages for status of application. You are done to get LPG subsidy directly to your bank account.
Overview
Offline process is same for any bank and online process varies from one bank to anther. Currently only few banks like Axis, HDFC is providing online service to link Aadhaar card to bank accounts for receiving LPG subsidy directly. Let us know if you have any problems in doing the above methods.