In the gadget world, there is no end to the innovations. Right from the elimination of large bezels to the introduction of dual screens (remember Axon M), we have seen it all. Many failed, and a few made its way to being one of the standards of modern day flagship.
The patent details of LG that came out recently reveals they have conceptualized an interesting technology. We have already featured the patent Samsung filed for an under-screen front camera.
LG has Filed a Patent for a Phone that Morphs into a Tablet
We heard about many companies aiming to release dual-screen devices. Finally, ZTE made it happen on Axon M. Although it excited many people, the phone didn't make such an impact in the market. It exhibited some inconveniences including the separation in the middle when you use it unfolded.
The new patent LG has filed for the patent shows two potential variants. The two of them reminded us of the first dual-screen device itself. They have filed the patent in July last year and only got it published on 12th January 2018.
Of the two, the first model depicts a foldable phone that houses a camera component on the back panel. When you fold it, the front screen shows information like time (as on an always-on display). The second model, however, reveals a new section on the screen by pushing the back cover on folding. In this state, it has a sidebar for time and other information as well. This variant also has a camera module on the rear panel.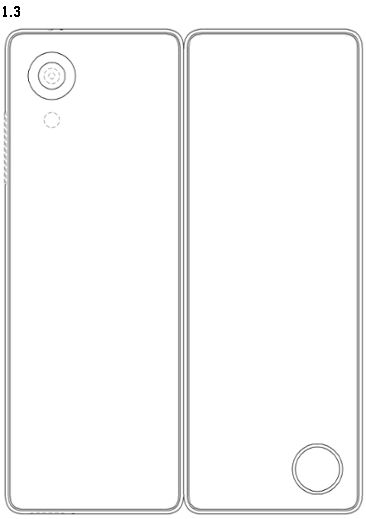 The solid lines in any patent images show the acclaimed features whereas the dotted or broken lines doesn't come under the patent. Looking at the images, we are a bit skeptical about the second model given the mid-portion of the device in it contains broken lines.

We are not sure if LG ever releases a foldable device. And if they do, we don't know when. As you read earlier, multiple companies have filed patents for different concepts of foldable displays. However, they might have lost the interest in releasing an actual device.

To recall, LG has released V30+ in India recently. The smartphone packs Snapdragon 835 with a quad-DAC for superior audio playback. The 6-inch near bezel-less display boasts 1440x 2880 pixels resolution and 18:9 aspect ratio. The Adreno 540 couples with 4 GB RAM caters the graphics and multitasking performances. The onboard storage is 128 GB and you can also expand it using an SD card.