LG is known for releasing two flagship smartphones every year, same as Samsung. These flagship smartphones from LG are released in LG G and LG V series. This year, we will see the launch of LG G8 as well as the LG V50. Traditionally, LG G8 is released at the Mobile World Congress which is taking place next month.
We now have official press renders of the LG G8 ThinQ courtesy of xda-developers. The publication says that they are confident that this is LG G8 ThinQ's first press render which they have received from "anonymous source"
LG G8 ThinQ: What's different from the LG G7 ThinQ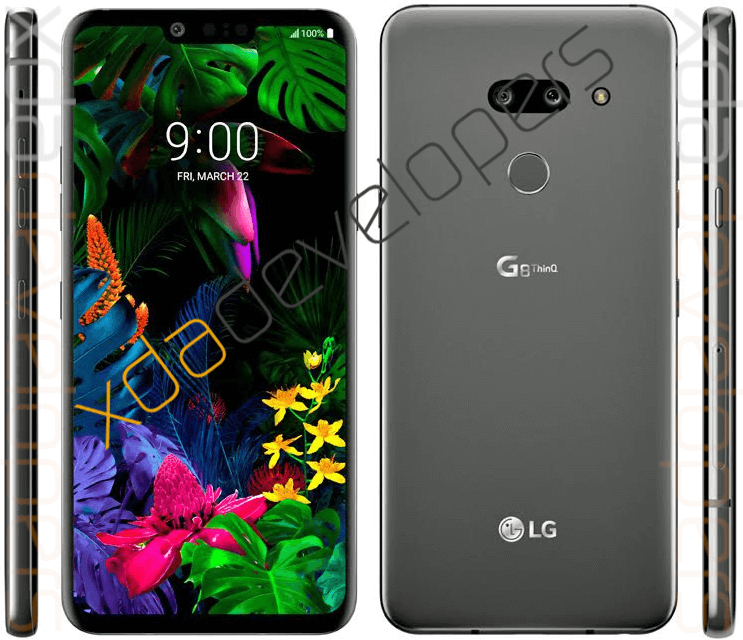 It is known that LG G8 ThinQ will be the first flagship from LG for 2019. We now have the first look at the device as well. As far as changes are concerned, there is not much different on the upcoming LG flagship compared to last year. LG G7 ThinQ was announced last year with a notch and a dual camera setup.
If the press render is to be believed, LG G8 ThinQ will follow the same recipe as well. But we are not sure if LG G7 ThinQ's recipe was a successful one or not.
The only notable difference on the LG G8 ThinQ from its predecessor is that it has a horizontal camera setup as opposed to a vertical one. Late last year, LG released their V40 ThinQ with a triple-camera setup with one of the sensors being a wide angle one.
It is possible that the LG G8 ThinQ's second camera might be a wide angle lens as well. LG G8 ThinQ will also have a physical fingerprint scanner so do not expect to see an in-display fingerprint setup on the upcoming LG flagship.
On the front, we see that the LG G8 ThinQ retains the notch seen on LG's flagships from 2018. This wide notch is same as the one found on the 2018 iPhones. It is also expected that the LG G8 ThinQ will have a 3.5mm headphone jack. This means that LG's upcoming flagship will not have major changes such as in-display fingerprint scanner or 'Hole-Punch'.
From the press renders, it has been discovered that the front earpiece of the device is missing. The missing earpiece on LG G8 ThinQ hints towards the reports that LG might be bundling their next device with "Sound on Display". This technology enables the display to emit sound with the help of a vibrating device on the display.