Nokia stayed in oblivion for a few years with no new devices under the banner. However, the company had broken their shell in the ownership of HMD Electronics to launch the reincarnated version of the iconic 3310. The all-new Nokia 8810 in MWC 2018 showed that the company doesn't want to stop releasing such phones.
Motorola is also planning to launch a refined version of their iconic device, Razr. You know Motorola is now a subsidiary of Lenovo. Given the hype Nokia got with their re-launches, Lenovo also thinks the game is worth a try.
The Iconic Moto Razr might Return with a Completely Foldable Screen
If you are a tech enthusiast, you know it is not the first time we are hearing about Moto Razr. Last year, the company had hinted at bringing it back with refinements. However, the practicality of the device is a question mark now. The main highlight of the Razr was its slimmest design. Given the definition of slimness has evolved over time, we are unsure of how the idea comes into execution.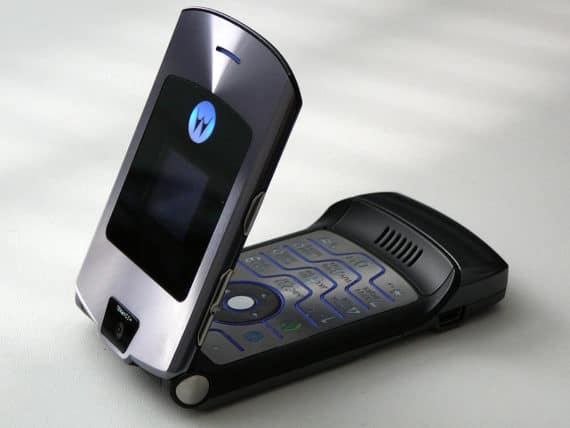 At Mobile World Congress, Barcelona, the Lenovo CEO Yang Yuanqing had a session with the media. In the same event, TechRadar approached him to know more about the return of the legendary Razr phone. He told them that with the new technology, particularly foldable screens, he thought we would see more and more innovation in their smartphone design. He also added that what the journalists described (Razr) would be developed or realized very soon.
Taking his words into consideration, we can conclude the refined version of Moto Razr is possible. The company has already thought about it. However, we don't know whether or not they will bring the series back. There is a chance for them to introduce an all-new series device with a foldable screen.
To recall, Razr is not a single device from Motorola, but a series. They had multiple hands under the same name. Motorola Razr V3 is one of them, which entered the stage in the third quarter of 2004. When you compare the specs with those of today's smartphones, the offering might feel like a joke. For the same reason, if and when the reincarnation happens, it will surely have some feature-improvements.
Who cares about the specs for such devices now? Remember, it's the nostalgia that made Nokia 3310 a hit. Maybe, that's what Lenovo aims at doing with the Razr series as well.
What do you think about it? Are you going to buy a unit? Where should they improve the specs and what could be the price?