Everyone is talking about Reliance Jio now. They have made another announcement yesterday (31-03-2017) and became the heading once again. You can avail the free service for fifteen extra days now.
Yeah, you can now use free Jio calls and data until April 15. The Jio Prime, company's paid service will only come into play after April 15.
That's not the only exciting news that came out. All the Prime members will get free data and unlimited calls for next 3 months.
Prime Members will Get the Free Data and Calls up to June 31st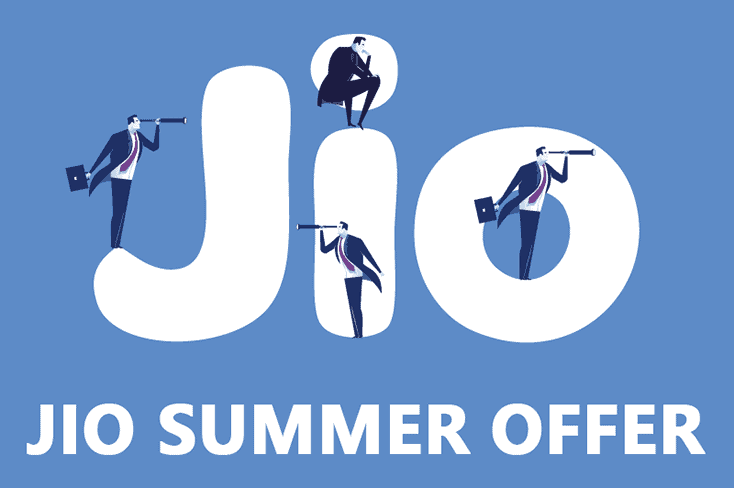 Of course, the extra 15 days of free data is exciting. An even more interesting thing is their summer offer, which allows every Jio Prime member to use the free service for an extra three months. That means they will be charged from July 1st.
Due to many announcements, Jio made lately, we feel customers are a bit confused. The summer offer increased the delay even more. So, we have gathered all the information about Jio Summer Offer and answered all Frequently asked questions.
Q: March 31st has passed now. Can I avail the Jio free data and unlimited calls?
A: Yeah, Reliance Jio has announced that they would stop the free service on March 31st and the Prime service would start. But the recent announcement revealed that you can use free data and voice calls for another fifteen days (up to 15th April).
Q: I didn't enroll for Jio Prime before 31st.  Neither did I recharge as well. Will I get the summer offer benefits?
A: Yes, you can get the benefits only if you recharge for both 99 and 303 (or greater) INR.
You have to recharge for 99 and 303 (or greater) to keep the Prime service with summer offer intact. In case you haven't done any recharge (not even Prime), then your service will be degraded and you will have to go for normal tariff charges.
Q: I want to take the Prime membership. Can I do it now?
A: March 31st was set to be the deadline for taking the Prime membership. But they have extended the time for fifteen more days. Means you can enjoy the free service until April 15th and subscribe to Prime during this period.
Q: I took the Prime membership with 99 recharge before/on March 31st. With which pack should I recharge to avail the summer offer and Prime service further?
A: You have to recharge for 303 INR or more to get the summer surprise benefits. Once the offer ends in June, the 303 recharge will be applied in July.
Q: I have taken the Prime membership and recharged for Rs. 303 (or more). Will they charge me once the free service ends in June?
A: Technically yes, but at no additional costs. Once the free service period ends for Prime members in June, your 303 plan will come into play. Means you don't have to pay anything extra.
Q: If I recharge for Rs. 303 or more, will I get extra 5/10 GB now?
A: No. You could have got this offer only if you had done the recharge before (or on) March 31st. That special offer has been stopped now. So, there is no such additional data offer live at this moment.
Also Read:- Jio Fiber Preview Offer Gives 100 Mbps Plan Free for 3 Months
Q: I have done both 99 and 149 recharges. Will I get summer offer?
A: No, you will not get the summer offer benefits if you recharged with 99 or 149. If you want to get the free service for the next three months and enjoy the benefits of Summer surprise offer, you must do a recharge of 303 INR or more.