Reliance Jio is not tired of making news headlines. The Mukesh Ambani-helmed Indian telecom network has been trending ever since it got launched last year.
Along with the 4G SIM, they also launched a WiFi hotspot named JioFi. The new offer from Jio aims at increasing the user-base of JioFi device.
New JioFi Customers can Avail up to 100% Cash Back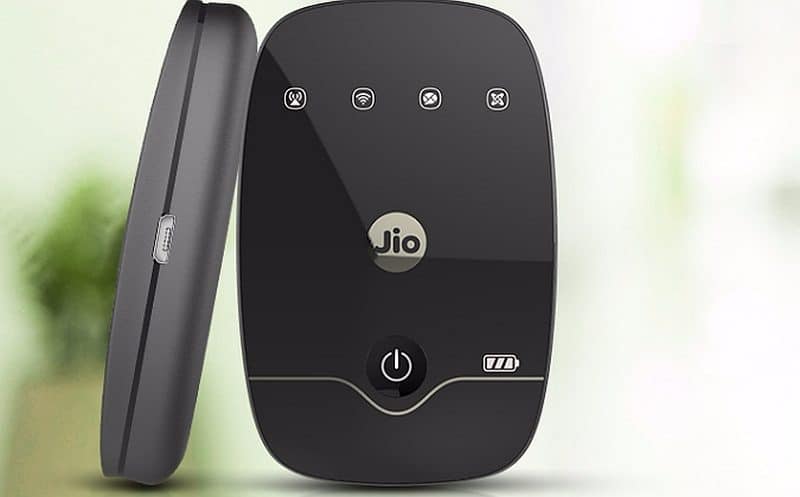 JioFi isn't new to the market. Reliance launched it in the past with the SIM itself. It is only recently, they released two new offers.
The first plan for the new JioFi customers provides you with 100% cash back on purchasing the device worth 1999 INR. You must bear in mind that this offer is valid for exchanges only. There is a published list of WiFi routers and data dongles on official Jio website, which you can use for this exchange offer. Once you get the device for Rs. 1999, you should recharge for Rs. 408 (99 for Prime+ 309) or Rs. 608 (99 for Prime+ 509). We have covered these two plans in our Dhan Dhana Dhan news here. When the offer expires, you should go for a recharge of at least Rs. 149 to avail ten booster packs, each priced at Rs. 201 (so, a total of 2010 INR). With one booster pack, you will get 5 GB additional data per month (28 days, to be specific). You can use the free packs until March 31, 2018. In short, the price of the router will get credited to you in the form of booster packs.
What if you don't have a router or dongle to exchange with? Jio has come up with a second offer for you. Similar to the first plan, you must purchase the device and recharge it with either Rs. 408 or Rs. 608. Instead of 10 booster packs, you can avail 5 of them post the recharge of at least Rs. 149 once Dhan Dhana Dhan offer gets expired.
Also Read:- BSNL's Triple Ace Plan Aims to Take Down Jio by Offering 270 GB for 3 Months at Rs. 333
No matter what you choose (postpaid or prepaid), the new offers are available. First, you must buy JioFi box from official Jio website. Then, you need to visit a Jio retailer store with the original invoice, JioFi box, proof of identity, proof of address, passport size photograph, and your Aadhar card.
You can expect Jio to come with many more offers to allure people into subscribing to it. Moreover, they may launch offers for existing customers to avoid them switching back to their old carriers as the free period gets over.