Reliance Jio has now revamped its Jio Fiber broadband plans to attract new customers. On top of that, the company has announced a new 'no-condition 30-days free trial' offer for new customers. The Jio Fiber monthly plans now start as low as Rs. 399 with 30Mbps Internet speed.
Jio Fiber 30-days Trial
To make it easier for customers to try Jio fiber, the company has started a 'no-condition 30-days free trial' offer. The trial offer will give users up to 150 Mbps speed, a 4K set-top box with a subscription to 10 OTT apps at no extra cost, and free voice calling benefits.
The 10 OTT apps include Disney+ Hotstar, JioCinema, Zee5, Sony Liv, Voot, Alt Balaji, Sun NXT, Shemaroo, Lionsgate Play, and Hoichoi.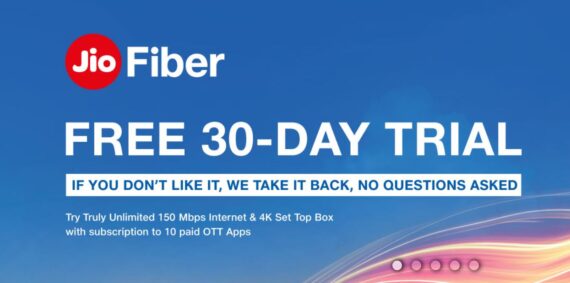 The offer will be available for all new customers. To claim it, users have to register on the Jio Fiber website, with details like phone number, email id, and address.
According to Jio, if a user doesn't like the service, the company will disconnect the service without any question asked. The telecom giant will take a deposit of Rs 2,500 from customers who want the 4K set-top-box and 10 OTT apps subscription during the trial period. Whereas, it is taking Rs 1,500 from those who do not opt for it.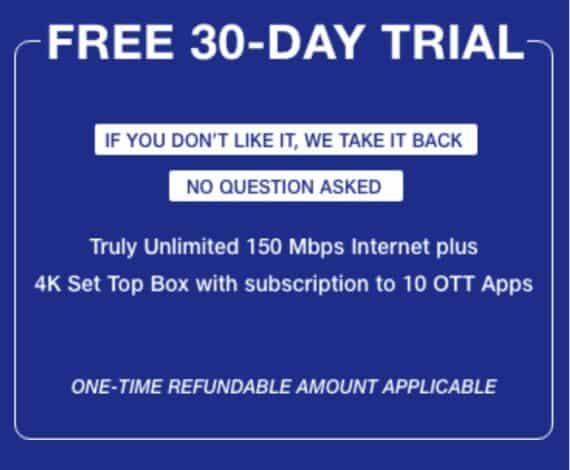 Jio Fiber New Plans Explained
The telecom giant is offering a total of seven monthly plans starting at Rs 399 to up to Rs 8,499. Also, all plans have symmetric upload and download speed (upload speed = download speed).
Bronze plan: The Rs 399 plan offers unlimited data at 30Mbps speed and unlimited voice call benefits to subscribers.
Silver Plan: The Rs. 699 Jio Fiber monthly plan offers the Internet at 100Mbps speeds and unlimited voice benefits.
Gold plan: The Rs. 999 plan offers Internet at 150Mbps speeds, unlimited voice calling benefits, and 11 OTT apps subscription worth Rs. 1,000 for free.

Diamond plan: The Rs. 1,499 plan offers 300Mbps speed, unlimited voice calls, and free access to 12 OTT apps worth Rs. 1,500. The 12 OTT apps also include Netflix and Amazon Prime.
Diamond+ plan: The Rs. 2,499 plan includes Internet at 500Mbps, a total FUP of 4,000GB, unlimited voice calls, and a free subscription of 12 OTT apps, same as the Diamond plan.
Platinum plan: The price of the plan has been reduced from Rs. 3,999 to Rs. 3,499. However, the benefits remain the same, i.e. 1 Gbps of high-speed data benefit capped at up to 7,500GB.

Titanium plan: The Rs 8,499 plan comes with 1 Gbps speed, up to 15,000 GB of data, unlimited voice calling, and access to 12 streaming apps.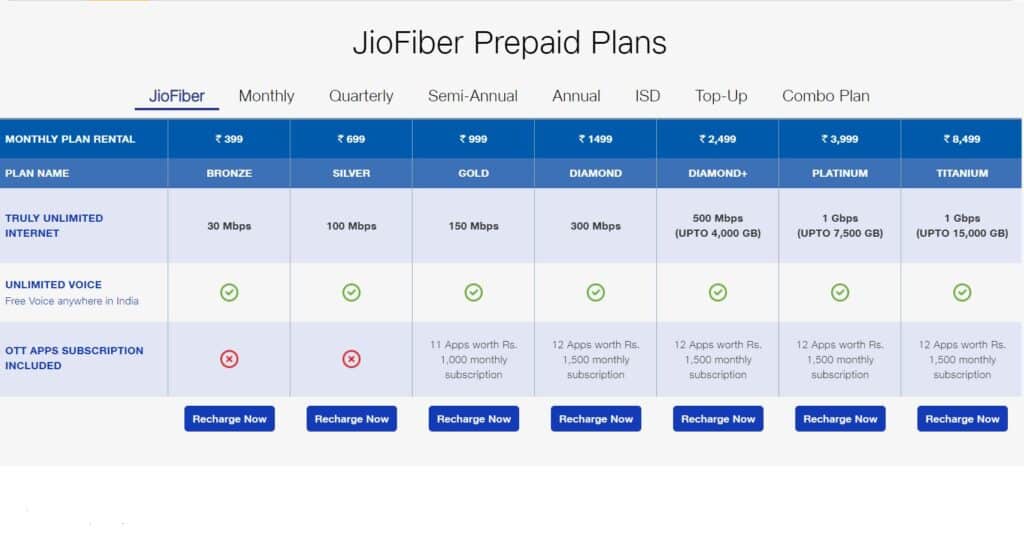 All Jio Fiber plans come with unlimited data and voice call benefits. However, the 'truly unlimited' plan will have a commercial usage policy (CUP) with a 3300GB limitation. If you don't know, the CUP is essentially FUP with a different name.