We have seen them revolutionizing the telecom field. Yeah, they are none other than Reliance Jio. In order to make the service universal, the company went on to manufacturing WiFi hotspot devices and 4G WiFi routers as well.
Recently we have shared the news of Jio coming with their Fibernet broadband services. They may even launch a DTH service as well. If the rumors turn out to be true, we can see a 4G enabled Jio laptop.
Reliance Jio to Come up with 4G Enabled Laptop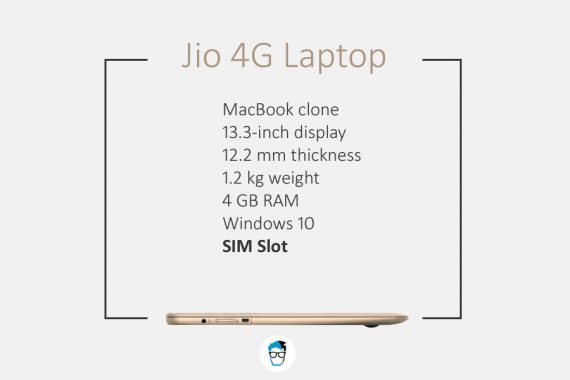 When the company launched their 4G service in India, they thought about the feasibility of bringing the service to the customers. Provided 4G devices were expensive, they came up with real cheap LYF 4G smartphones.
The rumor says that they want to go even further. If it is to be believed, we can soon see a laptop under the banner of Jio. PhoneRadar exclusively reports that they are working on a 4G enabled laptop.
The manufacturing principle behind the laptop will more likely be similar to what we saw with LYF smartphones. The company imported Chinese phones and rebranded them as LYF. The laptop Jio is planning to launch is actually manufactured by Foxconn for Infocus.
Are you wondering how does Jio work in a laptop? If you had had the title in your mind, you wouldn't have asked this question. The laptop will feature a dedicated SIM card slot. So, you can pop-in the 4G SIM to equip the laptop with their high-speed network.
Most likely, the laptop will sport a Windows 10 OS on it. Once Windows 10 for Jio laptop gets finalized, they will release the Jio app suite for the platform.
The 13.3-inch display of the laptop will have full HD resolution and 16:9 aspect ratio. The slim keyboard contains a dedicated number pad. Above the display, you can locate a camera, using which you can make HD video calls.
When it comes to the form factor, the device has only 12.2 mm thickness and 1.2 kg weight. So, you will not have any issues with the portability. The laptop lacks a cooling fan, though.
Also Read:- Jio Summer Surprise Offer; All Questions Answered
Underneath the hood, it sports an Intel Pentium quad-core processor with 4 GB RAM. You will also get 128 GB SSD and 64 GB eMMC storage. And, you can use the SD card slot as well.
As far as the connectivity goes, it has a micro HDMI port, USB 3.0 ports, and Bluetooth version 4.0 too.
We are not yet sure about the specs. Given that the current leak, they will not price it cheaper. So, the company may opt for downgraded specs in order to bring the price into an affordable range.