Google always try their best to keep their accounts from the clutches of hackers. The least number (almost zero) number of Google account hacking stories indicates the company has succeeded in their tries.
In case you don't know, techies considered last month (October) as Cybersecurity Awareness month. On the last day of October, the search engine titan has release four new features to make it impossible for the hackers to sneak into.
Google Needs Javascript Enabled on Your Browser to Let You Sign-in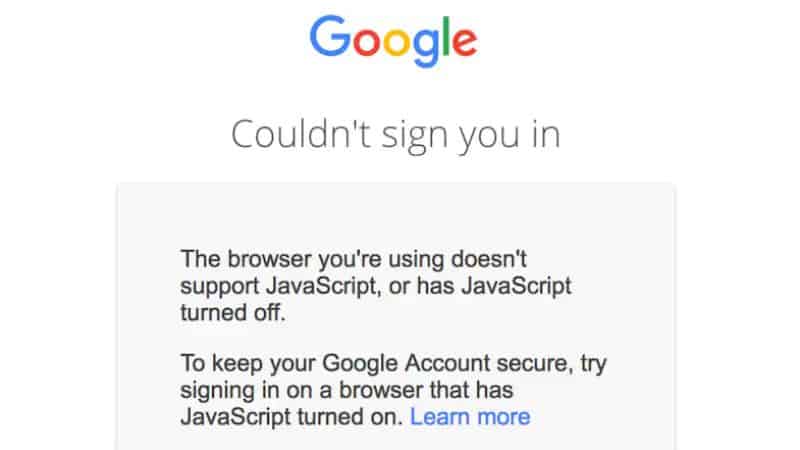 The new features keep you away from the online spies before you sign-in, as soon as you have entered your account, when you share information with other apps and websites, and when your account is hacked. However, Google requires the users to enable Javascript on the browser to get everything to work.
The company has officially published a post on their blog. From the details we have gathered, they will run a risk assessment as soon as you enter your login credentials. In case it finds any security flaw, you won't get through. For the assessment to take place, you have to have Javascript turned on. Millions of websites use Javascript for smooth functioning.
Google, in the same blog post, said that only 0.1 percent of users turn Javascript off to save bandwidth. If you are such a person who disabled it for faster loading speeds, you can just keep it enabled for the account sign-in page only.
Almost all the modern web browsers support Javascript, including Chrome, Firefox, Opera, Safari, Edge, and Internet Explorer. On Google Chrome, you can follow Settings>> Content Settings>> Javascript. Make sure it shows Allowed there. Every other browser follows almost similar procedure. The security checkup also considers malicious applications on your Android devices using Google Play Protect.
If you want to get a glimpse of the assessment, you can go to Google Security Checkup section of the account. You can remove the account from any device there.
Sometimes we have to share account information with certain apps and websites. When you share sensitive data, you will start receiving notifications. As earlier, you can see all such services in the Security Checkup section.
Google's Product Manager, Jonathan Skelker said in the blog post that it's really important that we understand the information that has been shared with apps or sites so that they can keep us safe.
Google has another feature on the shelf which they plan to trigger in case of an attack. When a malicious activity occurs, they will roll out a step-by-step process to secure user data and verify critical security settings.