A plethora of VPN software options on the internet provides you with the needed anonymity while browsing. However, the iTop VPN is one of the leading software in the clan that can help you surf the internet securely without worry. It's a trustworthy VPN among the competitors and provides the best user experience.
The free VPN version works without any account creation and login credentials, which is the cherry on top for the iTop VPN. Besides, free users can access five different countries and come with a data limit for downloads. Moreover, there are no bandwidth limits to slow down the speeds for streaming movies or browsing uninterruptedly.
On top of all, the iTop VPN gives a private way of interaction between you and the content that you look at on the internet. The software encrypts your online presence making you seamlessly use the internet anonymously.
There are a lot more features the iTop VPN offers for its users. Take a brief look at its powerful features and choose whether iTop VPN serves as your sole provider for secure browsing.
Check out the quick rundown of iTop VPN's complete feature set and supported operating systems, and Review:
iTop VPN's Key Features and Supported Platforms
iTop VPN has industry-leading encryption that keeps your data as secure as possible. The encryption system provided by iTop VPN can hide your identity and protects your data from ISP, government, and third-party vendors. Besides, you can connect to public Wi-Fi without worries, as the VPN can keep you safe in all environments.
The most sought-after quality of the iTop VPN is its fast speeds that don't let you look for other alternatives. The transfer speeds when connected to the internet using the VPN are blazing-fast. The tool even has unlimited data and bandwidth, which allows users to stream HD and Ultra HD content and play games without any hiccups.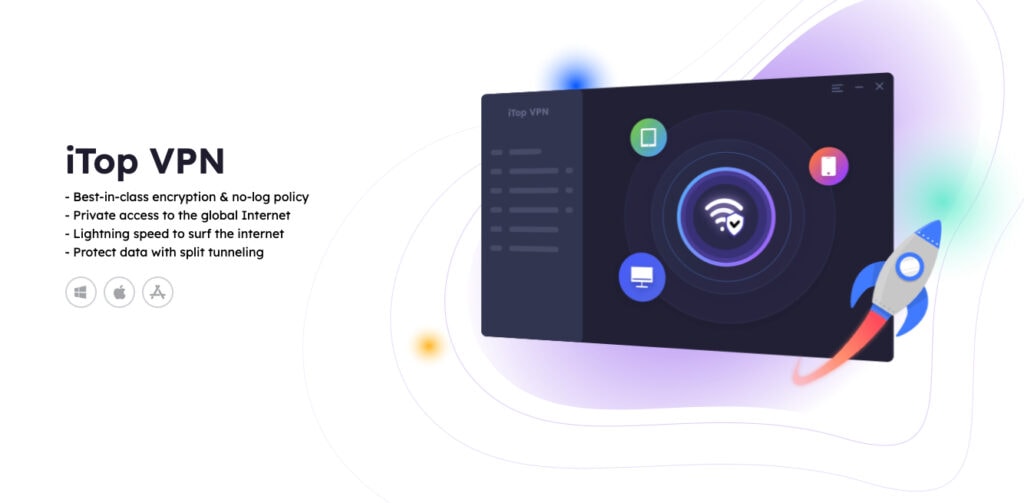 iTop VPN has a great network of servers worldwide, connecting you to the internet at different locations. With the help of iTop VPN, anyone can easily access services such as streaming, social media platforms, and games with just one click. The free version of the VPN features access to five different countries, and the premium version gives access to much more.
The VPN allows users to play popular games like Valorant to connect in a completely different region, reducing ping and lags. You can even watch shows from streaming services unavailable in your country. Besides, you can explore websites that are banned in your country. The VPN creates a new IP address and assigns it after connecting to one of its new servers.
Key Features of iTop VPN
Unblock Websites: iTop VPN has servers in 100+ locations, and servers of more than 1800+ that help connect to any blocked website seamlessly.
Streaming Content: Apart from blocked websites, iTop VPN lets you watch shows and TV series available in certain countries.
Optimized VPN servers: iTop VPN removes the limit and lets you access HBO Max, Disney+, PUBG, Tiktok, etc., from any place.

Kill Switch: The iTop VPN provides an automatic kill switch that prevents any kind of data leak and protects your privacy.
Supported Operating Systems: Windows 7 or higher; macOS 10.14 or higher; iOS 14.0 or higher.
iTop VPN: Installation and User Interface Overview
The iTop VPN supports various operating systems such as PC, Mobile, and Browsers to help securely browse the internet. The downloading of the installation file is one of the simplest among all the other competitors in the market. You can visit iTop VPN's official website straightaway, select your appropriate operating system, and install the VPN software.
We explored iTop VPN in one of our Windows systems, and there were no issues with the program's installation. The installation file comes in a compact size of less than 25MB and downloads quicker. Besides, the installation process has a simple UI with fewer to no complications, and the iTop VPN homepage opens up straightway.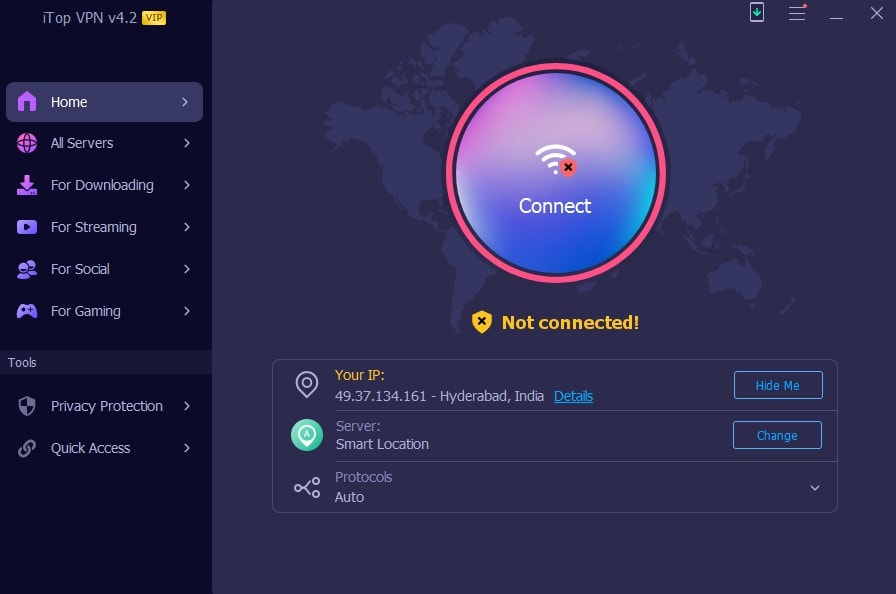 The iTop VPN has a straightforward user interface that shows a connect now button right after the program kickstarts. Moreover, the program even shows your current IP address along with server and protocol details. The main attractive feature here is the no-login policy; you can connect to a server through VPN and start browsing the internet securely and anonymously.
The user interface of the iTop VPN has a dedicated menu on the left side that shows you different features of the program. These features include the All servers, P2P server option for downloading files, and servers menu specifically for streaming, social media, and gaming. Additionally, the program comes with tools and advanced options for VPN in the Privacy Protection menu.
iTop VPN: Review and Best Features
The iTop VPN connects instantly with one click and allows you to browse restricted websites and stream content. In our testing, the tool has worked perfectly fine with no network and speed issues. The VIP mode or the premium version of the tool gives you access to select your preferred location while connecting VPN.
Most of the servers provided feature less load, and few of the busy servers have a heavy load. In our case, Japan's Free sever had a heavy load while we were testing amongst all the servers from different countries. However, the VIP server of Japan had less load and connected instantly without any issues.
1. Servers Across the World
With over 100 locations and more than 1800 servers overall, iTop VPN makes it easy to access any restricted website. The fact that there are so many servers suggests that the iTop VPN can provide excellent speed, privacy, and security.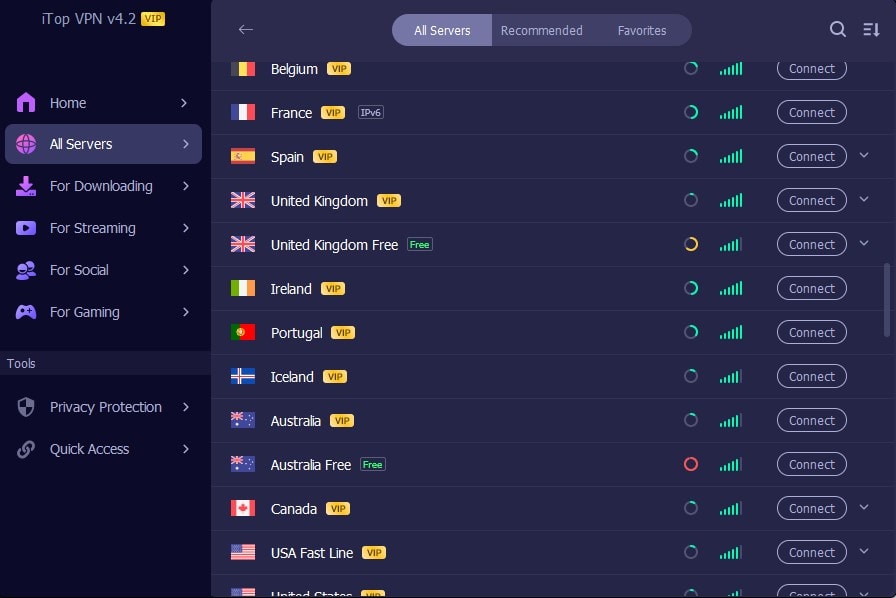 The availability of servers in various countries worldwide lets you access restricted or banned content without any fuss. The range of the available locations is quite interesting. It's even possible to access Netflix UK and US in one go while browsing from India.
2. Automatic Kill Switch
The kill switch puts an immediate end to everything, protecting your privacy and activity. iTop VPN will protect your activity regardless of what you do or whether you have a reliable internet connection.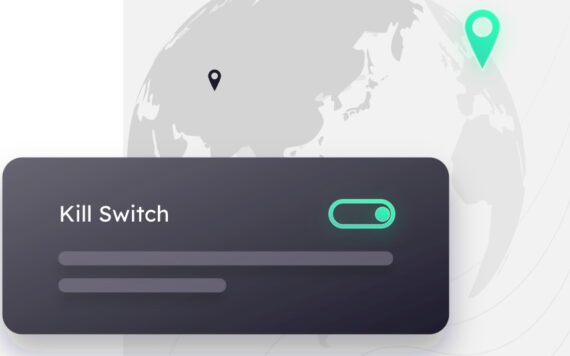 The feature comes in handy when downloading files and the VPN suddenly disconnects. The kill switch will entirely shut off all kinds of downloading or access to the web instantly and helps protect your tracking data.
3. Streaming and Gaming without a Break
Bandwidth caps can bring a lot of disappointment while your stream your favorite TV shows or movies. When you reach your bandwidth limit, you might not be able to download or stream your favorite programs.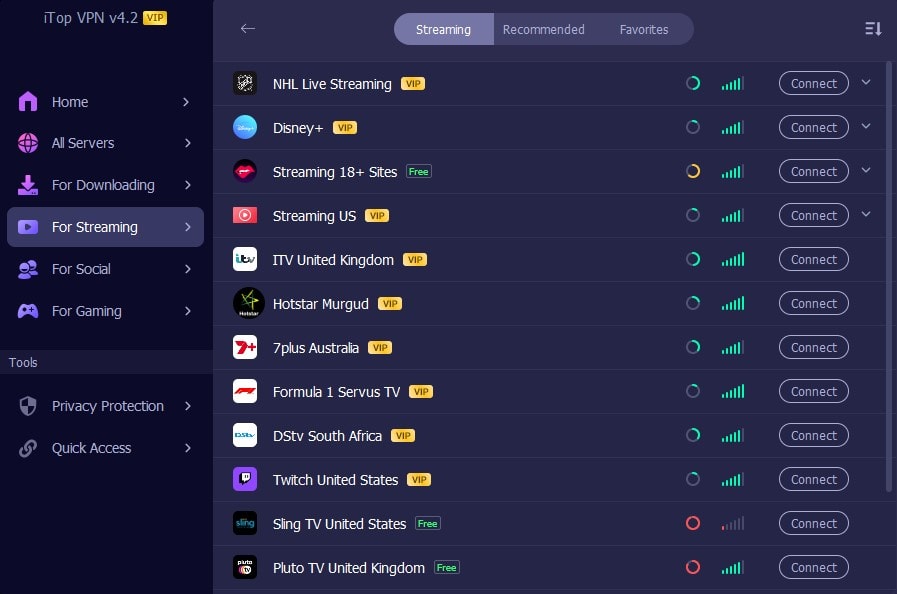 There's a selection of servers provided in the software that lets you connect to the best server for a particular streaming platform. Fortunately, iTop VPN enables unlimited bandwidth for web browsing, streaming, online gaming, and torrenting.
4. Anonymity
You can visit the websites you want while being confident that your online activity is kept completely private. Your IP is similarly always protected. You can even adjust a few of its advanced features for an even more secure way of browsing and streaming with a VPN.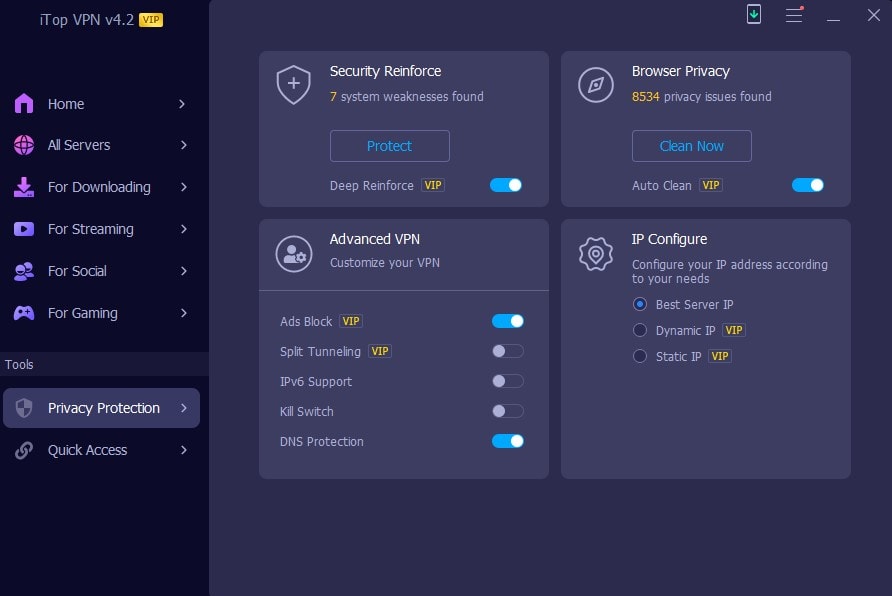 Once the service is activated, your IP address is changed to a public address chosen randomly and cannot be used to identify you. Many websites now enable cookies so they can track you and collect data about you. Identity concealment is achievable with iTopVPN.
Try iTop VPN for Free Right Now for Streaming and Browsing
It is safe to state that iTop VPN is among the top VPN companies available after considering the security, speed, and level of encryption it provides. The support for servers worldwide, kill switch, and in-built ad-blocker make it an ideal VPN tool.
The best thing about iTop VPN is that it offers consumers services without charging a fee and with restricted access to its features.
As the Holiday season has arrived, iTop is providing 86% off on their VIP version of VPN software. To unlock all the features, you may always purchase the VIP edition of the VPN, which starts at $59.99 for two years and an additional 12 months extension of services on the same pricing.