italki is a popular language-learning platform that helps students get tutoring in different languages on the web. The app connects learners with community and professional teachers at minimal cost rates.
Want to learn a new language? Do you seek to enhance the speaking skill of a language you already know? italki can help you with both with ease!
The app is compatible with both Android and iOS platforms. Moreover, the extensive list of language tutors available makes the app even more appealing. This easy-to-use platform offers flexibility and affordability for students eager to learn a new language.
The app also allows you to choose the best tutor that fits your requirements with ease. Besides, the teachers have the freedom to set up their schedules and price rates.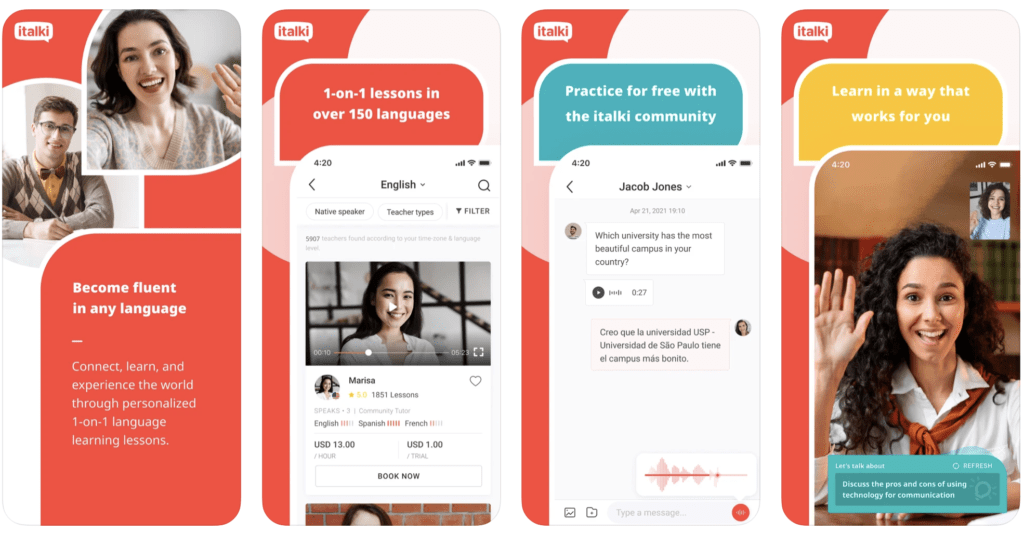 italki Features at a Glance
Many features make italki one of the best native learning apps for iPhone and Android. Check these italki features that will help you make an informed decision.
1. Ease of Use
italki is designed with the intent to make the platform user-friendly. That means that both learners and tutors can navigate the app with ease.
Moreover, the website version is also easy to use. It is this easy-to-navigate user interface that attracts millions of students and tutors to this language learning platform.
2. Extensive List of Languages
italki boasts of having the ability to learn more than 150 languages. The wide range of languages includes Spanish, English, German, French, Korean, Portuguese, Hindi, Arabic, Italian, Russian, Mandarin, and more. You can even get access to uncommon languages such as Tsonga, Basque, etc.
Moreover, each language has multiple tutors assigned. You can easily go through the list and choose the tutor of your preference with ease. If you are a picky learner, you can go through the details available and then make the final decision.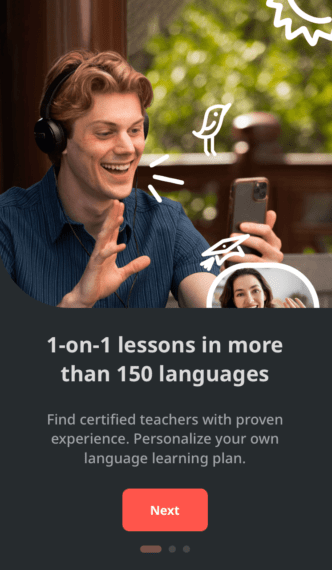 3. Choice for Teachers
There are two types of teachers available on italki. These include community tutors and professional teachers. Community tutors are native speakers who have the credibility to teach that particular language. Moreover, they must also have advanced-level knowledge of the language they teach.
On the other hand, professional teachers are verified by the platform. These experts have a university degree along with a teaching certificate. Moreover, they also have work experience teaching in university or school. That makes them eligible to tutor the specific language to students.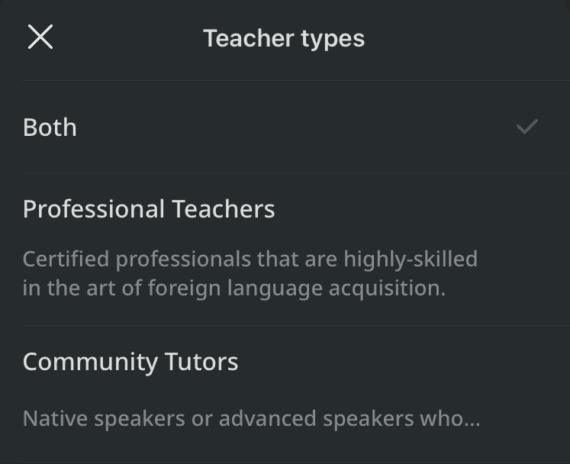 Professional teachers charge more price rates than community ones. That is mainly because their method of teaching is much more professional and well-designed. However, if you are interested in developing speaking excellence in a language, going for community tutors makes perfect sense.
Moreover, it is important to understand that these distinctions don't matter if your needs are met. You could very easily gain much more with a community tutor than with a professional one.
4. Flexibility to Choose teachers
italki offers multiple filters to choose the right language teacher for your needs. It is these advanced filters that make italki stand out from other tutoring platforms in the market. All you have to do is use these filters and find the right match.
Some of these filters are – lesson prices, availability, where they are from, native speaker or not, category, etc.
However, the extensive list of teachers available can make the choices even more difficult. Features such as how many lessons the tutor has taught, written introduction, and their ratings can help you make the right decision. Besides, you can gain more information about the teacher from their profile.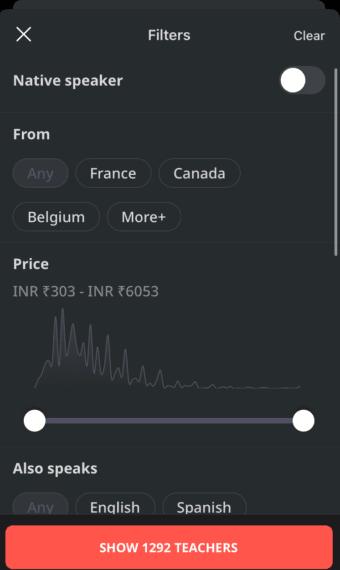 Reviews of the other students can also help you a great deal. They offer an insight into their experience with that particular tutor. That will play a role while you make the selection.
5. italki Community
italki has multiple impressive community features that can provide immense help to the learners. For instance, the Discover tab offers a massive range of content published by different community members. With this content, you can gain more knowledge.
The exercise feature is excellent too. Here, you get to test the language skill you are developing. In this tab, you can write articles in any language, and other community members will read and correct the mistakes. Moreover, you can also submit an audio recording and get help in getting the pronunciations right.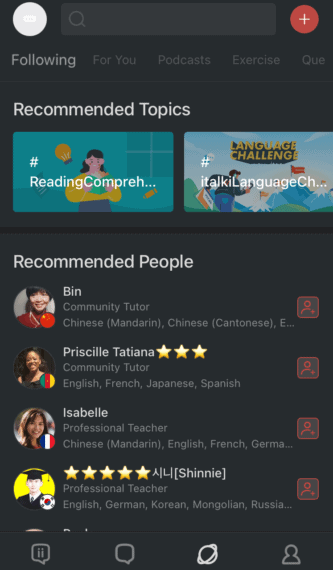 6. Instant Booking
After finding the perfect teacher, you need to schedule a lesson with them. For that, the process is extremely simple. All you have to do is press the "Book Now" button. Moreover, you can also get in touch with the teacher and resolve any queries that you might have.
There are different options that you will have. For instance, you need to choose the lesson length and the price rates. If you are lucky, you may even get a package at a discounted rate. Now, you need to decide on the time for the lesson.
That you can do with ease as the availability of the teacher is visible to you. Now, the only thing remaining is to add the username and the platform you want to use for the lesson.
7. Integration with Different Video Platforms
italki collaborates with multiple video platforms for a seamless learning experience. You can choose from a wide range of options available. These include FaceTime, Wechat, Skype, QQ, Google Meet, Zoom, etc. Moreover, you can also use the italki classroom.
For access to the italki classroom, you can use the app directly. The presence of interactive tools makes the learning experience even more enriched. It is also beneficial because the platform can handle the technical issues that may arise during the lesson.
8. Safety
One of the best features of italki is safety. The platform gives you security and assures you that your investment is not a waste. Here, you can relax, as you will get the lessons you have paid for without any problem.
Moreover, the platform takes the initiative to solve any issues that you might have with the language tutor.
iTalki Pros
Availability of a large number of teachers (even for the less popular or asked languages).

Flexibility in schedules for the lesions.
Certified and professional educators at attractive prices.
The active italki community makes the experience even more enjoyable.
For trial lessons, no need to pay any commission fee.
Supports multiple video platforms for smooth learning.
Easy to use website and app.
Integration of filters to make the process of tutor searching easy.
Cons of iTalki
Search through multiple tutors to get the right one.
Prices for the teachers may vary drastically.
Lessons must be scheduled 12 hours (minimum) in advance.
Payment of 15% commission fee on standard lessons.
Can reschedule or cancel a lesson only once.
Conclusion
Without a doubt, italki is an extremely useful language learning platform. The availability of teachers for 100+ languages is a bonus. Moreover, it allows users to schedule their lessons at their convenience and budget. You might be surprised but it is possible to get skilled tutors at cheap price rates.
Irrespective of the language you want to learn, opting for italki is extremely beneficial. Even for teachers applying at italki, the opportunity to earn some extra bucks is great.
Eager to learn a new language? Check out italki and see the benefits for yourself right away!