What we think about
iSkysoft PDF Converter
This tool helps you to convert pdf files in to different formats like word, ppt and lots more. It is very easy to use and will make your work in few clicks in seconds. Frankly, iSkysoft is one the best converter in the market. iSkysoft PDF converter is available for MAC and Windows PC's
Gone are the days when you needed to hire someone for tasks like converting huge PDF files to Word or related files. It used to take days if not weeks to convert say a 100 pages of PDF to a word document manually.
However, PDF converters have started to sprout in the market that allow conversion of PDF files to a simple MS Word document. Many such PDF converter are made available for free online. While the clear perk of such online PDF converts is that you enjoy them for free, there are some downsides too; most of which would comprise of pop up ads, and collection of one's Email ID for unwelcomed lifetime promotions. Even worse, some of the PDF converters that can be used offline are only compatible with the Windows OS enabled computers.
Thankfully, you also have an advanced PDF converter i.e., the iSkysoft PDF Converter for both Windows and Mac, that is a comprehensive PDF converter with all gains and no pain.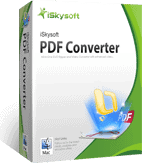 The iSkysoft Studio as we all know, is a leading multimedia software developer that has been in business for over a decade. Such a brand has come up with a reasonable PDF converter for Mac and Windows users that does not just do the regular PDF to word conversion but has a lot more to offer. Lets check out what it is bundled with …..
Features of iSkysoft PDF converter
Conversion from PDF to Word – This is perhaps the most basic expectation from a PDF converter. The conversion happens to the latest version of Word i.e., to a .Docx file through simple drag and drop action.
Conversion to other formats – Apart from the basic PDF to Docx conversion, iSkysoft makes conversion of PDF to Excel, PDF to HTML, PDF to eBook and many other such useful conversions possible.

PDF Conversion in Bulk – iSkysoft PDF converter lets you convert over 200 PDF file to varied file formats all in one go.
Selective conversion of PDF files –  Many a times, you may want to convert only a part of a complete PDF file; i.e., select certain pages to be included or excluded for conversion. This is made possible with iSkysoft PDF converter.
Conversion of encrypted PDF files –  Got a PDF that is protected from being copied or printed? Worry no more. Convert even such encrypted PDF files  to desired file formats.

Preservation of complete formatting –  100% original layout and formatting will be retained during the conversion process. That means – zero difference between the original and the converted file except the file format. Every attribute of the PDF document's elements such as images, links, tables and text is preserved in the converted file.
Conversion of scanned PDF –  Conversion of image based scanned PDF through the OCR technology  is also made possible with the iSkysoft PDF converter Pro for Mac. This is the feature that sets the two versions iSkysoft PDF converter and the iSkysoft PDF converter Pro, apart.
Express conversion of PDF files – The PDF converter does the needed job no matter how complex it looks within a snap. It has the capacity to convert about 100 PDF pages within a minute.
How Easy is it to use iSkysoft PDF converter for Mac?
Check the simple How-to video to have a look at how easy it is to play around the iSkysoft PDF converter to get the job done. The PDF converter makes work happen
Within a few clicks
In no time
With a highly intuitive user interface
Conclusion
The availability of such a handy app for Mac bewildered me initially. But after getting my hands on it, I got it clear in my mind that iSkysoft PDF converter for Mac is possibly the best PDF converter out there. You can go for a free trail, but I strongly suggest you go for iSkysoft PDF converter for Mac  without wasting time with the trial version. It makes a sure-shot buy
Giveaway
What we think about
iSkysoft PDF Converter