Microsoft has now given support for Apple iPhone to connect with the Phone Link application for Windows 11 users. The feature was first announced in February which gives the feature to sync calls, contacts, and messages and even includes iMessage support. The feature will make a seamless integration between the iPhone and Windows devices.
Apple users already have a seamless integration between their iPhone, MacBook, AirPods, iPad, and Apple Watch. Thus making things work quickly without any delay with instant sync and play from one device to another at no delay. It wasn't available for Windows users which didn't have a proper connection between the mobile and PC. But now with the Phone Link app, things are seamless.
Connect iPhone to Windows using the Phone Link Application
In the latest version of Windows 11, Microsoft will make a big change for iPhone users with the support for the Phone Link app. The Phone Link in the new Windows 11 will allow iPhone to Windows computer to sync all the data just like macOS. Using the Phone Link app, iPhone users can take advantage of many features of Windows 11.
The integration of Phone Link for iPhone users on Windows 11 will allow users to check notifications directly on their PC. Users can send and receive text messages directly on the Windows computer. The sync of the Apple iPhone with the Phone Link app will let the users view and edit the photos and files. Furthermore, users can make phone calls directly from the computer.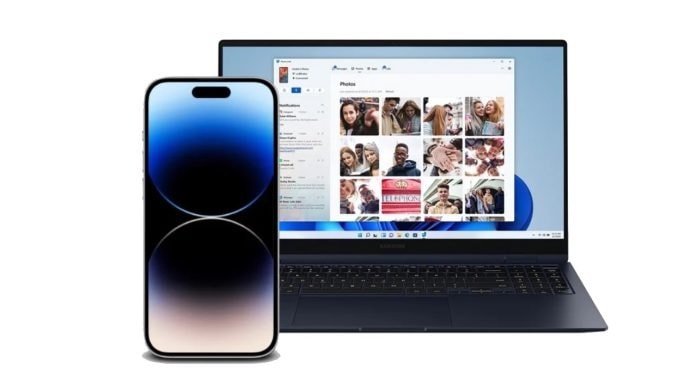 The application has a few limitations with the connection of the iPhone. These include only the iMessage syncing and not group chats or sending of images and videos. The voice messages and a few of the iMessage apps are also not supported. The integration can work great for users that don't want to keep a check on their phone constantly and see them on their PC.
How to connect your iPhone to Phone Link on Windows 11
Users have to first set up the Phone Link application on their Windows 11 system.
On Windows:
Open the Start Menu and search for "Phone Link".
In the Phone Link App, select iPhone as the device to connect.
Now, open the iPhone's camera and scan the QR code shown on the Phone Link.
Give all the required permissions and the device is connected.
On the iPhone:
Go to App Store and Download the Phone Link App.
Follow the guide provided on the application as you open it.
Let the application have access to the required permissions
This way, you can connect your iPhone to a Windows device using the Phone Link application.