If you have rooted your Samsung Galaxy  Y, then you can get even more control on your mobile by simply installing ClockWorkMod custom recovery on the rooted mobile. I'm repeating, ClockWorkMod custom recovery will work on if your mobile is already rooted. This is complete and detail guide to install ClockWorkMod Custom recovery in Samsung Galaxy Y.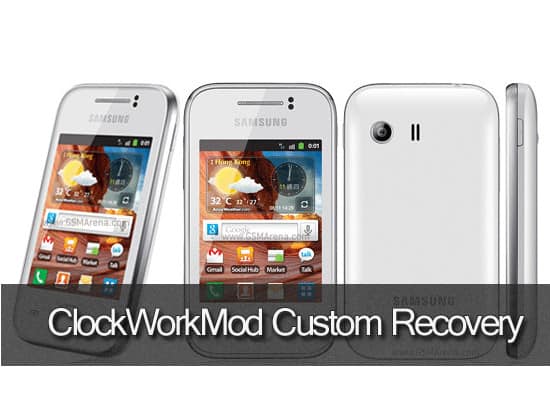 Why installing ClockWorkMod Custom Recovery?
By installing ClockWorkMod Custome recovery, your mobile is enabled/capable of installing Custome ROM's in it. If you proceed to install Custom ROM without installing ClockWorkMod recovery, you might end at Samsung S screen. I mean to say, mobile will become useless (Bricked mobile)
Before you Begin
Rooting your mobile is mandatory. Never install CWM without rooting the device. Make use of our link -> How to root Samsung Galaxy Y
Charge your mobile at-least up to 50% before installing ClockWorkMod recovery
This install is not a permanent one, you have to install ClockWorkMod everytime while installing Custom ROM's
How to Install ClockWorkMod on Samsung Galaxy Y
1. All you need for installing CWM is a CWM.zip file. Click the download button below for downloading required stuff.
2. Now connect your mobile using USB cable and copy the downloaded zip in the root folder of the Memory card, I mean to say not in any sub-folders.
3. Disconnect the device and switch if off.
4. Press and hold the Volume up button, Home button and Power button simultaneously and remove them all at once after the entry of Samsung logo screen.
5.  Select the Apply update from SD card using Volume keys and press the home button to select the option.
6. Again using volume keys and home button, select the downloaded CWM.zip file from micro sd card.
Recommended: How to install Android Jellybean Custom ROM on Samsung Galaxy Y  
After flashing zip file successfully, you can install any Custom ROM's without bricking the mobile.