Instagram was an app-centric social media platform. They made it impossible for you to share photos on their mobile website and you should have used the application itself. But not anymore!
Instagram is on a mission to make their website more functional. As a part of their tries to do the same, they started allowing photo uploads via the mobile website.
You can Now Upload Photos from Instagram Mobile Website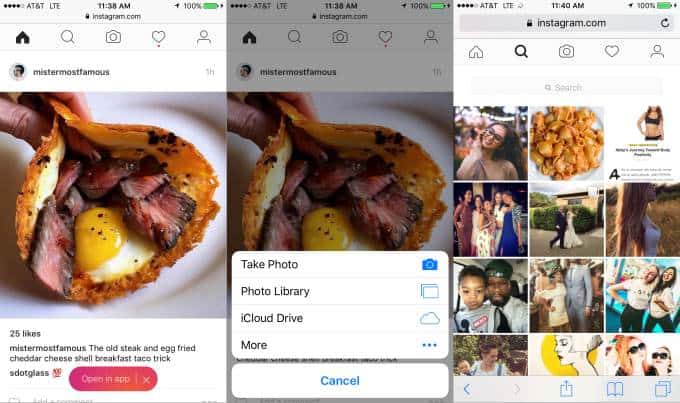 Instagram debuted as a mobile application. As it went on to grab the massive popularity, Facebook acquired the photo-sharing platform. The application got a bunch of new features recently, because the parent company, Facebook was too busy in fighting against the popularity Snapchat has among the teenagers. We covered every try Facebook made to imitate the Snapchat stories.
Instagram's recently released stats show they have 700 million users now. The astonishing fact is the last 100 million were added in the previous four months. Snapchat cloning might help them.
It looks like the story copying trend is over now. They have implemented it in every application they own including the native Facebook app, Messenger, WhatsApp, and Instagram.
The latest feature that got added to Instagram accounts for the photo uploading on the mobile website. You can now upload photos from the Instagram mobile website no matter if you have the app or not. Unlike what you see on the application, editing the photos and adding the filters have not yet made the entrance to the website. You can't upload videos from it either.
Still, you can upload photos and crop it to the desired shape if you want to, before posting. Moreover, the mobile website does allow us to create or edit Instagram profiles as well.
The new update to the site brings an Explore tab too. And, the mobile website now looks like the application itself. Despite not being allowed to upload videos and edit photos, Instagram lets you like and comment on others' posts from the mobile browser. You won't have any issue with checking the notifications too.
The company hasn't rolled out the update to every Instagram user all over the world. The feature was first spotted by Matt Navera. As he shared it on Twitter, Instagram officially confirmed it via TechCrunch.
If you like the mobile website more than the native apps, you should check instagram.com on your phone right now. In case you don't see photo uploading option there, just wait for a few days to see it.