The story behind Instagram popularity reminds of an American dream. Two guys from Stanford created an app that changed billions of lives and opened a brand new chapter in social media – photo sharing applications.
Unsurprisingly enough that recent years social media app market burst with apps like Instagram. Let's be honest, most of them can never compete with such a giant. However, those who mastered the art of stealing, and not just copied Instagram but added their own tweaks, have found their place under the sun of Google Play and Apple App Stores.
List of top 10 alternatives for Instagram that became successful and popular
Why would anyone need any of these apps? Especially if there are so many people on Instagram? The thing is you don't have to switch. Many apps can be synchronized with Instagram to give you even more content to discover.
These apps are far more diverse than Instagram and let you find a lot more different stuff. Pinterest is great for getting ideas for your next renovation, and Tumblr is perfect for finding art.
Don't be confined to Instagram when there's so much else on the web!
Here is the list of apps like Instagram targetted towards specific niche:
1. Flickr

Flickr is a photo sharing app where you can find your inspiration. That is what their motto says. It allows creating private albums and sharing them with your closest friends and relatives as well as making your own public photo diary. One of the great things about Flickr is that it is community-driven and everyone can sort photos by adding tags based on the topic. That makes seeking inspiration even faster.
Flickr is probably one of the best known Instagram like apps. However, there's more to it than just posting pictures. You can use it as cloud storage as well. If you have tons of photos you need to store somewhere, this app is just the thing for you.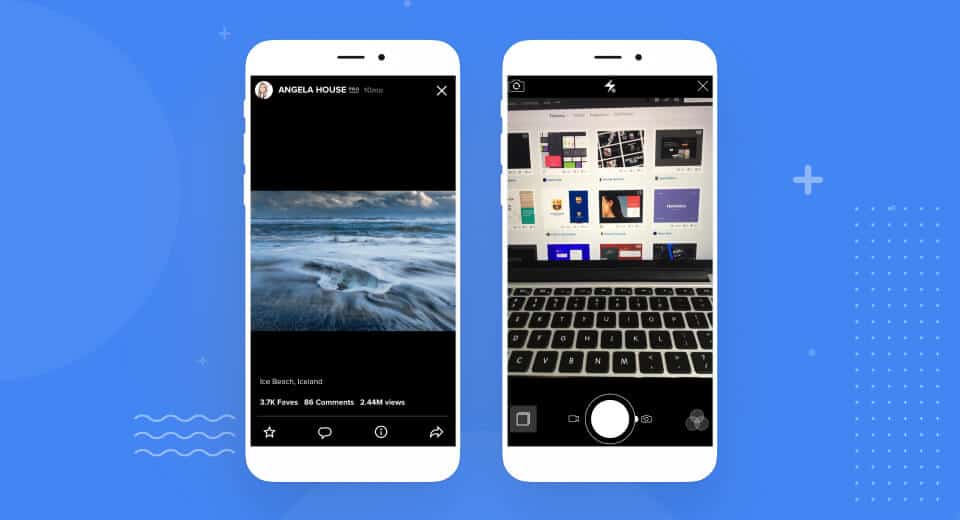 Though they no longer give away 1TB of storage, you can still save up to 1,000 pictures for free. Unlike Instagram, Flickr allows you to store photos in full resolution, so this won't be a problem for most people.
While you can't post stories on Flickr, all other Instagram perks are still there. You can edit your photos right in the camera roll, and share them with hashtags. Google Play Store shows over 10,000,000 downloads as of today, so you won't be alone there.
Availability: Flickr is available for iOS in Apple App Store and for Android in Google Play
Average rating and reviews count:

Apple App Store: 4.4 (69 reviews)
Google Play: 4.3 (257,662 reviews)

Pros: Ability to set licensing notices, flexible visibility settings for photos, integration into photo editing tools
Cons: Still frequent photo thefts, hard-to-find information
2. VSCO

The VSCO application found its niche with an advanced photo editing with numerous powerful presets and tools that allow creating awesome photos and videos. But it is not just an editing tool, it also has a huge community to get inspired by and share your photos with.
There is a free, basic version of VSCO and VSCO X Membership that opens the world of over 100 presets and tools which update regularly. The company was founded back in 2011 but got popular only after 2014 when it raised $40 million from investors.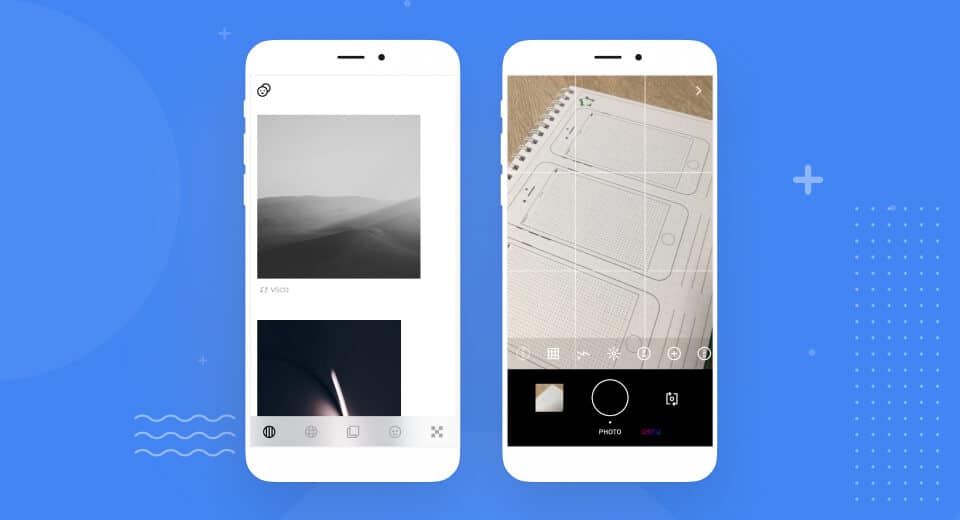 Availability: VSCO is available for iOS in Apple App Store and for Android in Google Play
Average rating and reviews count:

Apple App Store: 4.5 (16.6K reviews)
Google Play: 4.4 (870,970 reviews)

Pros: Ad-free, more filters than on Instagram,
Cons: Lacks other editing opportunities than filters
3. Retrica

The story of Retrica began in 2012 when they launched an app with a mission to deliver the world's best selfie experience using amazing filters. And today millions of selfie lovers are using Retrica for a perfect shot. As you can see, everyone can make an app like Instagram but to become popular it should have its own twist.
Let's face it, Retrica is an Instagram clone. It has over 100,000,000 downloads, so it's quite a good clone. It's ten times less than what Instagram has, but the app is so successful it is already attracting a lot of advertisers.
Retrica allows you to make great selfies and photos with their custom camera app. You can add over a hundred filters to your picture and spice it up with stickers and GIFs. There are not as many of them as on Instagram, but they're still pretty fun to use.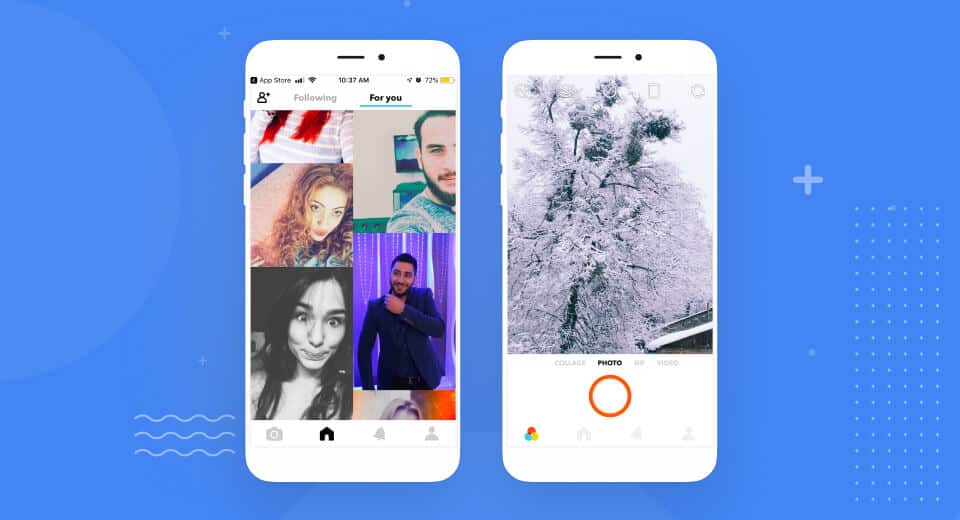 Post your pictures on your feed, and check what your friends post. You can send messages to your friends as well. If Retrica is not enough for you, the app is integrated with Instagram and Facebook, so you can repost your photos there, too.
You can use Retrica as another social network since you stay connected with Instagram. Some people like their filters even more, too.
Availability: Retrica is available for iOS in Apple App Store and for Android in Google Play
Average rating and reviews count:

Apple App Store: 4.7 (18.5K reviews)
Google Play: 4.3 (6,173,511 reviews)

Pros: Many great filters, timer, ability to create collages and GIF files
Cons: Quality of photos, a watermark in the free version
4. Pinterest

Pinterest is known for giving its users a possibility to upload, save, sort, and manage images, so-called pins, to virtual pinboards. Unlike other Instagram alternatives, it chose another strategy and de-emphasized its social media elements aiming to be a safe and happy place for self-improvement and inspiration. And it worked as in October 2018 Pinterest has reached 250 million monthly active users and still continues to grow.
The likeness with Instagram is in the pictures – the app is all about visual imagery. It's not a social network in the original sense of the word, but the community there is pretty strong.
It's really handy for getting inspiration for your home renovation. When browsing it, you'll be amazed at how much more in terms of fresh ideas it has.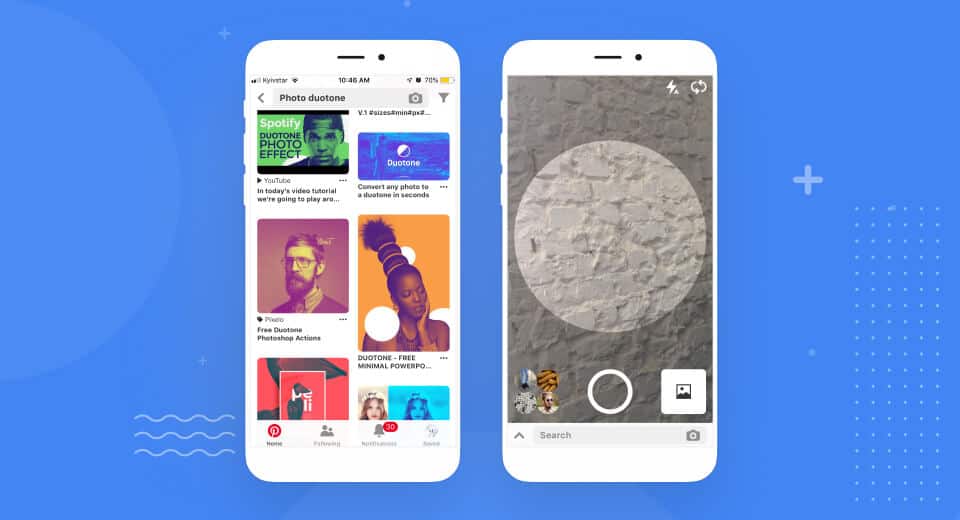 With over 100,000,000 downloads, it offers its users plenty of things to discover. In fact, Pinterest has become a great tool for marketing all kinds of fashionable things, ranging from clothes to jewelry.
Availability: Pinterest is available for iOS in the Apple App Store and for Android in Google Play
Average rating and reviews count:

Apple App Store: 4.8 (2.3M reviews)
Google Play: 4.6 (4,887,368 reviews)

Pros: Wonderful idea boards, Pinterest Lens, sharing settings
Cons: App requires special visual content
5. Imgur

Imgur was created to become an endless stream of entertainment containing various memes, GIFs, comics, art things, and funny videos. The community of Imgur decides what will be trending today by upvoting what they like.
Imgur took quite an interesting strategy; it rewards users for their interactions with Trophies like "Top Comment of The Month", "Best Post of the Day" etc.
It definitely works as recent statistics showed 17% of users spent more than 10 hours per week in the app. Recently Imgur added a chat feature allowing its users to share images, GIFs, emojis, and the plain text, of course.
Imgur is the ultimate source for photos for many websites, Reddit being probably the most popular of them. What can you expect from Reddit's favorite? You can post your pictures and share them across the web. Most websites would love to host a link from Imgur, and it can even end up on Buzzfeed!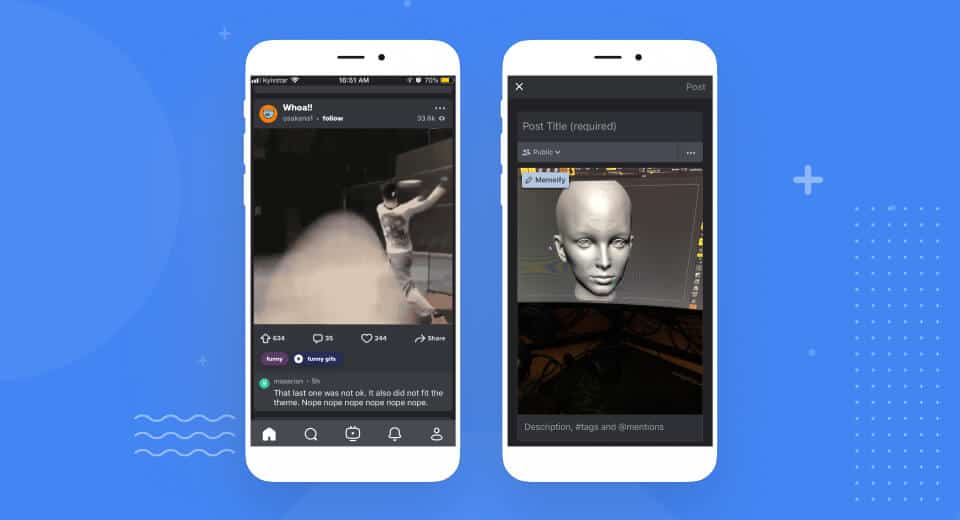 However, Imgur is very different from Instagram. The biggest difference is that it is centered around memes, not personal pictures.
It's more about discovering trendy stuff as well. You can browse it without registering, but you can't upvote until you have an account.
With over 10,000,000 downloads, Imgur can become your number one source for fun.
Availability: Imgur is available for iOS in Apple App Store and for Android in Google Play
Average rating and reviews count:

Apple App Store: 4.6 (28.2K reviews)
Google Play: 4.2 (172,252 reviews)

Pros: No account is required, unlimited picture uploads, image upload via URL
Cons: No support for PSD files, complicated system of image size limitations
6. We Heart It

We Heart It is another inspiring content provider. It allows exploring different content such as photography, quotes, wallpapers, beauty etc. We heart it can also be called a sibling of Pinterest since it is quite alike. Originally it was created by Fabio Giolito as a tool to "heart" photos for himself and share them with friends. It grew organically from there and became very popular.
Though it has a little over 10,000,000 registered users, it is still nothing compared to Instagram. Despite the relatively small size, it also has its loyal fanbase.
The app even has an official page on Instagram and can boast over 600,000 subscribers there. We Heart It focuses on one of the main aspects of Instagram, which is an inspiration.
We Heart It users post pictures of their vacations, inspirational quotes, and all the beautiful stuff that you love Instagram for. It's like your average Instagram feed condensed to the good vibes only.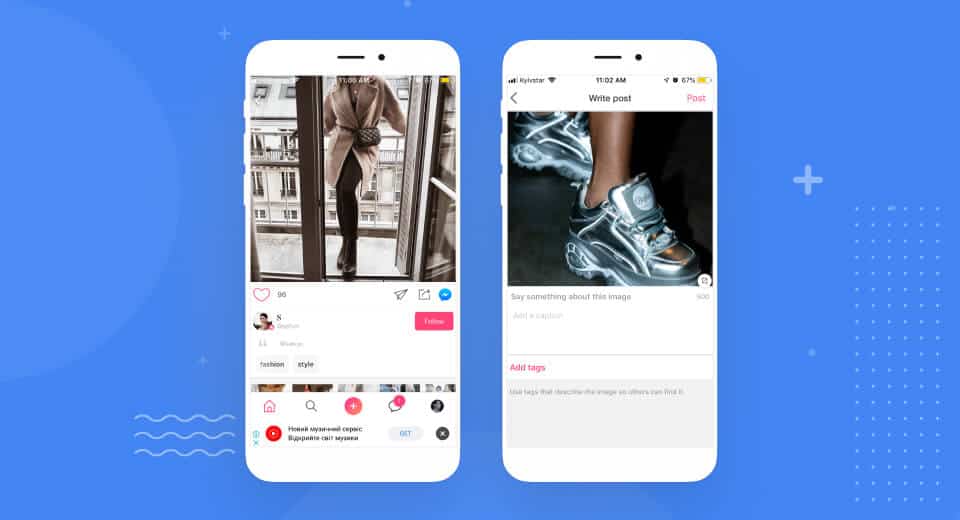 You can share your inspiring images with your friends via in-app messages. We Heart It is a bit more browsing-oriented than Instagram.
Some people complain about too many intrusive ads, though.
Availability: We Heart It is available for iOS in Apple App Store and for Android in Google Play
Average rating and reviews count:

Apple App Store: 4.6 (8.2K reviews)
Google Play: 4.5 (657,499 reviews)

Pros: Convenient search and navigation, great collections for inspiration, shows the latest pictures by default
Cons: Ads in the free version, reported glitches and bugs in the latest update
7. Snapchat

Snapchat is one of the main Instagram alternatives and competitors. It is tremendously popular for the variety of filters it provides. It was the first app completely focused on sending each other photo and video messages. Today it allows creating personified emojis and has augmented reality filters. Not so long ago Snapchat boasted of having stories that last 24 hours which can be shared outside the app using a link.
Snapchat is often referred to as the Instagram of Gen Z. This is why global brands like Gillette and a small writing service company are trying to get on Snapchat to market themselves to young people. Most celebrities are on Snapchat as well.
For many people, it is a better alternative to Instagram. You can't make permanent posts, and your Snap feed consists of stories only. It's a perfect way to capture an exciting moment, too.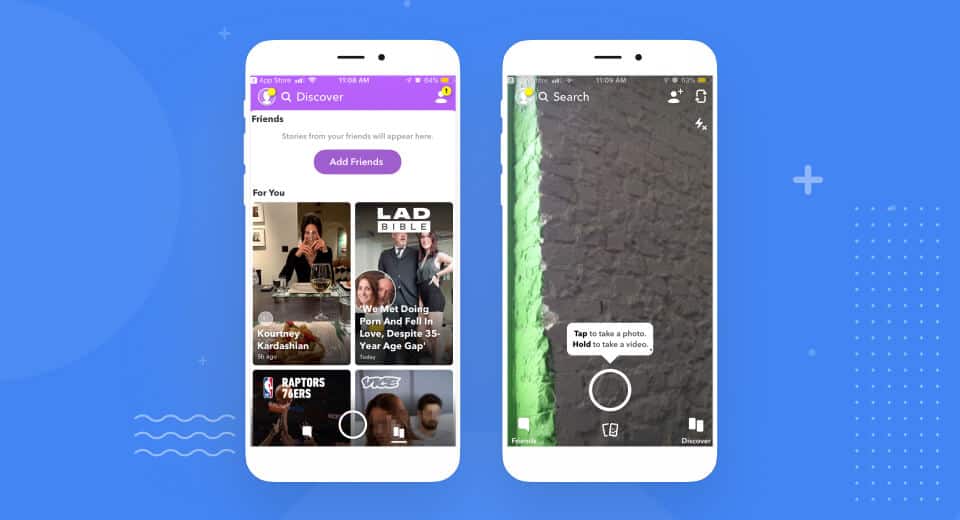 Many people find Snapchat filters and stickers better than the ones on Instagram. When you Snap each other often enough, you remain in a Snapstreak. There's an emoji next to the friends you talk most often with.
Snapchat is arguably better for following your favorite influencers' lives than Instagram. With over 500,000,000 registered users, there's a lot of interesting people to follow.
Availability: Snapchat is available for iOS in Apple App Store and for Android in Google Play
Average rating and reviews count:

Apple App Store: 3.8 (764 reviews)
Google Play: 4.1 (18,645,738 reviews)

Pros: Temporary content, nice filters, discover feature
Cons: No sharing to other social media, video time limitation, lack of analytics
8. TikTok

TikTok is basically the Instagram for videos. It has all the features Instagram has and more. You can create your own videos by applying stickers and masks to your footage. The app also allows you to share the finished product with the rest of the world.
TikTok is especially popular with lip-syncs. The platform gave birth to thousands of new talents in this field. If you into lip-syncs, TikTok can provide you with over 100,000,000 of them.
There are millions of free tracks to sync, so you can fully unleash your creative genius. The handy video editing tools available in the app allow you to do just that.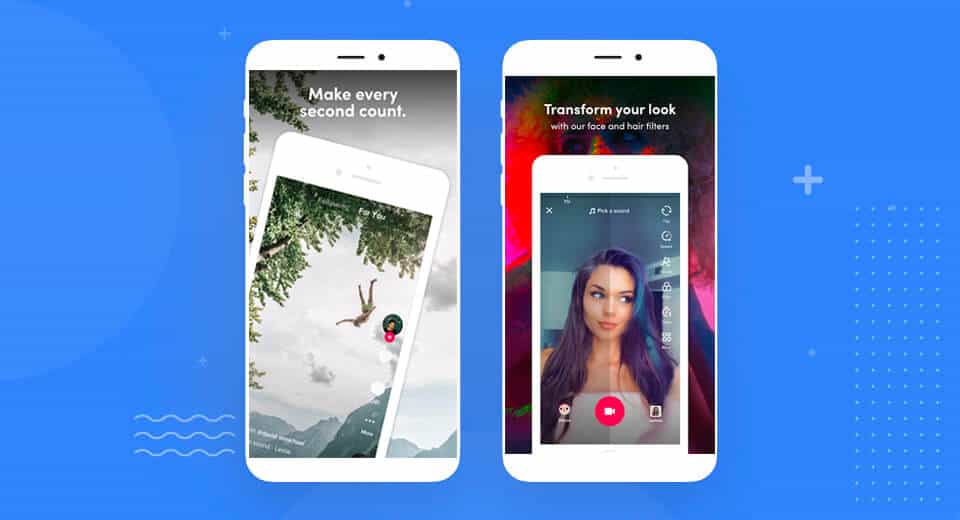 You can also use TikTok to find all sorts of creative video content. Stand-ups, podcasts, and just funny videos are there for you to explore.
Availability: TikTok is available for iOS and Android
Average rating and reviews count:

Apple App Store: 4.3 (1.1M reviews)
Google Play: 4.4 (9.3M reviews)

Pros: Simple user interface, fast and responsive
Cons: Addictive, harmful videos suggested
9. Vigo Video

When it comes to posting cool videos with music or sound effects, Vigo Video (former Flipagram) is the number one Instagram-like app. But creating photo and video slideshows is only one feature of Vigo Video. This app is also a social network where you can follow other users, get inspired by creative and fun videos and also participate in challenges.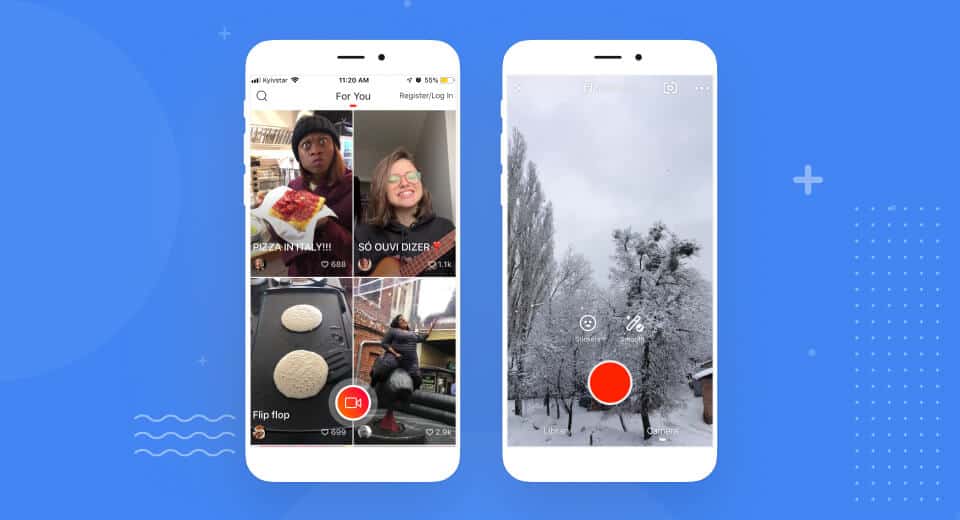 Availability: Vigo Video is available for iOS in Apple App Store and for Android in Google Play
Average rating and reviews count:

Apple App Store: 2.1 (4K reviews)
Google Play: 4.3 (574,920 reviews)

Pros: Nice editing tools, video promotion with the help of app's machine algorithms
Cons: Parental supervision is required
10. Tumblr

Tumblr is one of the major alternatives to Instagram when it comes to finding great imagery. It is an old good friend that keeps in step with the times. On Tumblr you can customize the look of your profile page, meet new people, search content by the hashtags, and, of course, get inspiration with whatever you are into.
If you like independent artists, Tumblr is probably the best place you can go to. There are millions of people there who create artwork for you to discover.
You can create your own blog and write about anything you like. You can also post music to expand your blog. Though the app has only 100,000,000 downloads on Google Play, it doesn't really reflect the whole picture.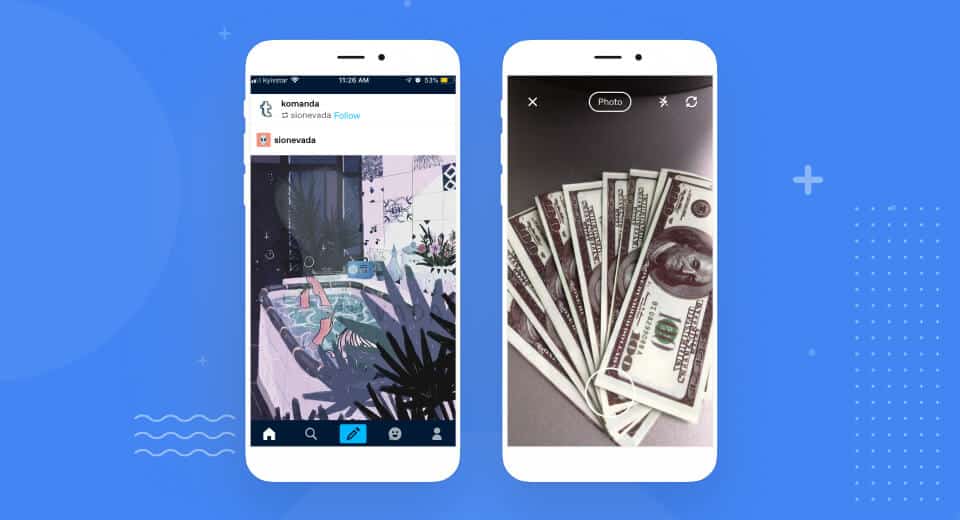 There are over 400 millions of blogs on the platform in 2019. This gives you a lot to explore and a lot of people to upvote your posts!
Availability: Snapchat is available for iOS in Apple App Store and for Android in Google Play
Average rating and reviews count:

Apple App Store: 4.8 (795 reviews)
Google Play: 4.3 (3,212,204 reviews)

Pros: Totally free, ability to schedule posts, active community
Cons: Limited blogging features
If you feel that you are done with Instagram and get bored with its filters and content, there are pretty good Instagram alternatives. Feel free to explore and find your own serene port or inspiration using these apps.