What we think about
Insightful
Insightful takes employee monitoring, and analytics to the next level and keeps an eye on your employees' productivity
Working from home was once a luxury only owned by a small number of people. But today, a huge section of the workforce is working from home. Many organizations have continued to let their employees work from home after the COVID-19 pandemic.
There is no point in traveling back and forth when work can be done easily from the employee's residence.
But if there is one thing amiss in working from home, it's concentration. Workers are more likely to open YouTube or social media during working hours at home than in the office.
So, what does a company do?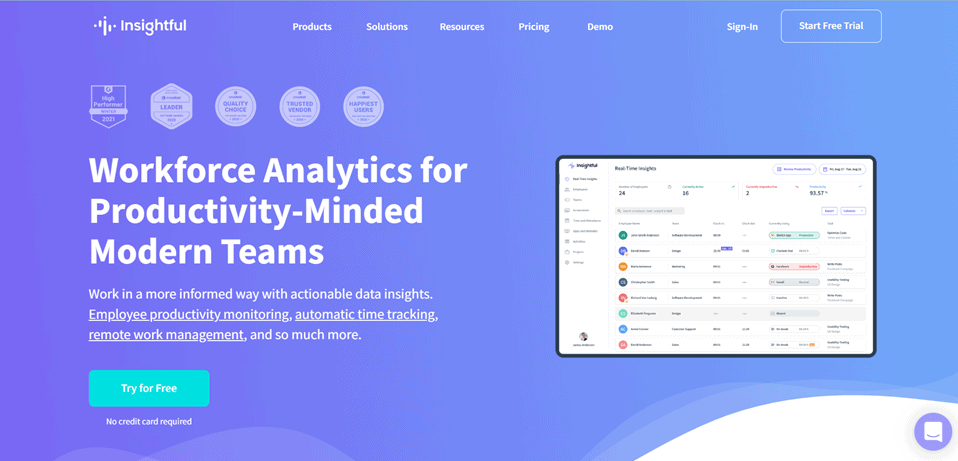 In comes Insightful, a software that keeps an eye on your employees' productivity.
What is Insightful?
Ivan Petrovic founded Workpuls in 2016. With a team of 10 people, Workpuls won its first award in its first year. Six years later, in 2022, Workpuls was rebranded as Insightful to match the name with its future plans and aims.
Insightful gives "workforce analytics for productivity-minded modern teams." The software is used in over 1300 companies daily to monitor and channel the labor into a productive path.
Features of Insightful
We already stated that Insightful keeps an eye on your employees' productivity. But how? Let's jump right into the features for that answer.
Employee Monitoring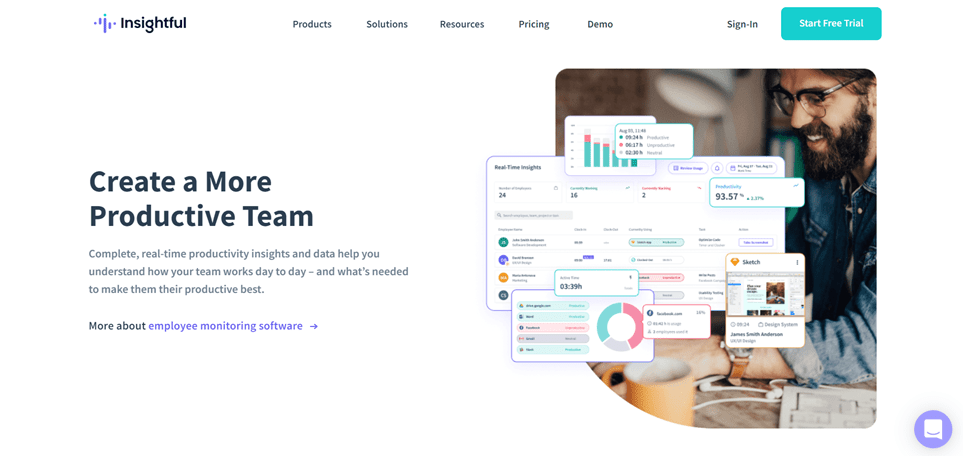 As the name suggests, the Employee Monitoring software keeps track of the way your employees spend their time during working hours. Here are some sub-features of Employee Monitoring:
App and Websites Usage: This feature allows you to track what apps and websites your workers are using personally, in a team, or at the company level.
Screenshots: With this feature, you can get random screenshots of your employees' PC. You can also get them when an employee engages in suspicious or malicious content.

Activities Tracking: You can see activity logs of the employees, including manual, idle and active time.
Stealth Mode: This mode lets you monitor your employees' activity and get all the information without them noticing.
Time Tracking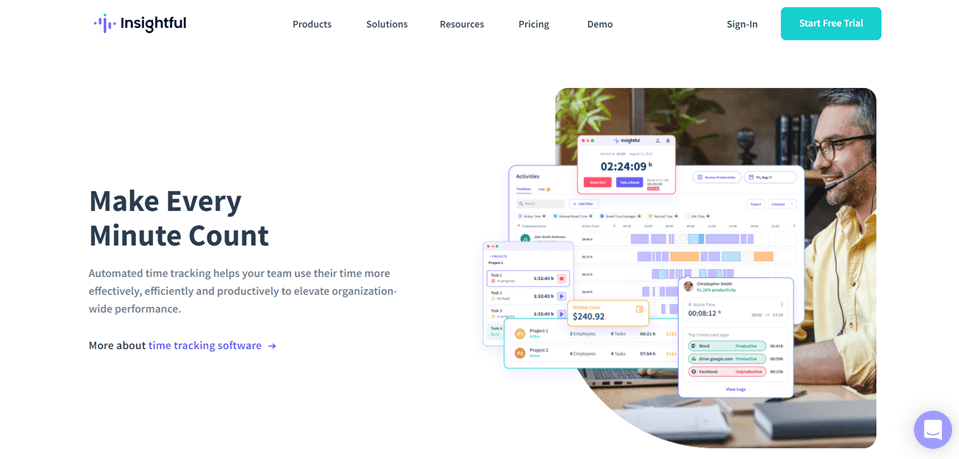 The Time Tracking software analyses, records, and optimizes the time spent on company projects. This includes:
Project Management: This tool lets you add projects into a well-organized Kanban board to get all the project information conveniently in one place.
Time on Projects and Tasks: Here you can track the time spent on each project so that you don't overlook any deadlines. You also get analytics on how the employees spent the time.
Real-Time Monitoring: With this tool, you can monitor and see what your employees are doing in real-time, whether they are working or scrolling through social media, browsers, YouTube, etc.

Timekeeping: Insightful does not only monitor your employees' data but also records it. You can access the data up to 24 months ago.
Budget: This unique tool makes a budget for each of your projects. You can put the cost of a project against your pay rate and estimate your expenses and profits.
Time & Attendance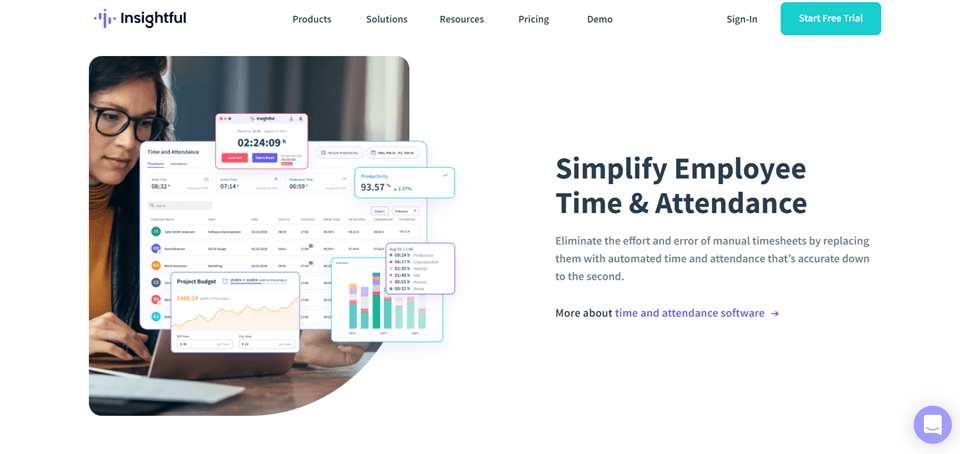 The Time and Attendance software gives you real-time data on when your employees work and what task they are completing.
Timeclock: Insightful's automated time clock records your employees' time and attendance from the moment they log in to the moment they log out.
Real-time Attendance: You can use this tool to make sure your employees are working during their allotted working hours and taking breaks to enhance their performance.
Payroll: This tool can be extremely helpful when paying salaries to your employees. You can put it in your payment system, and the tool will show you the number of hours a particular person worked. That way, you would be paying directly for the employees' hard work.

Time Reports: With this tool, you get projects, employees, and budget reports. You can schedule to get these reports as emails automatically.
Automatic Time Mapping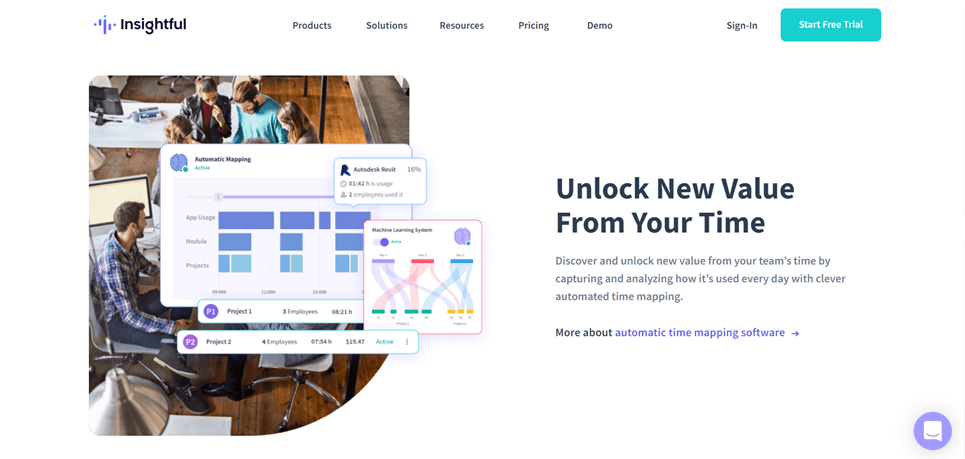 The Automatic Time Mapping software takes the Time Tracking software on a deeper, detailed level and works excellent in architecture companies, large enterprises, design teams, and insurance companies. Here are the tools this feature offers:
Precise Project Insights: With the help of this tool, you get the precise time that was spent on each phase of a particular project. You can also check the efficiency and focus of employees in real-time.

Automatic Time Tracker: This tool helps unburden the employees as it automatically allows work to the suitable projects. So, your employees will not have to waste time on timesheets. Instead, they can use that time to finalize projects.
Detailed Reports: Here you can categorize and prioritize work so that employees work on the projects that are more important first.
Insightful Pros
Insightful is available in Windows, Mac, and Linux.
Using Insightful, you can enhance and promote your workforce to increase their productivity.
If your company charges clients according to the time spent on the project, the time clock is an excellent tool for you.

With Insightful, you can figure out which employees or teams lack. This way, you can provide them with resources to boost their performance.
Insightful is very easy to use and handle for the manager and the team.
Customer support is beneficial.
The results can be filtered, so you only get useful data.
Insightful is affordable, so even small enterprises can use it.
Insightful gets your employees' data right to your computer no matter what part of the world your employees are in.
You can choose whatever feature you like. That way, you won't have to pay extra for features that are of no use to you.

Employees can monitor their own activities as well.
Insightful Cons
If not handled properly, it can lead to the admin micromanaging each employee.
Employees may feel a lack of trust and stress about it.
The stealth mode allows you to monitor your employees without them knowing. But you need to be careful and have valid reasons for using it to avoid potential legal issues.
The trial period is only seven days which is not enough time to explore large enterprises.

Email reports are set and not intuitive. You will have to go to the tool and get the desired results yourself.
Pricing
Now we have the pricing of Insightful. The pricing is based on the count of employees and the software you choose. For Employee Marketing software, you will have to pay $8 monthly per employee. For the Time Tracking software, the price is $10 monthly per employee, and for the Automatic Time Mapping software, you need to pay $15 monthly per employee.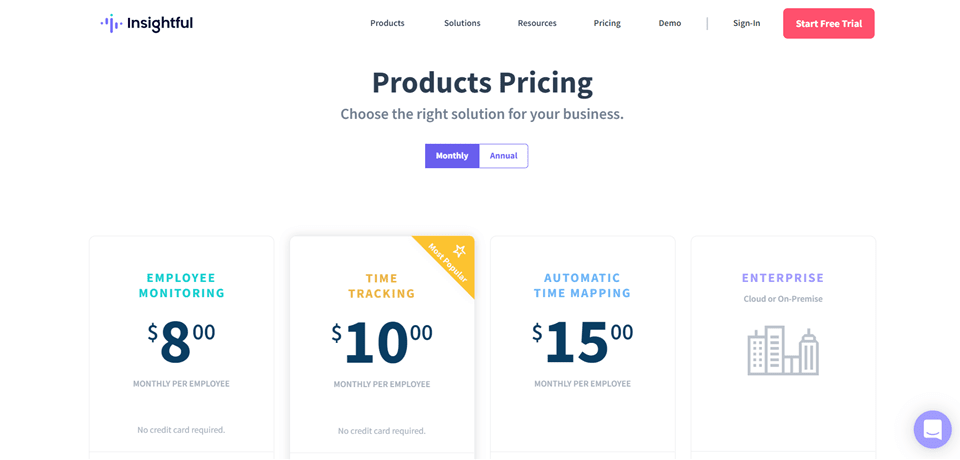 If you don't like these three plans, you can get the Enterprise plan by contacting their customer support.
These are the plans that are billed annually. The Employee Monitoring plan at $6.40 monthly per employee. So, it would be $76.80 annually per employee.
At $8 monthly per employee, the Time Tracking software would be $96 annually per employee. The Automatic Time Mapping at $12 monthly per employee would be $144 annually per employee. Again, if you don't like these plans, you can get in touch with Insightful's team for an Enterprise plan.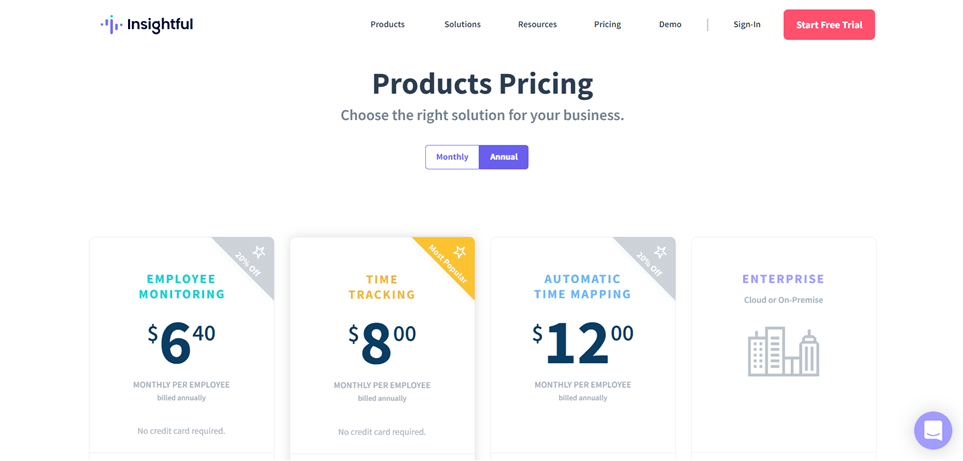 Keeping aside the plans, you'll get a 7-day free trial before you opt for a plan that best fits your needs.
Insightful Demo
Final Verdict
Insightful takes employee monitoring and data analytics to the next level. Having features unrivaled by any of its competitors makes significant differences in organizations. Insightful is unlike the other employee tracking tools as it is made to support breaks and flexible working hours.
Not many tools allow the employees to see their data, but Insightful does. By using this tool transparently, you can win the trust of your employees and show them how to benefit from Insightful.
Having said all that, we would once again point out that Insightful needs to be used carefully. Instead of micromanaging each employee, you should check the progress of the whole team on a weekly basis.
If you focus on what employees are doing every second, you will be stressing both yourself and your employees. Being open to your employees about monitoring them and asking for their opinions will ensure that the trust bond stays in place.
What we think about
Insightful