What we think about
Ingramer
If you're looking for organic Instagram growth, you will surely love Ingramer. Read our Ingramer review and know how it offers engagement on your profile.
Ingramer is now rebranded as Inflact. In the process of product growth and development, the company wishes to be associated as a unique brand rather than an Instagram-only service.
Be honest with your answer – How challenging and tedious you find managing your Instagram profile? With above 7200 followers on my business' Instagram account, I find it quite difficult designing engaging posts, creating advertising content, responding to DMs, and the most arduous of all, understanding analytics.
Well, you may suggest me getting an Instagram handler or social coordinator. I have tried that too, but ultimately, it wasn't really worthwhile getting full-time or even part-time coordinators. I was already aware of social media management tools but had very little faith until one of my business buddies showed how his Instagram profile is running under complete automation.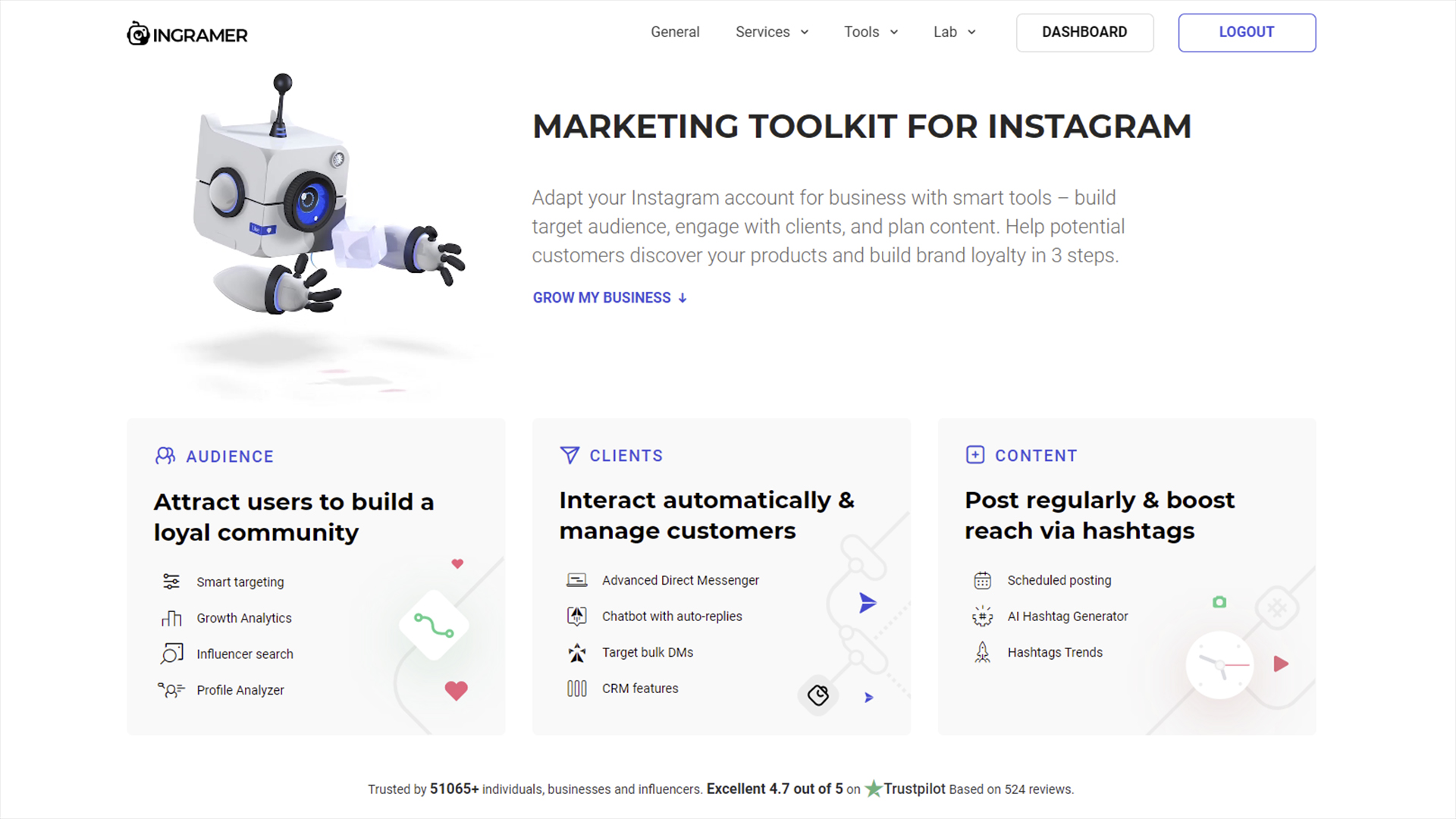 Already guessed what this amazing tool is? Right away, I subscribed for Ingramer and with its automated tools and professional suite of services, it has been operating my Instagram profile incomparably, even better than how I would have handled it.
After using Ingramer extensively since last year, I understood how seamless the entire process becomes and how many hundreds of hours I worthlessly spent scrolling through followers, posts, hashtags, and analytics.
So here I am, writing this Ingramer review, compiling my year-long experience with this time-saving service. And by the end of this review, you will understand how Ingramer is nearly perfect for your business' Instagram profile.
What Is Ingramer & What Does It Offer?
Let's first start with an introduction to Ingramer. For starters, Ingramer is an all-in-one Instagram promotion service with loads of features for organic and inorganic growth.
Apart from being an automated marketing tool, Ingramer is also an Instagram bot, capable of responding to DMs, automatically liking and commenting on posts from other accounts, and providing in-depth analytics for predicting further growth.
Its own style of marketing is by making your business or personal accounts' marketing completely automated, without you ever digging through lists of followers, finding appropriate hashtags for engagement, designing engaging posts, and brainstorming on complicated analytics.
Designed for Instagram influencers, business owners, and professionals, Ingramer is an affordable approach towards building an excellent Instagram community without having any prior social media marketing knowledge. Ingramer works flawlessly for anyone looking to step up their Instagram engagement by scheduling tasks and implementing automated responders.
So far sounds pretty great? Let's now take an in-depth look at some of the Ingramer features.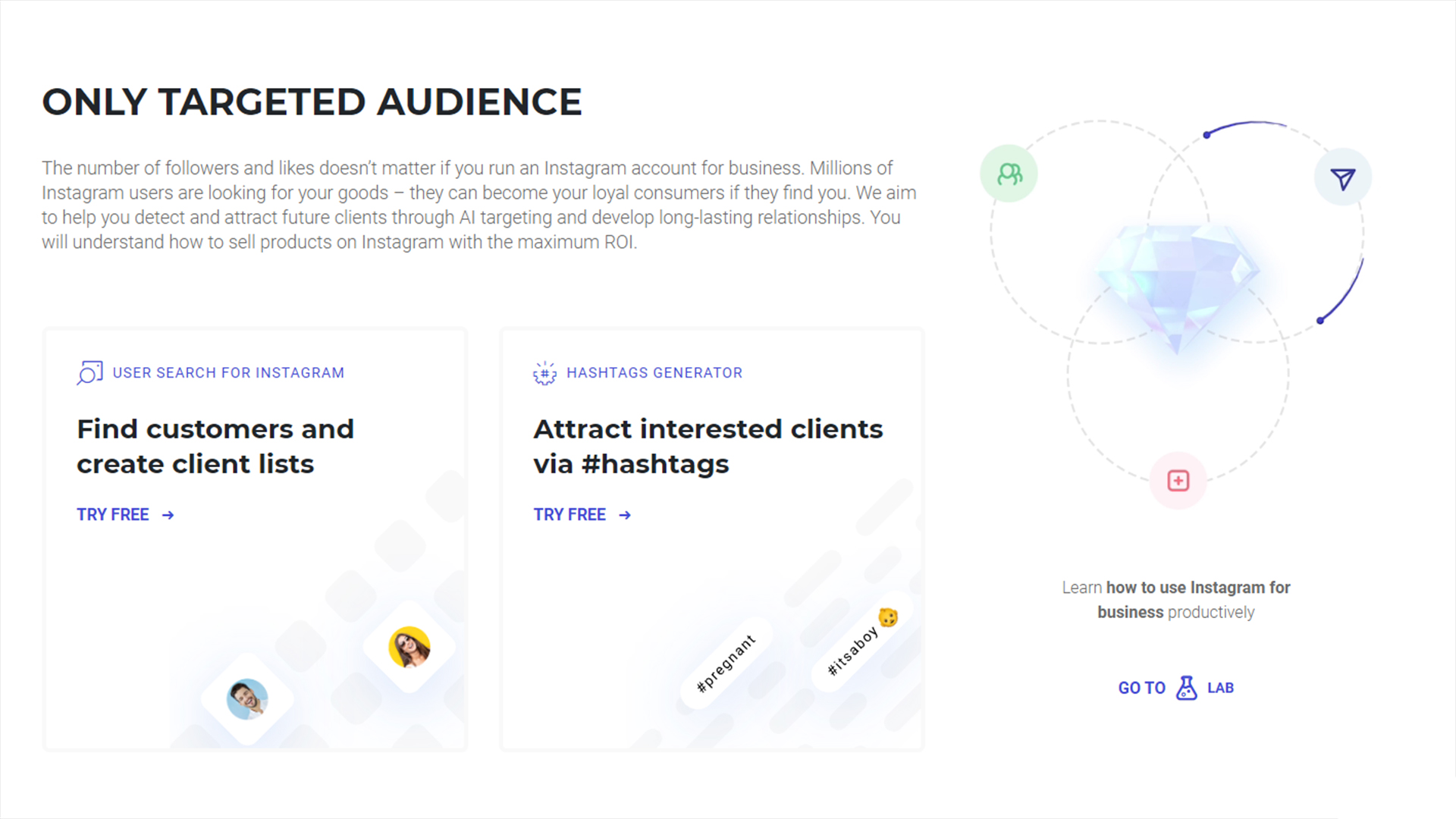 Ingramer Features & Things It Can Do For You
1. Hashtag Generators for Instagram
Hashtags are considered an effective and simple strategy for growing your Instagram community. With audiences following hashtags of their choice, you can reach out to millions of viewers just by implementing appropriate hashtags in captions.
New hashtags are popping up with every trend, letting you grab the wave right when it starts. But getting the right inventory of hashtags can sometimes be challenging. Thanks to Ingramer's hashtag generator tool, it's now easier to find and prepare an inventory of apt hashtags for your profile. Just suggest keywords and Ingramer will gather applicable hashtags.
2. Instagram Post Planner
By far, auto post schedulers are the most common among Instagram influencers, letting them create posts, scheduling them with time, date, captions, and tags, and posting them automatically without the users' interaction.
Post schedulers are quite common for influencers and businesses with strategic planning. If you are highly active on Instagram almost daily, it will save you dozens of hours each month.
3. Automated Direct Messaging
A recent study shows that unique message designs can increase CTR by up to 76%. The only problem, however, is the lack of knowledge of how incredibly DMs can be implemented for better engagements.
I did not emphasize much on DMs until I started using Ingramer's automated DM features, especially its customizable auto-replies.
From welcoming your new followers with an earnest Hello message to sending mass direct messages to your existing followers, Ingramer's CRM-based tools will assist you in automatically answering DMs with an absolute chain of actions, customized by labels and keywords.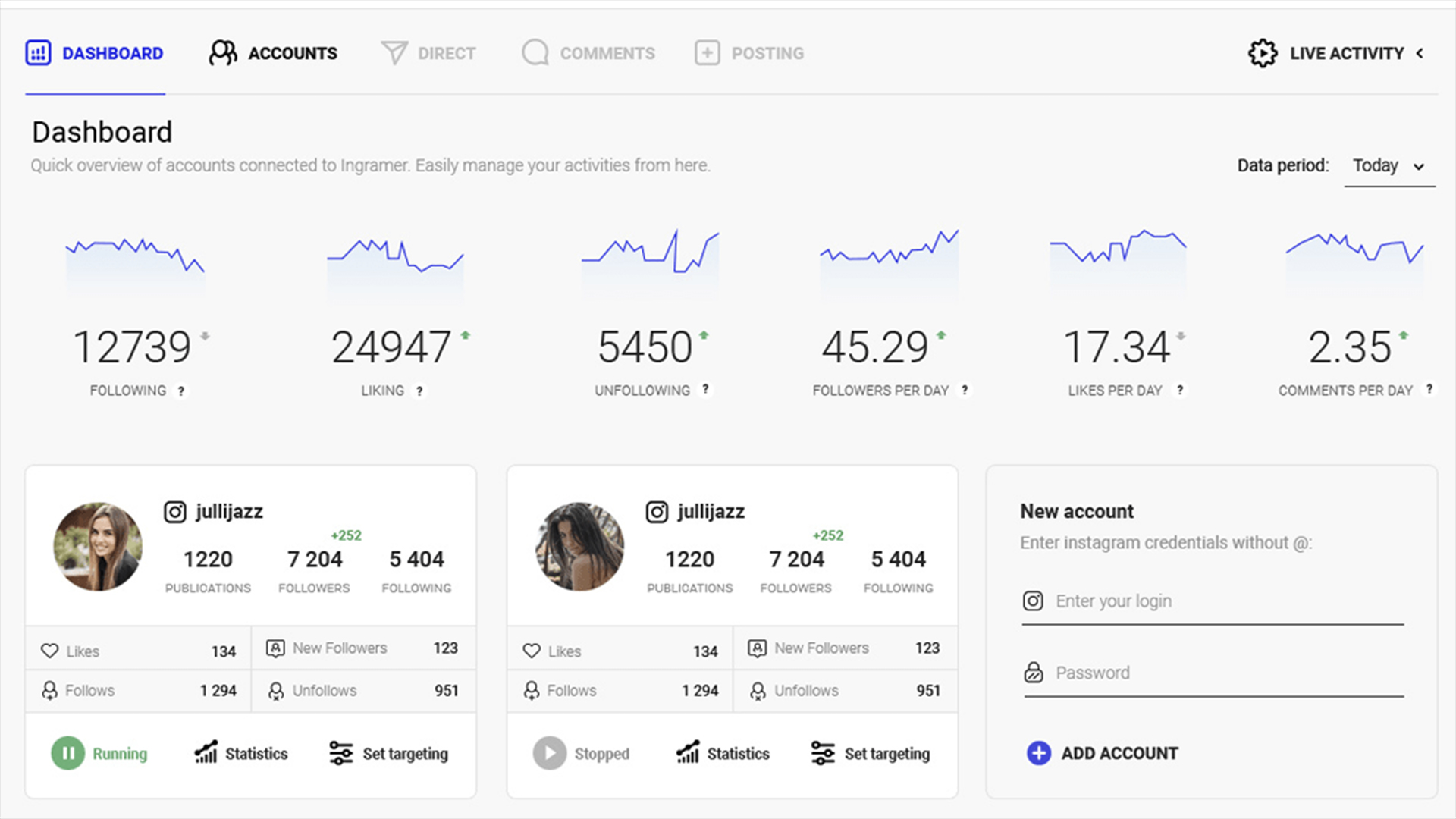 4. Instagram Story Viewer
Watch and save Instagram stories anonymously with Instagram Story Viewer. With just one click, you can monitor and download every active and highlighted story that has ever been uploaded, without being traced on the viewer list.
With just $49/month, you can quickly and anonymously access Instagram stories from up to accounts you don't follow or have blocked you, with story download just one click away.
5. Instagram People Search
Instagram lays an enormous emphasis on the search and discovery of content, making Instagram profiles, personalities, and business discoverable on Explore Tab.
With Ingramer advanced profile search, and you can access valuable information across Instagram – quick and free. In this fast-paced platform, explore usernames, emails, contact numbers, and bio keyword matches, and assist your business in finding the right community.
Instagram people search also helps you research your target audience with its inbuilt filters. Just slide through desired followers count, posts amount, categories, and hit Search. It's that easy!
6. Auto Like
This is yet another Instagram marketing strategy that helps new profiles gather more audience and views, ultimately benefiting from Instagram's algorithm.
Liking others' posts, especially from small accounts, pushes notifications, tempting its users towards browsing your profile and checking it out. Ingramer cleverly benefits from this strategy by liking posts from usernames, hashtags, and even interests resembling yours.
7. Auto Follow
Similar to auto likes, Ingramer lets you auto-follow certain profiles and even hashtags, making it an even more effective approach at getting attention from accounts with similar interests.
Once they receive notifications on who followed them, they will view the profile, and possibly follow back. Even if someone's not using tools like Ingramer, following accounts still remains an effective strategy for gaining followers.
8. Detailed Analysis
You just implemented Ingramer on your Instagram account. But is it bringing you more engagements on your profile? Whenever you are planning for Instagram growth hacks, regularly checking out and understanding your analytics must be your foremost consideration.
While Instagram already has an inbuilt analytics tool, Ingramer offers an even more impressive approach with its Statistics Tool.
The smart analytics tool of Ingramer lets you know what's working, what isn't, and what tweaks are worth deploying. In-depth analytics coupled with Ingramer's marketing suggestions will certainly help you gather an immense audience.
The Good-Old Pros & Cons
| Pros | Cons |
| --- | --- |
| Secured website with HTTPS encryption | Requires learning curve |
| Transparent and affordable pricing | Pricing may look expensive for starters |
| Blog page, FAQs, and 24×7 customer support | Grid Maker feature is missing |
| Minimal interface will every tool arranged | |
| Encrypted and secure with customer credentials | |
| | |
Should You Opt For Ingramer?
Now here comes the ultimate question asked more than anything – Should you choose Ingramer for your Instagram growth or not?
Regardless of what an insignificant demographic of users might say, I believe that Ingramer is worth relying on. I have been using this amazing tool for an entire year, and I have never come across one single problem on my Instagram profile.
Except for its bank-breaking subscription! While it's fair and affordable to its competitors, I would like to get an axed-down plan.
However, approach such service with caution, as customers have complained about inconsistencies and endless news reports about Instagram credentials and user data getting leaked occasionally.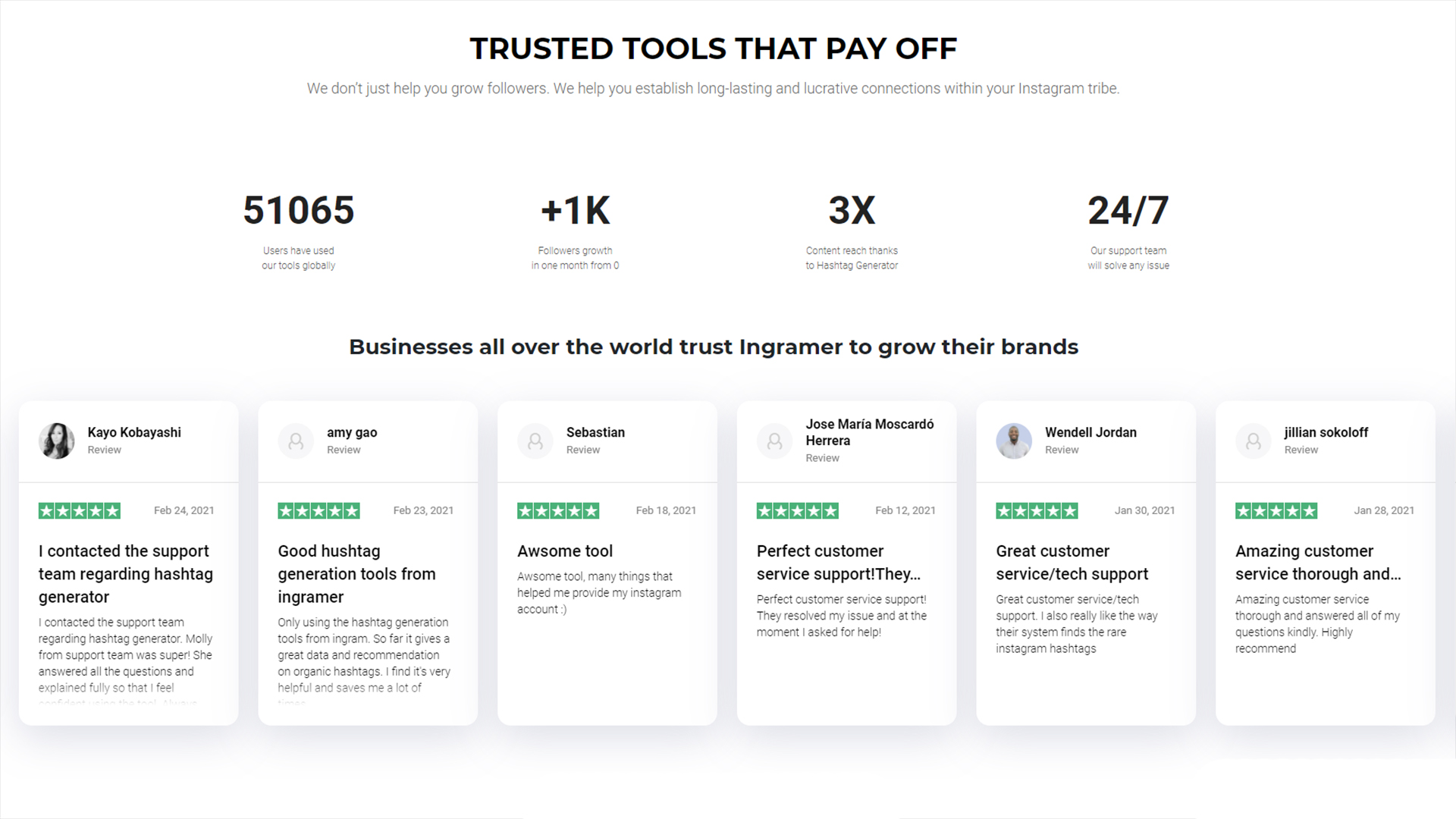 Let's Now Talk About Ingramer Pricing
Ingramer pricing is cleverly differentiated into modules, making it easy and affordable for customers. Four modules, each with its respective feature sets vary in pricing based on how many accounts you connect and for how long you are subscribed. You can either purchase each module individually or all together depending on your requirements and start skyrocketing your Instagram growth. Here are the Ingramer pricing modules with their respective features.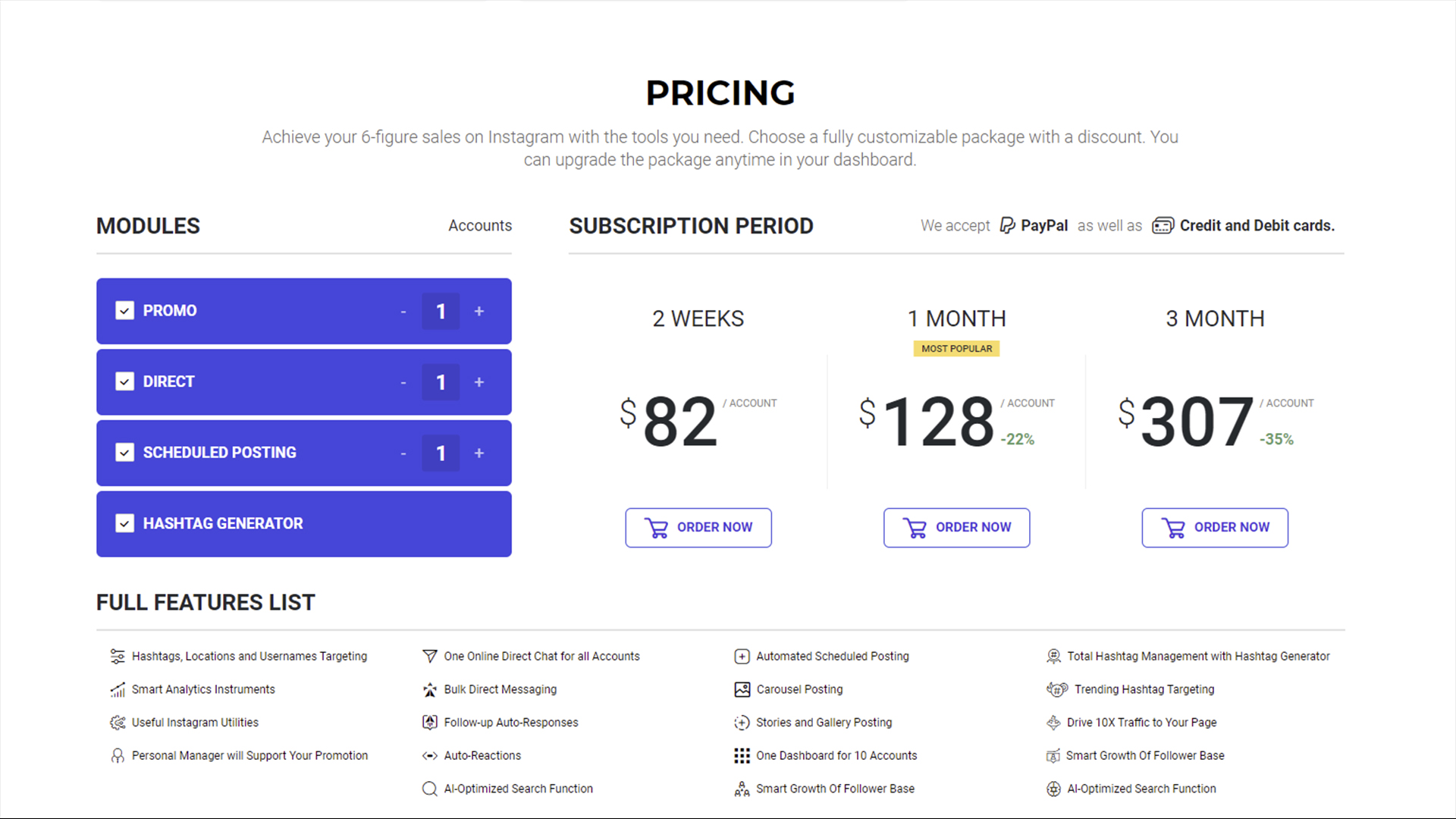 | PROMO | DIRECT | SCHEDULE POSTING | HASHTAG GENERATOR |
| --- | --- | --- | --- |
| Being Ingramer's highly popular pricing package, Promo offers automation of daily actions with smart analytics and management | Direct is another Ingramer module with high demand. As the name suggests, it offers customised and bulk messaging features | Schedule posting allows you posting pre-designed posts with custom time, along with hashtags, user tags, and location tags | Hashtag generator offers customised traffic on your profile by targeting live hashtags and providing AI optimisation on analytics |
| Auto Likes and Follow | Online Direct Chat | Auto Scheduled Posting | Full Hashtag Generator |
| Hashtags and Location | Bulk Direct Messaging | Photo and Video | Targeting Hashtags |
| Usernames Targeting | Auto Responders | Gallery Posting | Live Analytic Results |
| Smart Analytics | AI Optimised Search | Full Accounts Preview | AI Optimised Search |
| Personal Manager | Target Audience | Auto-Tagging | Custom Traffic |
Frequently Asked Questions
Concluding Notes – My Year-Long Experiences Combined
Deploying automation tools like Ingramer indeed brings an enormous in the way you manage your Instagram profile. I have often noticed users making the mistake of implementing automation way too aggressively, leading to spammy behaviors, ultimately termination.
But don't you worry! Start your automation at a low pace, implement growth hacks for a few weeks and slowly ramp up. In conclusion, especially if your daily schedules are hectic with other business responsibilities, adding Ingramer to your subscription will be an ideal approach to managing your Instagram profile.
What we think about
Ingramer