India became the second largest smartphone market in the whole world, surpassing the US in the third quarter of 2017. The only nation ahead of India is China and with the growth rate, our country now has can raise serious threat against the Chinese dominance.
Canalys, a research firm has given out their report. The report says India rose up to beat the US even after having a serious decrement in the last quarter's growth rate.
India Became the Second Largest Smartphone Market in the World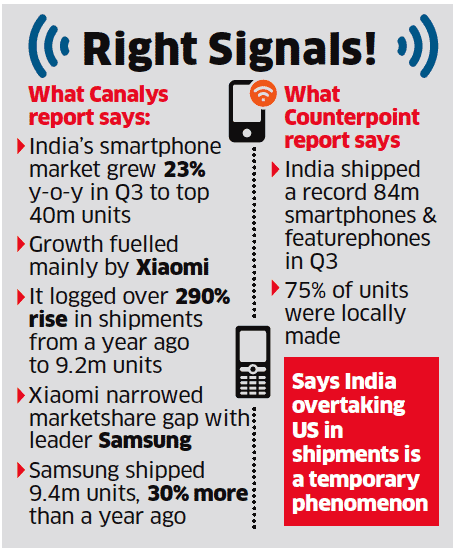 We all know the Indian smartphone market isn't the same now. With many companies offering feature-rich devices at an affordable budget, many people got access to the smartphone ecosystem. Obviously, that's what seeded the humongous growth rate in the number of users.
The analysts in the Catalys research firm reported that the smartphone shipments in India have gone over 40 million in the third quarter. The year-on-year growth is a crazy 23%. As we go deep into the list of OEMs, both Samsung and Xiaomi lead the race with 9.4 and 9.2 million shipments respectively. Samsung has been decorating the pole position in the number of smartphone shipments since long. And it seems, Xiaomi might overtake them to take the lead.
Samsung, Xiaomi, Vivo, Oppo, and Lenovo are the top five smartphone manufacturers in the country. All these companies account for more than 75% of total shipments. Vivo and Oppo focus on an offline marketing strategy whereas Xiaomi's sole technique is online selling. Both Samsung and Lenovo has strong grip in both online and offline marketing.
When you see the growth rate of the companies, you will be astonished to see the massive 290% in Xiaomi's column. Even the top leader Samsung has only 30% growth rate in India.
Apparently, you can't see Apple among the top smartphone manufacturers. Yet, they managed to up the number of shipments in the third quarter and the number reached 900000 as per the report.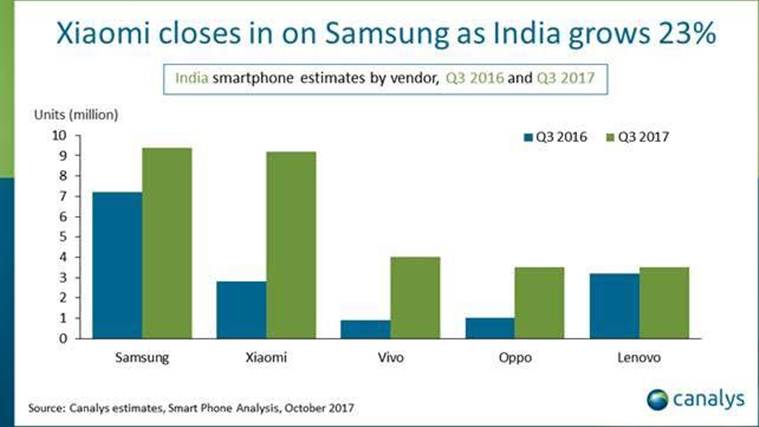 A Catalys analyst stated that India has more than 100 companies and a few enters the market every quarter. And, he added that the growth will continue no matter what. He pointed out low smartphone penetration and explosion of LTE as main drivers behind the growth.
Another spokesperson from the research firm observed that Xiaomi struggles in the mid-range segment (especially 15000-20000 INR), where Samsung, Oppo, and Vivo excel. However, there is a chance for Xiaomi to overtake Samsung in two or three quarters.
In the second quarter, demonetization and implementation of GST adversely affected smartphone market.