Snovio is one of the best hunter.io alternatives to scrape and sort quality email leads from LinkedIn, Facebook and Twitter. As now a day quality is in high demand, Snovio is definitely a great solution for generating good leads for anyone needing valuable contact information, especially professionals.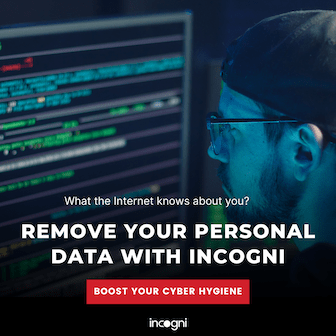 Snovo email hunter provides you a list of bulk quantity email addresses at an affordable price. Moreover, the database is updated regularly, thus you can expect top-notch quality service.
Snovio provides a variety of features which includes email lookup tool, email verifier, and email address checker. Therefore, you will be able to generate accurate and quality data for leads.
Getting Started With Snovio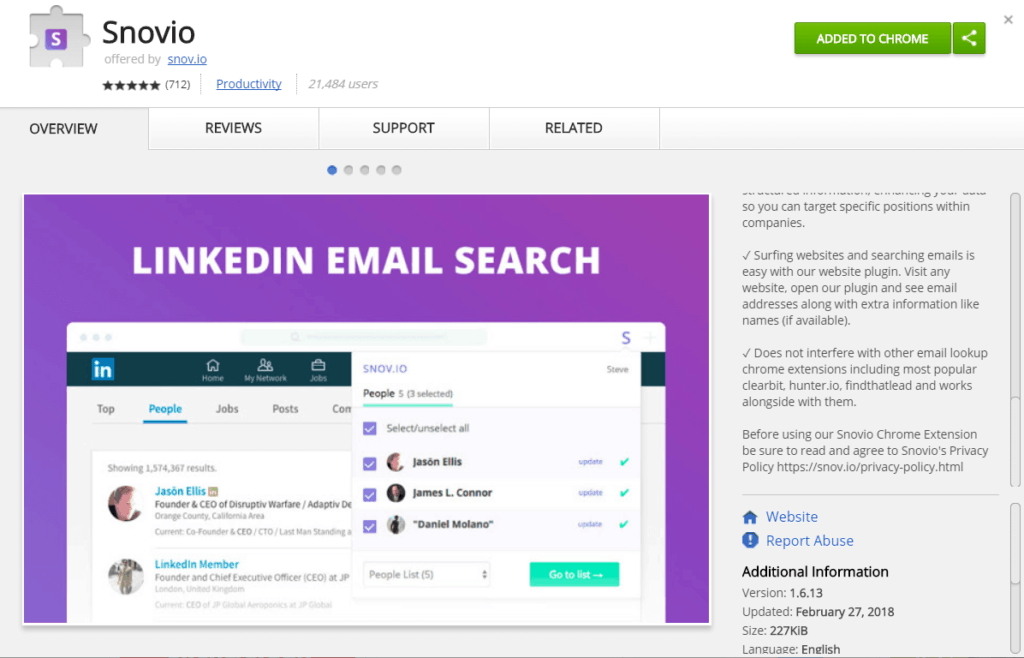 After installing the Chrome extension, you'll be redirected to the registration page. Enter your basic details and verify your account with the verification email sent to your inbox.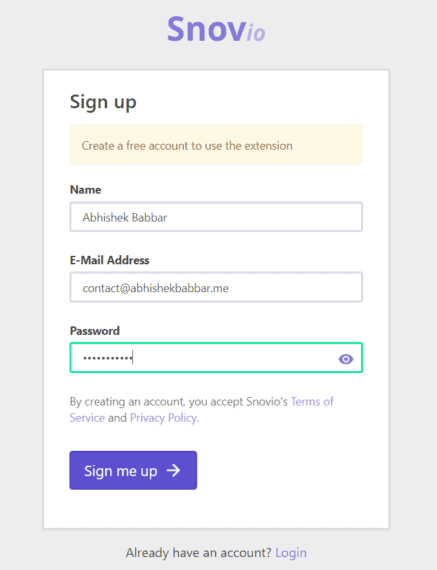 Then, log in to the website or the Chrome extension with your login credentials.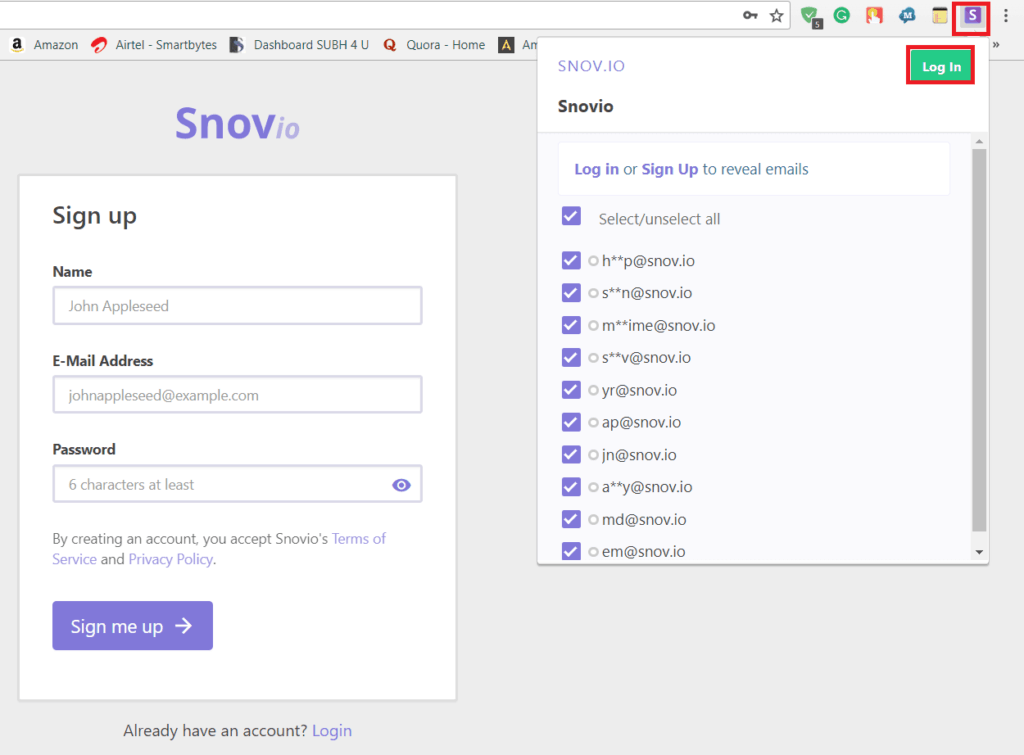 Now you are all set to use all the services provided by Snovio.
Also Read: 12 Best Online Video Editors (No Downloads Required)
Snovio Features:
As a matter of fact, Snovio undoubtedly provides what it promises. Email verifier coupled with email lookup up tools and a highly optimized Chrome extension, there is nothing more to ask for.
There are some features which can amaze recruiters, sales managers, research bloggers, journalists and even website owners.
Snovio Chrome Extension
Surfing websites and searching for emails certainly becomes a lot easier with use of highly efficient Snovio chrome extension. The extension works like a charm for Facebook, Twitter, and LinkedIn too. Additionally, the extension supports various other websites as well. However, the functionality and integration of the extension are not that good sometimes.
Email Hunter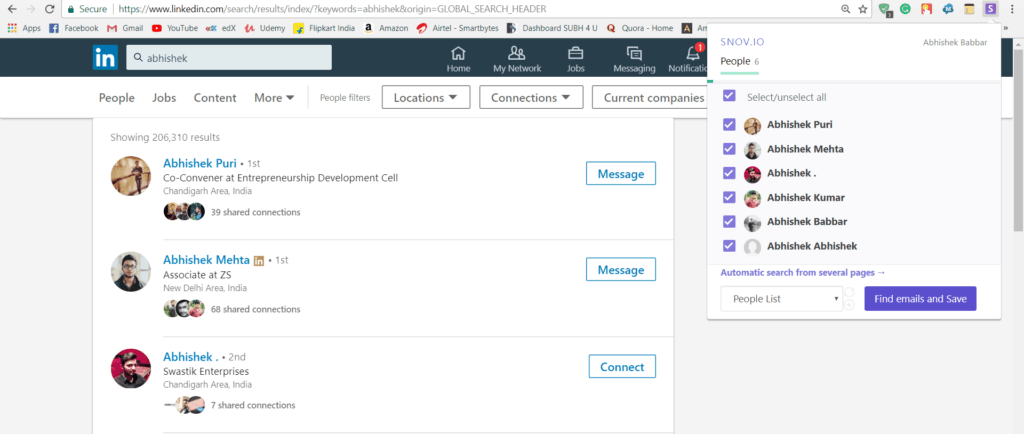 With just a few clicks, you can find and save emails of people in your LinkedIn network. Furthermore, Snovio allows you to do a bare search on LinkedIn or other websites with the use of its Prospect Search Tool.
Domain Search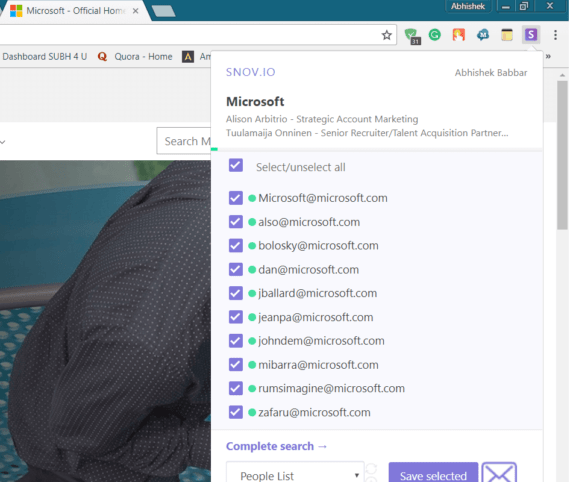 The chrome extension seamlessly scraps data from any website allowing you to access email addresses along with names and job positions. The data can be judiciously used accordingly.
Company Profiles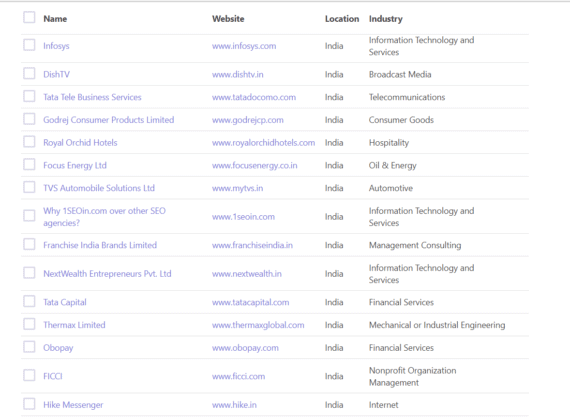 Snovio is certainly a perfect example of magnificent engineering. It allows you to explore company information database with which you can directly contact the right person from the right department.
Email Verification And Sending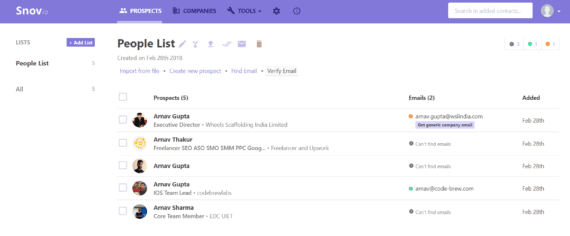 Invalid emails bounce back when you send them. Subsequently, a high bounce-back rate may lead to account suspension. Snovio has this covered for you. With one-click email verification, the entire database of emails in your account is filtered out. No matter how long the list is, Snovio can check email address in seconds with its email verifier service. Snovio is evidently one of the best hunter.io alternatives in these terms.
Technology Checker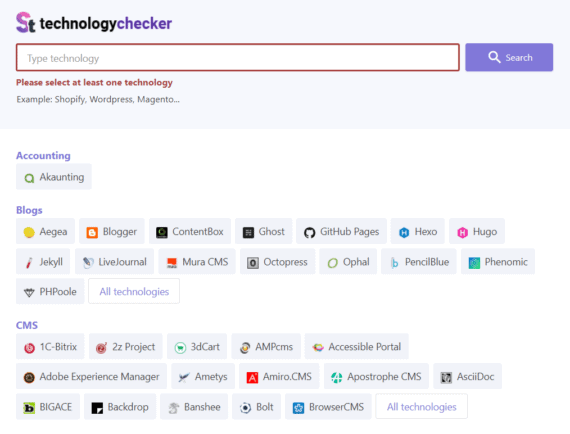 This feature detects and recognizes various content management services, web frameworks, software and analytical tools used by a website. This feature is completely free to use.
Snovio Marketplace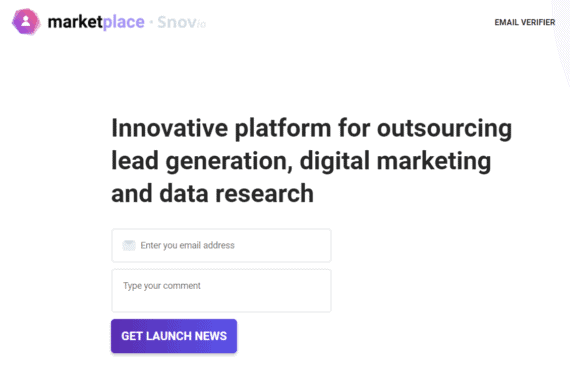 The Marketplace connects data researchers, marketing experts, freelancers, and employers. Reputation scoring, Escrow and dedicated moderators, smart contracts, and optimized gig management, Snovio significantly stands out from the crowd.
Snovio Advantages:
Snovio undeniably offers the best pricing plans. all things considered. It offers 100 free trial credits to beat out all its competitors. Snovio undoubtedly becomes one of the significant hunter.io alternatives because of these measures.

With updates in LinkedIn privacy policies, many tools like Hunter.io and FindThatEmail became troublesome. However, Snovio offers the most accurate database of emails, job profiles, and company framework with the help of Snovio Contributor App and other tools.
The database of Snovio is updated on a regular basis. What's more? It updates you whenever there is an update in any field of the database with its real-time tracking and scraping tools.
Snovio not only allows you to search for email addresses and names of people, it also allows you to directly send them emails from inbuilt messaging features. Furthermore, the entire messaging and email sending service is free.
Final Words:
With a nominal fee of $49 for 5000 monthly credits, Snovio is indeed a significant tool to generate quality email leads for professionals. Fast email lookup tools, speedy email verifier, geeky email hunter and sender, Snovio is a great tool to check and find emails too.
On the whole, Snovio is certainly one of the best hunter.io alternatives to scrape email addresses and generate leads. Need to find valuable contact information? Snovio has the answers.