Did you just forget the iPhone passcode? Without a doubt, one of the most dreadful scenarios that you can find yourself in is forgetting the password to your iPhone. In that case, you will try to unlock iPhone without a passcode. Trust me, this happened to me too and I ended up with success.
Did you just purchase a second-hand iPhone and do not know the lock screen passcode? Not knowing the passcode makes it impossible for you to use the phone. I still remember my iPhone was disabled due to multiple failed attempts. It was indeed very scary.
What Happens When You Forgot Your iPhone Passcode
You can protect your iPhone from unauthorized access via the iPhone passcode. But, do you know what happens when you enter the wrong passcode too many times? Want to know what happens?
Apple lets you figure out the passcode of your iPhone a minimum of six times. After 6 failed attempts, a message pops up – "iPhone is disabled, try again in 1 minute." You will need to wait for a minute and then resume again.
Seven failed attempts to unlock the iPhone passcode will lead to disabling of the device for 5 minutes. Similarly, 8 failed attempts cause a disabling of 15 minutes.
When you attempt nine times and fail, the device is disabled for 60 minutes. Now, the situation gets more serious.
After ten failed attempts, you will get the message – "iPhone is disabled. Connect to iTunes"
You can also get the message – "your iPhone is completely erased." However, this only occurs when the Erase Data option in Settings is turned on.
That is why you need to be cautious of the number of attempts you are doing. Too many failed times will lock your iPhone. You do not want to disable the phone or get all the data erased. That is why you need to figure out how to deal with this nightmare as soon as possible.
My Personal Experience
This happened to me once with an iPhone that I was not using regularly. I powered it on after a long time and did not able to enter the right passcode. After a few failed attempts, my iPhone was disabled and I got panicked. That was the time, I started looking for solutions on how to unlock iPhone without a passcode.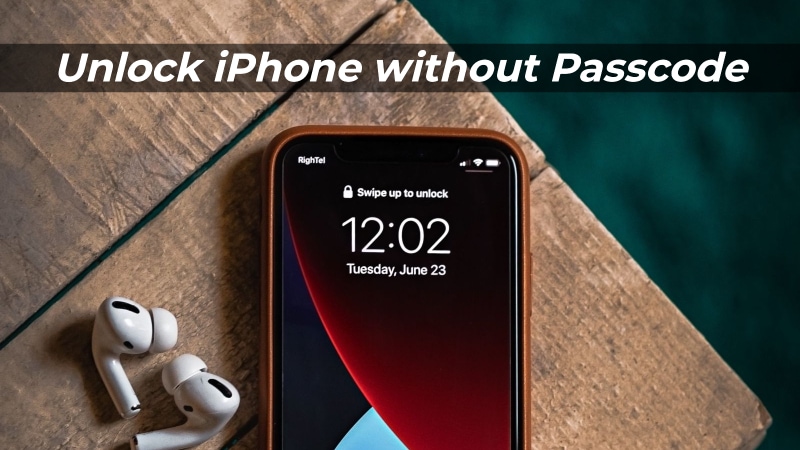 Luckily, I got to know there are different ways you can unlock the iPhone without a passcode. So, I thought to write an article for friends out there like me who might have forgotten the screen passcode and looking for ways to unlock iPhone without the passcode. If you too looking for the solution, I advise you to continue reading the article.
How to Unlock iPhone Without Passcode
There are two different methods you can use to unlock iPhone without a passcode. However, if you want to unlock an iPhone from its carrier (Verizon to AT&T), check this service: Mobile Unlocked U.S: Unlock AT&T Phone (Unlocking My Device)
Method 1: Use the "Find My iPhone"
One of the ways to unlock the iPhone without a passcode is to use the Find My iPhone feature.
Apple integrated several security features within the iPhone to secure data. You can use the Find My iPhone feature to trace the device that has been stolen or lost. Moreover, it makes it easy for you to locate the phone on the map.
Did you know that with Find My iPhone, you can erase your device remotely? That is an excellent feature that comes in handy when your device is stolen. Moreover, this feature also helps when there is a case of forgotten passcode.
On iPhone, you can use the Find My app.
Open the app > Go to Devices Tab > Find and Tap on iPhone > Erase Data. This will erase the data along with the passcode and you can set it up as a new device.
But, what if you don't have access to your iPhone? Maybe you sold your iPhone to someone and forgot to erase the data. Don't have the trust to give the passcode to the new owner? In that case, you can use the Find my iPhone feature on iCloud.com that will help you remove the passcode and erase the data remotely.
Here are the steps that you need to follow to unlock iPhone without passcode using iCloud:
Go to iCloud.com/find on another iPhone or computer.
Sign in to your iCloud account by typing the email and password.

On the welcome screen, click on All Devices. This will let you see available devices in your account.
From the drop-down list, select your iPhone.

Now, click on Erase iPhone option.

A confirmation pop-up will appear. Select Erase option to confirm.

Enter your Apple ID password and click on Erase again.
These are the steps that will help you remove the passcode from your iPhone. Now, you can set a new one and start afresh. Keep in mind that you will need an internet connection for erasing the passcode. Whenever your device is connected to the internet, erasing will initiate. Moreover, using this option will delete all data from your device.
Method 2: Using AnyUnlock
Setting a passcode on your iPhone is essential to protect personal information. You don't want unwanted access to your device. However, this can turn into a disaster if you don't remember the passcode.
Apple's Find My iPhone is an excellent feature. However, just like any other feature, it has a few limitations. You need to be aware of them and seek another alternative if Apple's Find my iPhone didn't work for you.
Though the above-mentioned method is an official method suggested by Apple, it might not work all the time. Moreover, users may find it difficult to implement it.
Various reasons can lead to the malfunctioning of the Find My iPhone feature. For instance, the need to have a network connection to remove the passcode. Other instances include enabling the Find My iPhone before the iPhone gets locked. Moreover, you also need to have an Apple account beforehand to log into the iCloud website. You must also know the passcode to that iCloud account.
To overcome these issues, you can choose another alternative – AnyUnlock. It is one of the most reliable third-party apps iPhone users can opt for to remove the passcode. With this app, there is no need for you to unlock the device. It is extremely easy and simple to get over the problem of the forgotten iPhone passcode.
Using AnyUnlock is an excellent idea. It supports different types of passcodes. Because maybe someone is using a Touch ID or Face ID. In my case, I was using a 6-digit numeric code and AnyUnlock helped me to remove it in just a few seconds. AnyUnlock also works great even if you have custom numeric or alphanumeric code
You don't have to worry about your iOS version too as it works great with the device running iOS 7 or later.
The best part of using AnyUnlock is that the limitations found in the Find My iPhone method will not be applicable here. You can use AnyUnlock regardless of the circumstance.
How to use AnyUnlock to Unlock the iPhone Without Passcode
So, now you know the reasons why I'm recommending AnyUnlock. There are a few simple steps that you need to follow to unlock the iPhone screen passcode using AnyUnlock.
Step 1: Download and Install AnyUnlock on your Computer
Go to the AnyUnlock website.
On the home screen, click on Free Download to download the app on your computer.
Double-click on the downloaded AnyUnclock DMG file on macOS or .exe File on Windows OS.

Double-click the AnyUnlock icon to install the app on your computer.

Click on Install Now.

AnyUnlock is installed on your system. Now, let's see how to use AnyUnclock to unlock iPhone without a passcode.
Step 2: Unlock iPhone Passcode using AnyUnlock
Open the AnyUnlock app on your system.
On the welcome screen, click on Unlock Screen Passcode.

Connect your iPhone to the computer.
Click on Start.

Once AnyUnlock detects your device. Verify the information and download the iOS firmware. Click on the Download option. It may take a few minutes to download the firmware depending on your internet connectivity speed.

Once the download is completed, click on Unlock Now.
After a few moments, AnyUnlock will unlock the screen passcode of your device with ease. Once it's done, then the "Screen passcode removed successfully" message will pop up on the screen.
Click on Done, and then you can set another passcode to your iPhone.

There are some vital things that you need to know before using this app. Keep in mind that the removal of the screen passcode will lead to the deletion of all data on the device. Moreover, your iPhone will be updated to the latest iOS version after the process is completed.
Unlock your iPhone without Passcode But at the Cost of Your Data
Ain't both the methods are super easy to unlock iPhone without a passcode? I hope that you never came across such a problem but if you do, you know what has to be done? Right?
Find My iPhone feature is good to unlock iPhone without a passcode but it has restrictions. Like the iPhone needs to be connected to the Internet to use Find My iPhone and you need to know the iCloud account credentials used on locked iPhone. That's the reason I found AnyUnlock.
I liked the AnyUnlock tool because I've used it with a pretty old iPhone. My iPhone had a pretty old iOS version but AnyUnlock removed the passcode in no time. Moreover, it doesn't have the limitations which I found in Find My iPhone method.
However, any method you choose, we wish that it will solve the problem without you itching your head. Keep in mind, both methods erase the iPhone data completely and if you don't have a recent backup, the data is gone forever. If you face any problems while following these methods, do let us know and I will try to resolve it as soon as possible.