The worst situation is when you bricked your Samsung mobile and got struck-ed at Welcome logo. You may start blaming yourself for your mistake and for that foolish thing. Although you know Flashing, Rooting, Installing custom ROM etc void warranty and they're risky tasks. Once you flashed with wrong ROM on your mobile, you're out! The only use of your mobile is to use it as a Paper weight. Sorry, it seems i scared you, No worry's from now, you can make use of Odin to get back old official Gingerbread on your Samsung Galaxy y S5360.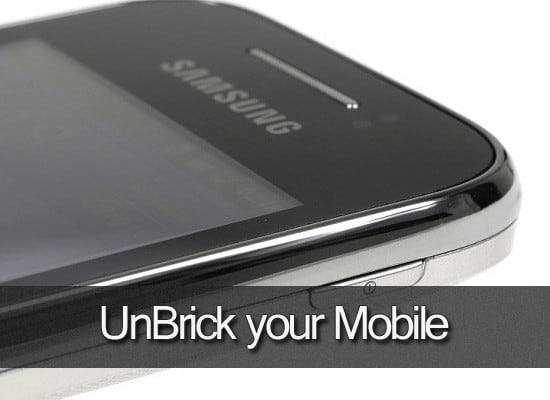 If your mobile stopped working and got badly struck at Welcome Samsung logo screen, then follow this tutorial carefully and at you might end with a perfectly working mobile.
Inspirational words: No need to worry at all, you can use your mobile again without spending a single penny. I'm sure and i won't make you to rush in to a nearest mobile service center.
Unbrick/Flash Samsung Galaxy Y S5360
Before entering in to the tutorial, let me clear you some fundamental things and required stuff to unbrick your Samsung Galaxy Y.
Required Stuff to unbrick the mobile:
Of-course Samsung Galaxy Y S5360.
USB connectivity cable.
Desktop/Laptop with Internet connection.
1% Luck
Some patience and common sense.
Required Tools:
Odin Multi Downloader v4.42
Cooper V1
S5830DDKQ8_S5830ODDKQ7_INU.zip –> Download (Official Android Gingerbread)
Awesome, now you have downloaded all required stuff. Save them on your Desktop and leave them for a while. We'll make all arrangements required for Samsung Galaxy Y S5360 from now.
Charge the battery completely or at-least up to 75% to be on safe side.
Remove both SIM card and Micro SD card from the mobile.
Let's enter in-to Tutorial
Before starting this tutorial, i wanna say you something, Neither Admin nor Geek Dashboard is responsible in case of any damage to your Samsung Galaxy Y S5360
1. Open the downloaded .zip file and extract S5830DDKQ8_S5830ODDKQ7_S5830DDKQ8_HOME.tar.md5 file on to your desktop.
2. Double click and RUN Odin Multi Downloader (Run as Administrator, if you're via Windows vists/7/8)
3.  Double check whether you have checked One Package, Auto Reboot and Protect OPS boxes, if not check them immediately
4. Single Click on OPS and load the Coopver V1.ops file downloaded earlier.
5.  Click on One Package and load S5830DDKQ8_S5830ODDKQ7_S5830DDKQ8_HOME.tar.md5 file extracted from S5830DDKQ8_S5830ODDKQ7_INU.zip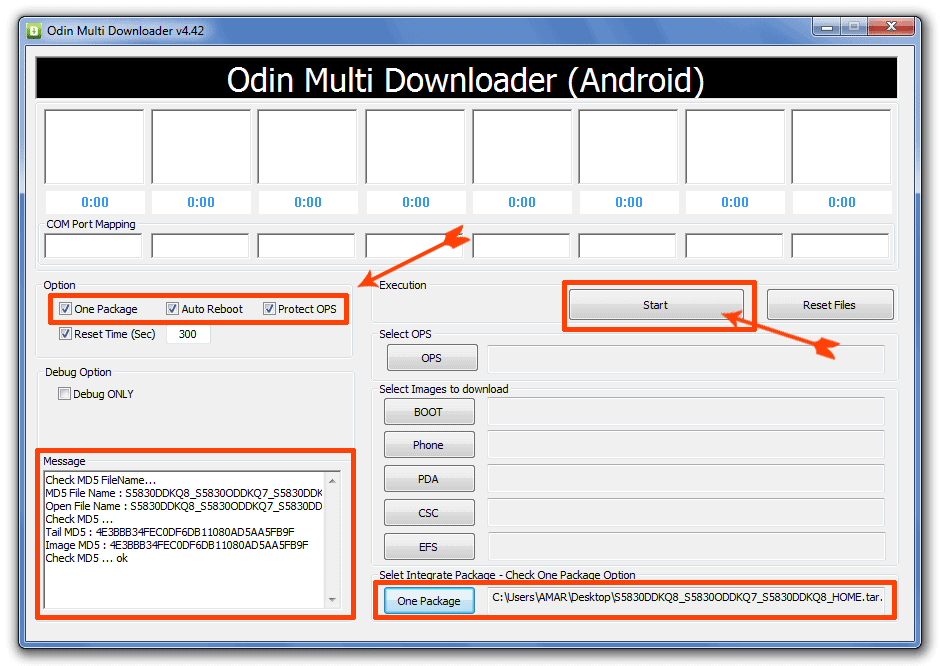 6. Leave all remaining columns as default. (Never change other options even for fun)
7. Separate your mobile from charger (If attached to charger) and switch it off (Ensure, Memory card and SIM card is removed) and switch to Download mode. In order to switch to download mode press and hold Volume down button, Home button and Power Button.
8. Immediately after shifting to Download mode, Connect the mobile to computer using USB cable.
9. If Odin displays CONNECTED message, you can get your mobile back for sure (I mean 99%)
If Odin failed to connect your mobile, it mean; Odin version is not contactable to your mobile. Try downloading other versions of Odin (Here we have provided v1.7)
10. Once Odin displayed connected, Click Start and wait for 5-10 minutes until you see a message PASS.

11. You're almost done except clearing cache. You should enter to Recover mode now (Press and hold Home and Power buttons simultaneously)  and select Wipe data/factory data and then select Wipe cache partition using volume keys.
12. Just reboot your mobile now. If everything goes well and good; according to my sense your mobile should work properly from next boot
Congratulations! for getting back your mobile to perfect condition. Just in case of any difficulties or for any query's; feel free to comment below