Every Blogger including a Pro Blogger tried several methods for Google Authorship. There are two methods for getting Google Authorship for your site or account. But many bloggers are still fighting to acheive it. Recently we tried to get this Google authorship in another way. we used a plugin which adds rel="author" tag in all posts automatically. This method works for us and we have seen the result in just hours. So, idecided to share my experience to all my fellow bloggers.

What is Google Authorship ?
Google Authorship is an identity from google. It display's your photo on left side of the search result that belongs to your site. Google crals your photo from your Google+ Profile. So, there is an urgent need to create a Google+ account
Also Read: How to Increase Alexa Rankings faster 
Use of Google Authorship Markup
Google authorship helps to increase search engine traffic. Recently a survey proved that 60% of people are interested to click the search result with an image on its side. So, Google Authorship helps us to show our Google+ profile photo in search results. Recommanded to use a photo with clear face and light background

Step by Step Tutorial to get Google Authorship Markup
It seems you are ready to show your photo in search results. So, let's go to the main topic
1.Create a Google plus account with the email ID you used for your blog or website 2.Now, let me explain how to edit your user profile in WordPress blog 
Read Also: How to Reduce your Website Loading Speed
Add your Google+ profile link in Google Profile URL  (optional)
Add Google+ profile link in your author bio with anchor text My Google Profile+ and also in About US page. In About Us page add rel'"author" tag
Note: You can know your Google+ Profile link by checking this image.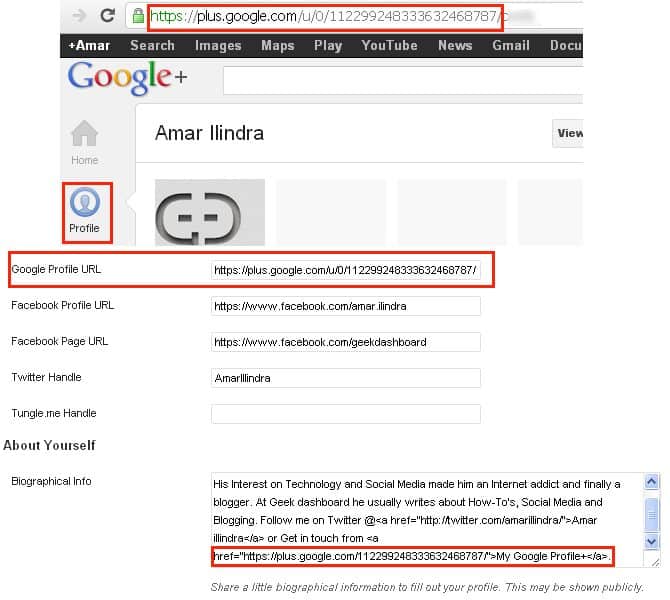 3. Generate a Google+ button here and add it in your footer as we done on our site
Link: Create a Google+ Button
4. Now move to Google+ account and click edit Profile in profile page. Go to contributer to section and add your home page URL as shown here (Important)

5. It's almost over. Now Download and Activate this Plugin. This plugin will do the remaining job. It will add rel="author" tag in all your published articles
Link: Google Authorship WordPress Plugin 
How to check whether you have done everything Perfect
Go to Rich Snippest tool and check your Google authorship by entering some of your published article URL's. If you see your photo in Rich Snippets Tool. You are awesome, and only one step remaining for you

Inform Google about your Authorship
If you feel everything is perfect with you it's time to inform Google about your authorship request from HERE. Enter your email address you used for Google+ account and for your WordPress blog and click Signup for Authorship. You will get a  conformation link to your mail to conform your request. Once Google verified your request and approved you are done. I got approved within 2 hours while using these steps.
Hope you too get benifited from this. Leave us a comment if you have any quires and we are always avaliable to help you