The world of Android is fascinating. With day by day improvements and advancements, Android bagged the top position in the users share. The stock Android for the Gingerbread and before versions seem silly to us now. Likewise, with CyanogenMod's entry into the Android smartphones, people started loving it more. The new Micromax Yu Yureka ships with pre-installed CyanogenMod (like OnePlus One had its launch).
Though you have the CyanogenMod pre-installed, you might still want to experience few other good custom ROM's on your Yu Yureka. If you belong to the same group, then this article is for you. You get a vivid view on How to Unlock Bootloader, Install Custom Recovery and root Yu Yureka.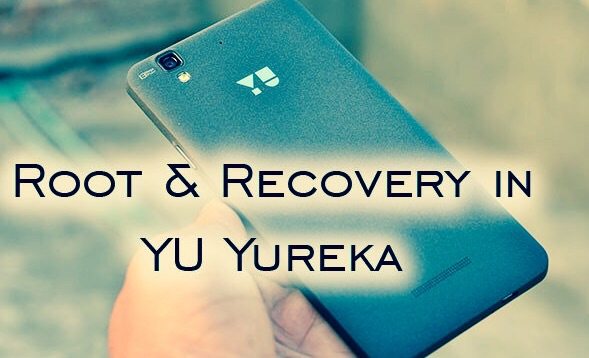 Why Should You Install Custom Recovery?
If you do not know what a custom recovery is, do not worry. We'll explain it in short.
Every mobile ships with Stock Recovery which is responsible for few functionalities in the device like: Restoring the device to Factory default settings, Updating its OS and other diagnostic tasks.
Since you're trying to change the pre-installed OS, you'll have to install Custom Recovery.
Without a Custom Recovery installed, you cannot root Yu Yureka or any other device as well.
Bonus: Specifications Comparison between Yu Yureka and Yu Yuphoria
Before entering into the details, make sure you are aware of these points.
Rooting Voids Warranty. You do this on your own risk.
We do not take any responsibility if you brick your phone.
Always charge the phone to 80% or charge it completely.
Make sure you have a backup of your data. This process wipes entire data on the device.
You have two types of Custom Recovey's for the Yu Yureka: TWRP and CWM. You need to download either of those.
Download TWRP Custom Recovery For Yu Yureka
Download CWM Custom Recovery For Yu Yureka
Also Download:

Adb and Fastboot Binaries
Copy the downloaded files into the MicroSD slot.
Steps To Root Yu Yureka
There are basically 3 steps involved to complete the process. They are:
Unlocking Yu Yureka Bootloader
Installing Custom Recovery in Yu Yureka
Installing Root Package using Custom Recovery
Unlocking Bootloader
Follow the steps mentioned below, to Unlock the Bootloader.
Turn Off the Phone.
Then Boot into the  bootloader by pressing Volume Up + Volume Down + Power buttons at the same time.

Open the console and move to the directory where you have stored the adb fastboot.
Type the following command in console.
                        $ fastboot devices
The above command helps you to check whether the drivers are installed correctly or not. If they're installed, you can see your device's serial number there.

If your device is recognized, then type the below command to unlock the bootloader.
                        $ fastboot oem unlock
That's it. You have successfully unlocked the bootloader of your Yu Yureka smartphone.
Flashing Custom Recovery On Yu Yureka
In the above mentioned links to download, you must've chose one among CWM & TWRP. Place the downloaded file in the same folder where you had placed the adb & fastboot files.
Type the following command to install the custom recovery.
$ fastboot flash recovery

<recovery_image_file.name>
The "recovery_image_file" must be replaced with the name of your recovery file.
After that, Enter the following command.
$ fastboot reboot
That's it. You've successfully installed a custom recovery.
Root Yu Yureka: Final Step
After you've successfully performed the above two steps, its time you root Yu Yureka now. To root Yu Yureka, follow the below steps.
The downloaded SuperSU files must be copied into your SD card.
Enter into the recovery mode by holding Volume UP + Volume DOWN + POWER button at the same time.
Select the SuperSU binary ZIP file on your SD card and click on it.
It'll then automatically install the SuperSU and your Yu Yureka is now rooted.
Also Read: How to check if phone is rooted or not
Following the above 3 steps in order, you can root Yu Yureka and use custom recovery. Hope this guide helped you. If you're struck anywhere in the process or facing any issues, do let us know in the comment section. We'll try our best to help you. Thank You.