Samsung Galaxy S4 should be the most popular and the most preferred Android Smartphone out there, today. Almost every Android lovers will love the Samsung Galaxy S4 too. The main attractions of the Samsung Galaxy S4 is the octa-core processor built into the international variant of the Samsung Galaxy S4. If you own a Samsung Galaxy S4, then there is no apparent doubt that you'll think to root samsung galaxy S4 and to install some custom ROM's in it. And you must be looking for a well-detailed and well-explained tutorial on how to root your Samsung Galaxy S4.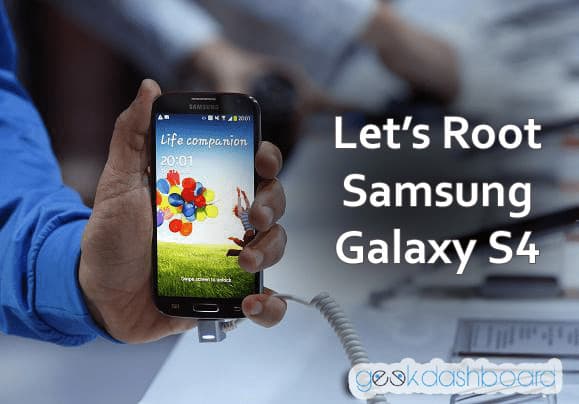 Well, then you're at the right place. As today, we will be providing you with a well-detailed and easy to understand tutorial on how to root your Samsung Galaxy S4.
Also Read: Samsung Galaxy S4 complete Review
Warnings
Before we proceed into the rooting tutorial, below are some warning statements that you should be aware of:
The method we're following now to root Samsung Galaxy S4 voids its warranty. Hence, after rooting your Samsung Galaxy S4, you'll not have any warranty features over your Smartphone.
Rooting an Android Smartphone is a complex process, hence while following our rooting tutorial, only use tools that we mention in this article.
We are not responsible if your Android Smartphone gets bricked or damaged during the rooting process. Therefore, proceed at your own risk. But mostly it wont happen. Samsung mobiles are generally easy to root and handle. If anything goes wrong we're always with you to help you.

This rooting tutorial is solely meant to

root Samsung galaxy S4

I9500 International Octa Core version. Therefore, this rooting tutorial should not be followed on any other models, or any carrier specific Samsung Galaxy S4's.
Must follow Prerequisites to root Samsung Galaxy S4
Below are some prerequisite procedures to follow before attempting to root Samsung Galaxy S4
Make sure that your Samsung Galaxy S4 has a minimum battery backup of 80%.
Make sure your computer has USB Drivers for Samsung Galaxy S4 installed. If not, install it from here 

Download the Root Kit from. (Link Updated)
Download the ODIN Flash Tool from here
How To Root Samsung Galaxy S4 GT-I9500
Below is the detailed tutorial on how to root Samsung Galaxy S4 GT-19500. Before proceeding to first step make sure that you've downloaded the Root Kit and ODIN Flash Tool mentioned above.
Step: 1
Navigate to the ODIN Flash Tool and double click the .exe file.
Step: 2 | Download Mode
Now, turn Off your Samsung Galaxy S4 and boot into download mode by pressing Volume Down+Home+Power keys at the same time.
Step: 3
Now the ODIN Flash Tool might have successfully identified your Samsung Galaxy S4. From the Flash Tool, click on the PDA button and select the .tar file from the Root Kit that you downloaded earlier.
Click the "Phone" button and choose the file named "Modem".
Click on the "CSC" button and choose the file named "CSC".
Click on the "PIT" button and choose the file named ".PIT".
Hint: Omit the above 3 steps, if no such files are found!
Now from the ODIN Flash Tool, make sure you have ticked "Auto-Reboot", "F Reset Time" and "Re-Partition" boxes.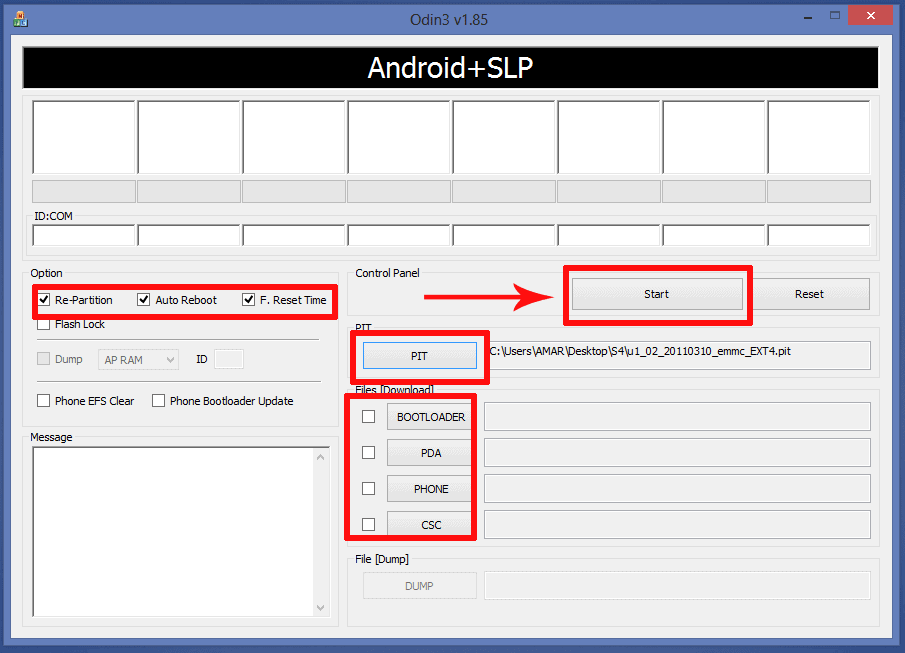 Warning: Tick the "Re-Partition" box if you have chosen the ".PIT" file from the Root Kit. If you failed to locate the .PIT file, then you should uncheck Re-Partition.
Verify twice or trice that you've performed every action exactly as mentioned above.
Step: 4
Now finally click on the Start button from the Flash Tool. Once done Samsung Galaxy S4 will be rooted. Do not interrupt or disconnect the Samsung Galaxy S4 in the middle of the rooting process.
After the first box at the top-left corner of the ODIN Flash Tool goes completely green, your Samsung Galaxy S4 will restart.
Important: While restarting, disconnect your Samsung Galaxy S4 from the computer.
Simple and easy right? So you're now able to root Samsung Galaxy S4 using ODIN tool. Never hesitate to ask us anything related to this guide.