This educational guide is completely aimed to root Micromax A116 canvas HD to enjoy few hidden features on your mobile. Once your Micromax A116 canvas HD is rooted you can install more games and applications. All restrictions will be eliminated when you root Micromax A116 canvas HD. The Micromax A116 Canvas HD is so far the most successful and the most loved Smartphone from Micromax, without any doubt and similar to all other popular Smartphones out there, you can also root Micromax Canvas A116 HD and even you can istall CWM recovery too. So if you own a Micromax Canvas A116, and would like to root your device, then you're at the right spot.As today, we will be giving you a detailed tutorial on how you can root your Micromax Canvas A116 HD.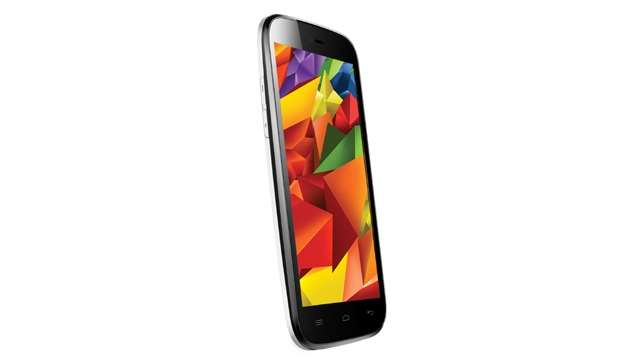 Warning:
Before you commit to root Micromax A116 canvas HD, there are few warning notes that you should know:
Rooting is not an authorized process. Hence, rooting can void your device's warranty. And after rooting, your device will no longer be comforted with warranty.
Only download and use files that we mention here. Else you'll screw up your device.
Improperly following the rooting process mentioned below can end up bricking your device.
We are not responsible in case your device gets damaged or hard-bricked, during the rooting process.
The process mentioned below is solely meant to root Micromax A116 Canvas HD, and should not be performed on any other Smartphones.

Make sure that your device has around 80% of battery remaining, in order to prevent your device shutting down in the middle of the rooting process.
In case you have any doubts, please use the comment section below to rectify your doubts and then continue with the rooting process.
Prerequisites to root Micromax A116 Canvas HD
Now before you proceed to root Micromax A116 Canvas HD, below are the list of prerequisite procedures to follow:
First of all go to Settings, then click on Manage Applications.
From Manage Applications section, click on Development and Turn On USB Debugging.
Now download these three tools before proceeding:
Flash Tool
CWM Recovery
Android Scatter
Make sure you have the USB drivers for your device installed on your computer. Else download it from here
How To Root Micromax A116 Canvas HD
Make sure you have understood the warning section, and that you have followed the prerequisite procedures. After you complete all the steps mentioned above, please follow the below tutorial to root Micromax A116 Canvas HD and install CWM recovery:
First of all, extract and run the Flash tool from the zip folder (Flash_Tool.exe).
From the Flash Tool, click on the "Scatter Loading" option and choose the MT6589_Android_scatter_emmc.txt file that you downloaded earlier.

After selecting the MT6589_Android_scatter_emmc.txt file from the Flash Tool, you'll see a big file list on the Flash Tool.
From that big file list, tick on recovery and keep all other files unticked.
Now again click on the recovery folder and choose the file named "clockworkmod recovery.img".
Now click on the download button, which can be found at the top of the Flash Tool.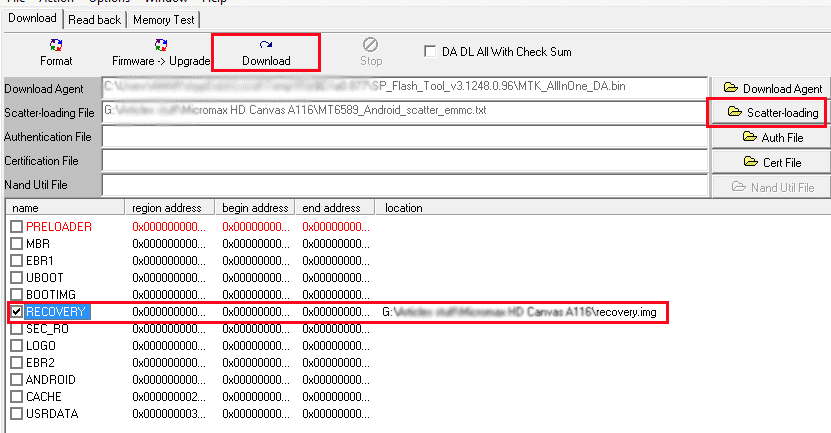 Now immediately remove the battery from your Micromax A116 Canvas HD, replug the battery and boot into recovery mode by pressing Volume Up+ Power buttons, and connect your device to your PC via USB cable.
Now the rooting process will begin, and will install CWM recovery.
CWM recovery is installed successfully, when the green ring appears on your screen.
Now you can disconnect your device from the computer.
Now you have learnt how to  root Micromax Canvas A116 HD and installed CWM recovery. And this is the most commonly used rooting process for the Micromax Canvas A116 HD.