Microsoft Outlook represents one of the most popular email clients all over the world, it is used to get access to a variety of email accounts. Note that email accounts store a great number of items, not only messages but also contacts, calendar items, and other documents. Since Outlook accounts are password-protected, you may easily imagine the consequences of password loss, it causes an impossibility to access all allocated mailboxes.
Let us take a closer look at how to recover Outlook passwords with Recovery Toolbox for Outlook Password (https://outlookpassword.recoverytoolbox.com/).
This application is developed to restore forgotten and lost passwords in Microsoft Outlook, create backup copies of account settings and preview parameters of Outlook accounts. It can easily unlock Outlook accounts and remove the protection by password. It is legal software, helping account owners to unlock their OWN accounts and prevent the loss of valuable information, should not be used to crack accounts of other owners without their permission.
How to restore forgotten passwords in Microsoft Outlook
At the first step, users are suggested downloading and installing Recovery Toolbox for Outlook Password on their local computers. Demo version of the software is available for free.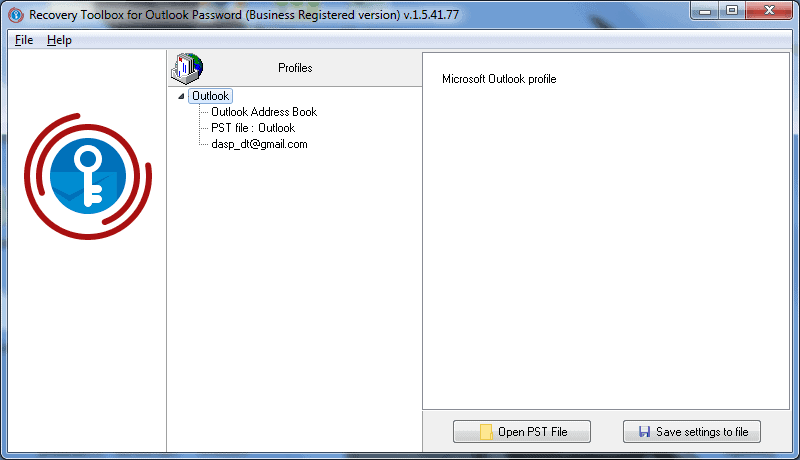 To start the recovery of a forgotten password, open "Recovery Toolbox for Outlook Password", a window will pop up as it is shown in the screenshot above. In the left pane, the tool shows a list of Outlook accounts. As soon as a correct account is selected, all account details, including password, are shown in the right pane.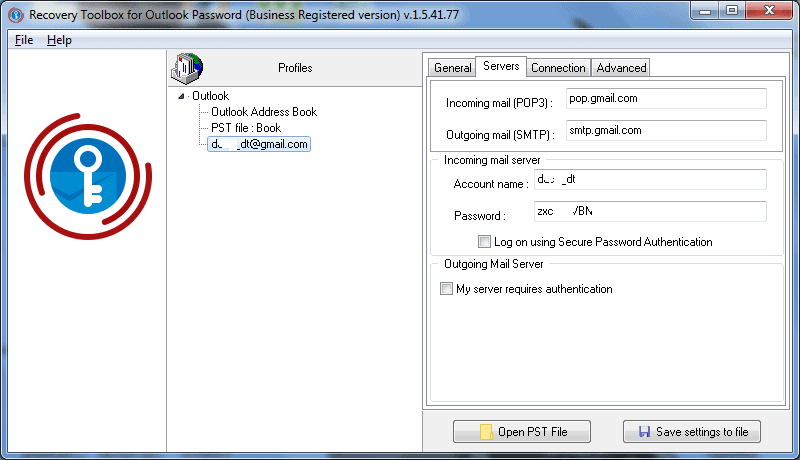 In case you need to remove protection by password from PST file, but it is not allocated to Microsoft Outlook, use the open PST file button. After this, choose the correct path and select the required file. When done, use the Get password option and see a password, restored by Recovery Toolbox for Outlook Password.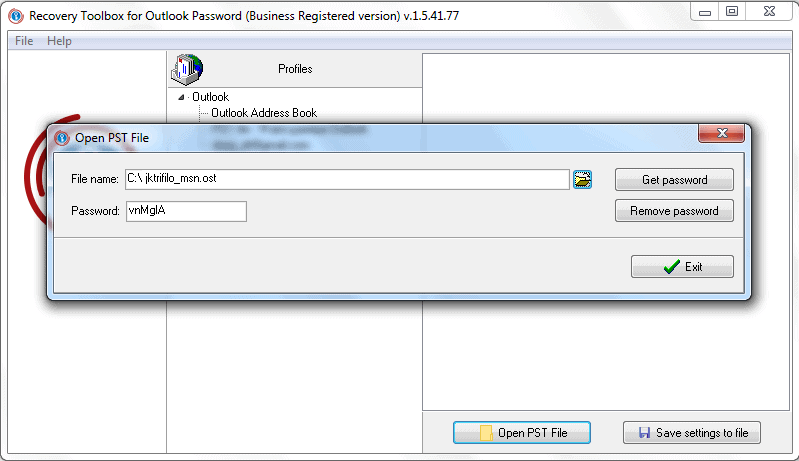 Copy and paste recovered password to Microsoft Outlook account and keep on working with your email account, like before. Alternatively, use Save settings to file to export all account details, including password and connection parameters into a text file.
Along with the Get password option, you can see the Remove password feature, it allows deleting passwords of OST files.
Recovery Toolbox for Outlook Password allows repairing Outlook passwords in two clicks, it is not complicated even for beginners. Indeed, it is a paid tool, but it is cheap and the price of Outlook restoration is much lower than restoring contacts manually.