This guide will show you how you can recover deleted photos from iPhone without backup. All of us at some point in our lives must have done something stupid, such as deleting something important from our phones or computers. It's quite natural, nothing to be ashamed of. You may be returning after a hard day at work. When the sudden urge to look at some pictures arises, you couldn't resist the temptation and open up your gallery.
However the next morning when you wake up, you don't seem to find the few pictures in gallery anymore. You scour the whole gallery, look into every album, but all in vain. Suddenly, when the memory surfaces, you find that you were sleeping with your hand on the phone and somehow, must have deleted the pictures. An irreversible accident since you didn't keep any backup of those pictures, at least that's what you thought. This is when our article about recovering deleted photos from iPhone without backup comes handy.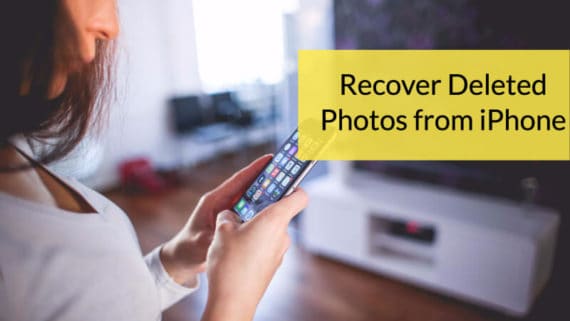 Whatever may be the case, getting the deleted phones from iPhone is not an easy task. There are many tools available on the internet that claims to recover iPhone deleted photos if you haven't taken backup and one such tool is Primo iPhone data recovery software, a tool that helps you recover deleted photos from iPhone with the click of a button.
How to Recover Deleted Photos from iPhone without Backup
Follow the next few steps in order to ensure that the deleted photos from iPhone are restored properly.
Step 1: Download and install required Software
Whenever you delete anything from your phone, it isn't permanently deleted from your device and lingers somewhere within the memory. When such an accident happens, make sure not to turn off your device. Do not clear the apps, or do anything that tampers with the phone's memory in any way. Make sure to leave the phone as it is.
Next, open up your MAC or PC and download Primo data recovery tool. You have to install after it has finished downloading.
Step 2: Connect your iPhone
After the installation, connect your iPhone to the PC or MAC and launch the software. It should automatically detect the device, after which you should scan it for the available deleted files.
There are 4 options that are available to recover deleted photos from iPhone and other data, but we will use the iDevice Recovery mode to recover deleted iPhone photos as others work only when there is backup taken by iTunes or iCloud.
Step 3: Scan iPhone using iDevice recovery mode
Use "iDevice Recovery mode" to recover deleted photos from iPhone when you have no backup saved on the computer, iTunes or iCloud. Once it detects your iPhone, click "Next" button.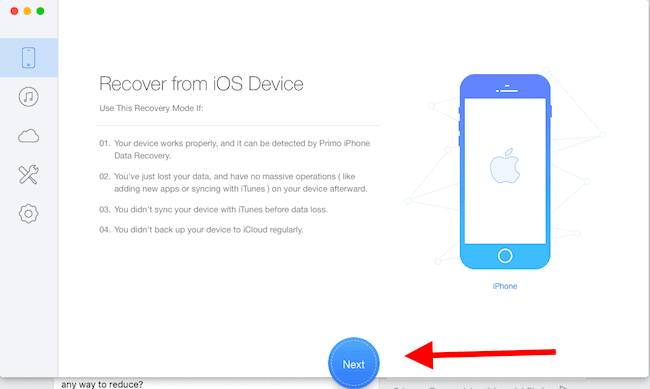 Once you click on Next, it will start analyzing your device. It will take a few minutes, so just relax and make sure your device will not disconnect while the whole process is going on. It will show the progress through a percentage bar.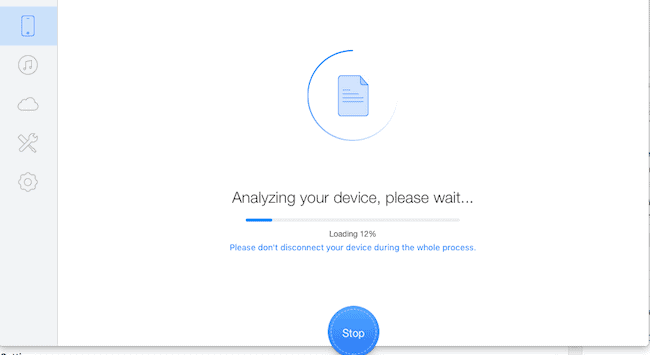 Step 4: Select photos from scan result to recover
When the scan is complete, select the Only list deleted from the top to recover deleted photos from iPhone.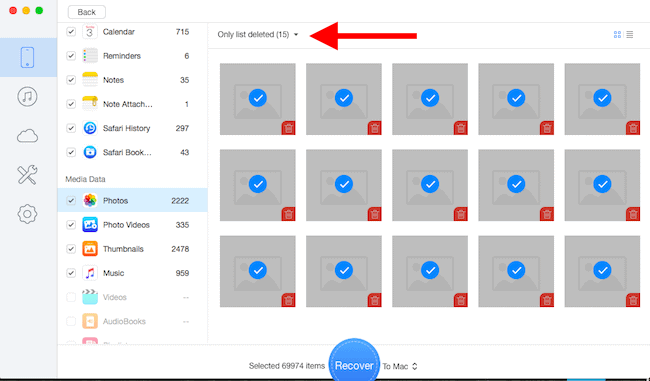 Select the desired followed by the path you want to save them i.e., on your device or your computer. Choose your PC or Mac because the less strain you put on your iPhone's memory during the recovery process the better.

Once the process is complete, you will be notified via a prompt. Select Click Here to verify whether all deleted iPhone are recovered.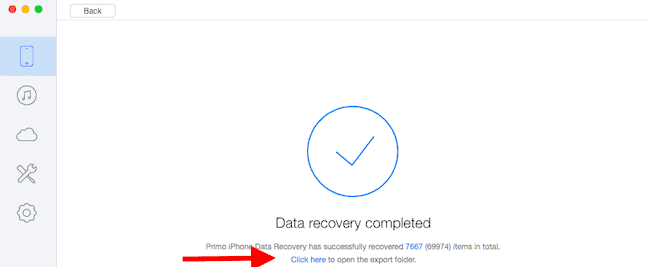 This is how you can recover deleted photos from iPhone without backup. Hope the tutorial we have shared with you is easy to follow. If you face any problem, do let us know in the comments section below and we will try to solve it. This software is able to recover deleted photos from iPhone 6, iPhone 6 Plus, iPhone 7, iPhone 7 Plus, iPhone SE and more.