It's been a while, the leading smartphone instant messaging app WhatsApp released its new update. The updated version lets you delete or recall an accidentally sent message. The WhatsApp "Delete For Everyone" feature allows recalling of the messages that are sent on individual chats as well as WhatsApp Group. Now, this could have been done to ensure that people don't face embarrassment in case they sent a message to the wrong chat window, or if the message contains a mistake. But, the curiosity of people now reaches new heights to read deleted messages in WhatsApp that someone sent to them.
If you also want to quench your thirst and reveal the actual dreadful or mischievous message which was sent to you but later on was recalled back then we have good news for you, this update came with minor bugs. We'll show you a simple method to read deleted messages in WhatsApp for Android users.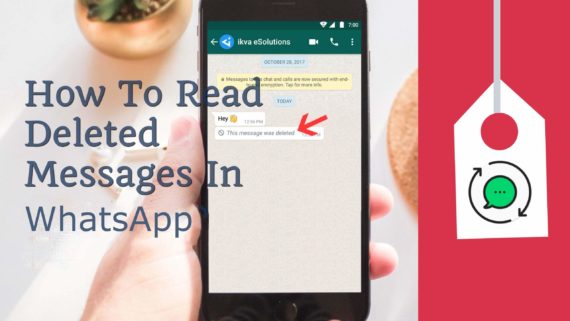 How To View or Read Deleted Messages In WhatsApp
While there are a lot of tedious methods available in the market to read the deleted messages in WhatsApp, we will provide you with a fast, effective, and subsequently more stable way to retrieve the recalled messages from the sender's side. All you need to do is download third-party Android applications "WA Delete for Everyone" or "Unseen Messenger" to enable this feature.
The entire process to start installing and setting up the app is very easy. Follow the steps mentioned below and you will be able to view the deleted messages in WhatsApp.
Step 1: Download and Install Unseen Messenger
Download the Unseen Messenger Android app by clicking the "Install" button.
Download on Google Play
Step 2: Enable Notification Access Permissions
Post installation, open the app and click on "Agree and Continue" on the first screen displayed. Give Notification Access Permissions to the app. Don't worry, it is totally safe to give these permissions.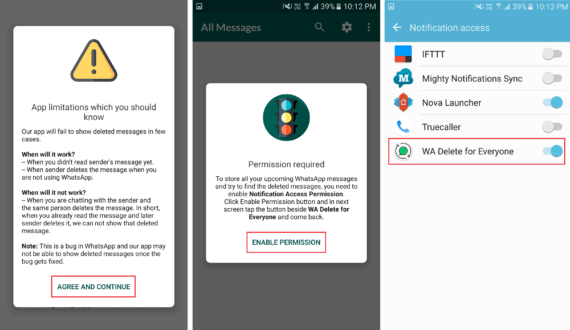 Step 3: Open Unseen Messenger App To View Deleted Messages In WhatsApp
You just need to keep the app installed on your Android device. Whenever someone recalls a message from their end which is sent to you, head over to the app and a message saying "One or more messages in this conversation have been deleted" will be shown in a red color bubble. And Voila! You will be able to read the deleted message which might have been recalled in WhatsApp.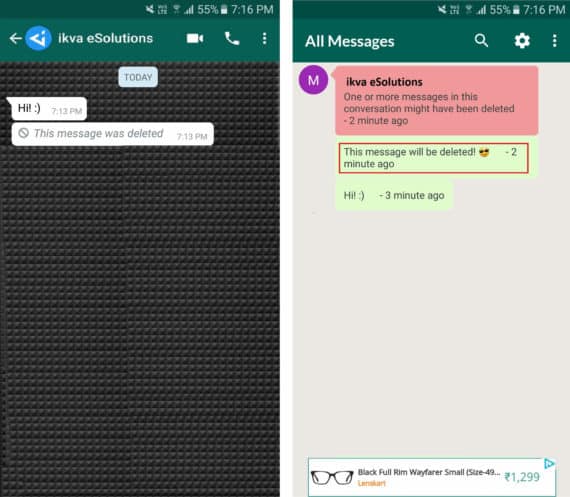 Uses Of WA Delete for Everyone or Unseen Messenger App
Let us assume, one of your mischievous friends is just goofing around by sending and recalling messages just to make you outrageous. Now, you can easily show him the grounds by simply revealing the actual messages which you retrieved in the app.
You will be able to read the deleted messages in WhatsApp that your friend might have sent to you by mistake. It might be a possibility that the message was actually meant for you but later the sender changed their mind.
Now, you can have an upper hold on the instant messaging platform with this method to view deleted messages in WhatsApp.
Also Read: 26 Latest WhatsApp Tricks for Android
The app is substantially useful to view deleted messages in WhatsApp. The app makes use of the Notifications generated by WhatsApp to read the deleted messages. The method to view messages is highly innovative, yet it may not work in certain cases. Moreover, you cannot retrieve old messages you received before installing the application. The app only works over the messages which are deleted or recalled after the app has been installed. This implies you cannot read deleted messages in Whatsapp whose notification was not retrieved by WA Delete for Everyone or Unseen Messenger App. Currently, this app can read only text messages and it fails to show deleted voice notes and images.
The Unsee Messenger is available for free on Google PlayStore whereas WA Delete for Everyone app is available on APK Mirror. However, you can purchase the Pro version at a nominal price for an ad-free experience and priority support from the developer.