Almost all Mac users have experienced accidental deletion. No matter with an intention or without intention, it is a horrible situation especially when you didn't make any backup before. If you don't have the habit to empty the Mac Trash, we all know that it's easy to put it back from Mac Trash. But if you clean the Mac Trash, Apple doesn't include any tool to recover deleted files from Mac.
Fortunately, there are many handy tools on the internet, which helps you to recover deleted files from Mac as easy as deleting a file. In this post, we have deleted a document named "Geek Dashboard.txt" from macOS High Sierra and emptied the Mac Trash. Let's see how to quickly recover deleted files from Mac.
Is it possible to recover deleted files even when emptied from Mac Trash?
Well, as long as the deleted file isn't covered by new data, you have great chances to recover it. Generally speaking, when you delete a file on Mac, the operating system will remove the name of the file from the disk directory and mark the space as available for new files. The deleted file will remain physically intact on disk until it is overwritten by new files. Therefore, to avoid irreparable data loss, you should stop using the device where you have deleted files.
Also Read: How to send large video files from iPhone/iPad/iPod
Watch this video to understand behind the scenes of files deletion.
2 Solutions to quickly recover deleted files from Mac
Deleted file recovery is not that difficult as we think. The following are two effective solutions to quickly recover deleted files from Mac:
Solution 1: Restore deleted files from Time Machine Backup
Time Machine is a built-in program on Mac OS X to backup and restores your hard drive files. If you have set up Time Machine to automatically backup your data, the file you have deleted might be in Time machine snapshot.
Just follow the below steps and you can quickly restore deleted files from Mac.
Open System Preferences.
Select Time Machine.
Enable "Show Time Machine in menu bar".
Connect your Time Machine hard disk.
Click Time machine icon from the menu and select "Enter Time Machine".
Choose the date from timeline to locate the deleted file.
Click Restore to recover the deleted file from Mac.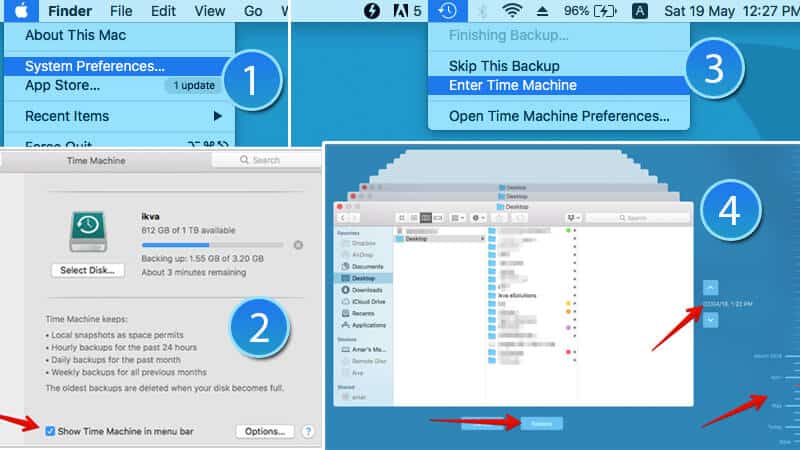 Solution 2: Recover deleted files from Mac with data recovery software
If Time Machine fails to restore deleted files from Mac, you should try data recovery software to get back your deleted files from macOS.
Follow the steps to recover accidentally deleted files from macOS quickly.
Download and install iBoysoft Mac Data Recovery software
Choose the macOS under AppleAPFS media.
Click Next to start scanning the deleted files.
Preview the scan results and select the deleted files.
Click "Recover" to restore the deleted file.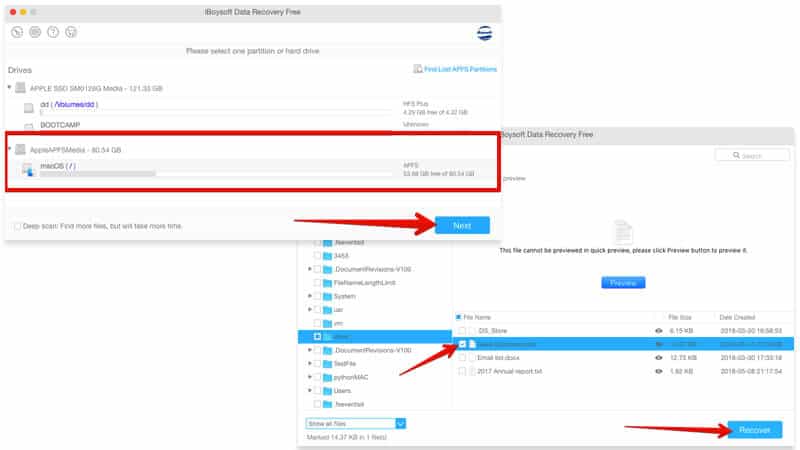 Tips:
There is no need to wait until entire scan to complete. You can click "Pause" anytime when the deleted file is found in the preview.
If deleted files are not found in the quick scan, Check "File types" in Preferences panel and choose "Deep Scan" & scan files again.
iBoysoft Mac Data Recovery enables you to preview found files during or after scanning. Also, it offers different filtering and sorting options, which helps you quickly recover deleted files from Mac.
Also Read: How to disable Flash Messages in iPhone

How to view deleted messages in WhatsApp Messenger and WhatsApp Business
With free & professional data recovery software, like iBoysoft Mac Data Recovery, we can quickly and easily recover deleted files from Mac. But we still can't ignore the importance of regular backups. In addition, avoid deleting an entire folder or using "Command + Delete" which may decrease the probability of recovering the deleted data.
Data recovery is not a guaranteed task and it depends on free disk space and time when you delete it. If you have used the disk lot of time after deleting the file, the chances of recovering it are very less. If you deleted a file accidentally, don't add new data to the disk and immediately recover the deleted file using data recovery software.