One of our reader asked me, whether we can play Android Games on Computers's Monitor. So, in this article we are showing how to play android games on PC working with windows operating system. Kids and adults are addicted to android operating system mainly for it's performance speed and high graphic games. They feel comfort by playing games. Did you ever thought playing same games on gigantic screen. Yeah, your are right! today some software's are developed to play android games on PC. Emulators are answer for this question. Though the source for game is your mobile but output is on Computers monitor. Just imagine, if you are an android games addict this is an awesome tutorial for you.
Well, i think you are very well excited to play android games on PC. This tutorial works well only on Windows operating systems. If your system works on windows go ahead and follow these below mentioned steps to play android games on PC
Recommended to read: 5 Best Android Applications to turn Voice in to text
Required stuff to play android games on PC
In order to play android games on PC, there are some requirements to perform this operation. You have to make your mobile and PC ready to work cool.
Using this trick you can even control messages, contacts and everything. In short you can have a copy of your mobile screen on your computer
Recommended to read: 5 Best Smartphone's under 10000 INR or $200
Downloads 
Download and install Cloud Connect Android application on your Device
Download and install Bluestacks software on your windows operating system
Bluestacks is a third party software which works on Windows XP/7 and vista. It has some inbuilt applications. You can use those applications without connecting your device. If you want to use applications which were already installed on your mobile on computer screen, you have to connect the mobile. Bluestacks is capable to sync all your mobile data via cloud. For this you have internet or Wi-Fi connection.

Recommended to read: 10 ways to save battery and RAM life on Android devices
 How To Play Android games on PC using Bluestacks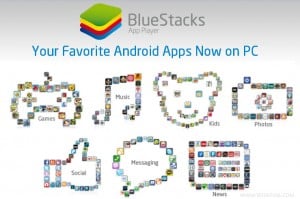 All you have to do first is installing Cloud Connect application on your mobile
Now, double click the Bluestacks software and follow on screen instructions
After installing Bluestacks Software on your system open it and note down the Channel PIN

Now move on to your mobile and open Cloud Connect app and enter the Channel PIN and click login
Now see the magic, you can control your mobile from monitor and even play games too.
By using this application and software you can even text from your system and sync all your data too.