Samsung Galaxy On5, released on 2015 November built with a 5-inch display, 8 MP primary camera and 1.5 gigs of RAM and priced at Rs. 7500 on Flipkart. Galaxy On5 is a mid-range mobile with considerable features which also supports external SD. Devices running on Android Marshmallow has an inbuilt feature to move apps to SD card to save a lot of internal space. Since Samsung Galaxy On5 is running on Android 6.0, you can easily move *few* apps to SD card on Galaxy On5.
Move Installed Apps to SD card in Galaxy On5 Running on Android 6.0
Here is how you can move apps to microSD card on Samsung Galaxy On5 easily:
Click Apps icon and go to Settings.
Navigate to Applications and then open Application manager.
Select the app you need to move to microSD card
Tap on Storage and click Change.
Select SD Card from available options
Click Move to continue.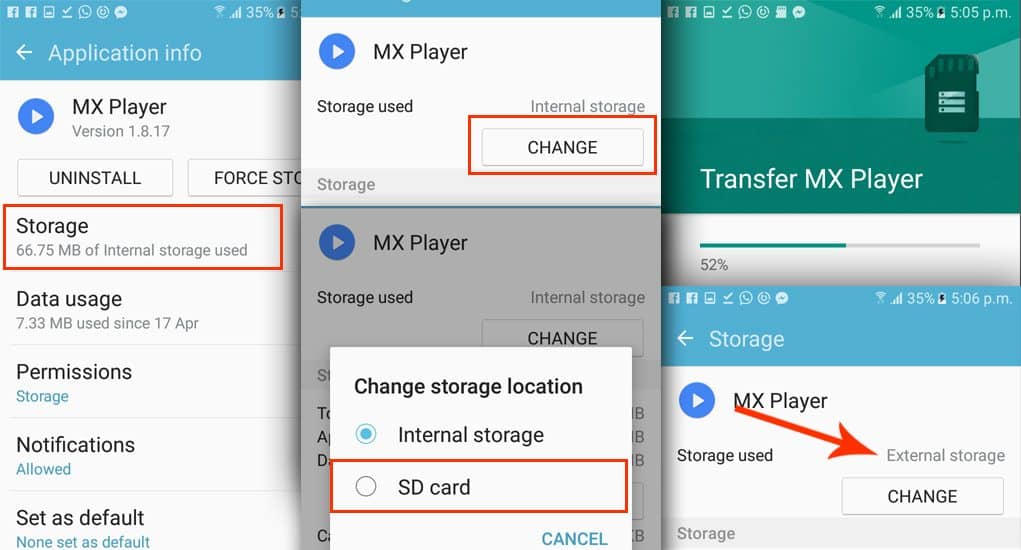 Moving your apps to microSD card will take some time depending on the size of your application. You should not remove your SD card during this process and also your apps will not be functional if you remove or format the SD card in near future.
Can not find "Change" Button?
One of the common problems you face while moving apps to microSD card on Samsung Galaxy On5 is, there will be no Change button under Storage.
Did you face the same issue? Here is the explanation for the problem
According to this discussion on Stack Exchange, Samsung made changes to their internal code and prevented users from moving all apps to SD card. You can not move every app to SD card as Samsung closed doors for it. God should know why they do this. So, if you can not see the Change button under storage options, you cannot move that app to SD card.
All preinstalled apps and popular apps like WhatsApp, Facebook, Spotify are blocked from moving to SD card and you have no other option left, you should install and keep them on internal storage.
I succeeded in moving apps like Messenger, MX Player to SD card without any issues. It is very clear, you can not move all apps to microSD card. Only a few particular apps can be moved. If your device is running low on internal space, consider clearing cache and data of large apps which may temporarily solve the problem. Also consider moving WhatsApp images, videos, voice notes, documents to SD card frequently. This will give you a lot of free space on your mobile.
Are apps moving back to internal storage?
Another quite normal issue users are facing is, apps which are moved to SD cards are moving back to internal storage after few days. Here is why it happens and what can be done for it.
This issue happens while updating your apps. As per the discussion at Reddit, Any app will temporarily need double the space of its actual required space while updating. When an app resides on external storage and updating the app, Android eco-system will move that app to internal partition by creating a new space for it (at this point in time, your mobile will have two copies of same app data, the newly copied data is on device partition and the old data is on microSD card). After updating the application, Android will copy the old date from microSD card to newly created copy in device partition. After ensuring the data integrity, the old data which is on SD card is removed and marked as available space.
During this process, unknowingly your app is moved back to internal storage and you need to move it back to SD card manually. This issue will not occur if you format your SD card as internal storage. Unfortunately, this option is also restricted on Samsung Galaxy On5 and we have nothing to do with it.
Conclusion
The conclusion is, only a few particular apps can be moved to microSD card on Samsung Galaxy On5. Even rooting the mobile will not solve this issue. If you find any turn around to move apps to microSD card on Samsung Galaxy On5, please let us know in the comments section and we'll include in this article.