On 29th July 2015, Microsoft officially started rolling Windows 10 Update for few people in the first phase. They claimed, not everyone will get the update immediately. If you are the one who didn't received the update yet, don't worry, we can manually update our PC or laptop to Windows 10. We are just doing a small trick that will start downloading the Windows 10 update immediately. You must have already reserved your copy of Windows 10 earlier to make this trick work on your machine.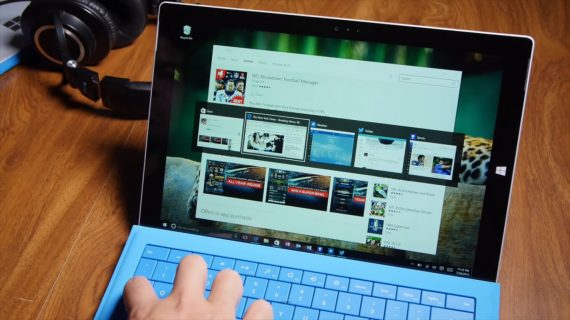 How Windows 10 Update actually works in background?
Before applying this trick, you must know the real fact behind Windows 10 Update and what happens after updating to Windows 10.
On July 21, Everyone who reserved for Windows 10 update received a mail from Microsoft saying that they are rolling the update in an organized way to meet the high demand. Once your device get's the update, all files are downloaded automatically in the background and you'll get a notification to install the update after downloading.
This mail clearly says, we need to wait till we get our chance. Why don't we manually trigger a command which starts downloading the update even before our turn. Yes, it's possible! This is completely safe and no need to worry about anything.
It usually takes about 30-60 minutes to install the update depending on your system configuration. Latest devices may install it in less than 20 minutes. So, keep your patience.
For more FAQ's, go here.
Method 1:
Here to make the people even more luckier, we are proving two methods to force start the Windows 10 update manually without waiting.
Manually start downloading Windows 10 Update
This trick only works if your device satisfies the following conditions:
Windows 10 update is reserved already
Automatic Updates must be turned on. (Click Here to know how)
It don't work, if you are using Windows 8. (upgrade to Windows 8.1 first)
Install all pending updates in Windows updates (Recommended)
Turn On Automatic Updates. (Very Important)
So, how to do the trick? Here is a simple step by step tutorial to manually download and install Windows 10 update.
Also Read: Cortana for Android Released [Download Now]
Step 1 – Deleting files
Go to My Computer -> C: drive -> Windows -> SoftwareDistribution -> Download or type C:WindowsSoftwareDistributionDownload in RUN.
Now delete all the files and folders if there is any. You can ignore this step, if you installed all available updates.
Step 2 – Command Promt
Opem Command Promt as administrator. If you don't know how, check here.
Just type the following line wuauclt.exe /updatenow (don't hit Enter now). Minimize the CMD window.
Step 3 – Windows update
Open Windows Update either from control panel or by using search box and click "Check for Updates". It will now start checking for the available updates.
Step 4 – Actual Trick
As soon as you hit check for updates, open the previously minimized cmd windows and hit Enter.
Now, your Windows 10 update will start downloading in the background and you will receive a notification to install the update very soon.
Video Tutorial
Method 2
This is a alternative for first method, this trick is completely automatic and does the almost same what we explained in above method.
Double click the downloaded .exe file, Click Next and follow the on-screen instructions.
This is a 3 GB update, so it takes time depending on your internet connection speed. Let us know if you found any difficulties while updating to Windows 10 manually. If you are using pirated version of windows, you can activate it using these product keys for windows 10.