Here is an complete tutorial which describes How to install windows 7 using flash drive. I think you have tried compact disk for installing Windows 7 operating system. Have you tried USB Flash drive for same thing? If not this guide is for you. Almost 95% of geeks install new operating system using CD's. Well we can convert our pen drives in to Bootable disks. In this tutorial our aim is to  install windows 7 using flash drive. In order to do this we have to make our pen drive as a bootable drive and also we need to copy setup files in to pen drive. This is not a difficult task.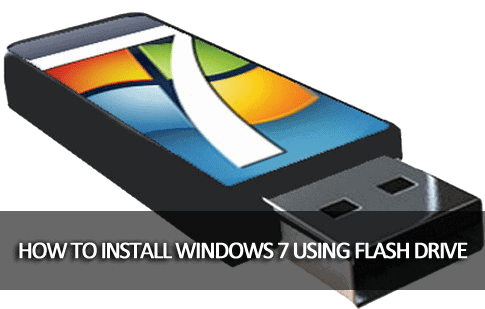 So are you ready to convert your Pen drive as bootable drive and to install windows 7 using flash drive? If yes, follow these simple drives and enjoy Windows OS in your Flash drive
Step by Step Guide to Install Windows 7 using Flash drive
What do you need ?
To install windows 7 using flash drive you need
ISO Image of Windows 7
Pen drive (minimum 4GB)
You must download and install all above three mentioned files to install Windows 7 using Flash Drive
How to copy setup files and make a bootable Flash drive
You should have Windows XP SP2 or higher versions to do these steps. If you are Windows XP operating system you should install .Net Framework 2.0+ to complete this task.
Formatting Pen drive
I recommended you to format the flash drive before copying setup file in to the drive. Formatting the pen drive may helps us to remove any error while installing new operating system
Copying Files
In step 2, Select USB device. This will copy files in to Pen drive. This same software is also used to burn data in to DVD
In step 3, Select your drive and hit Begin Copy 
In step 4, The drive is formatted again and all setup files are copied in to pen drive. Wait until all files are copied as it takes some time depending on your computer speed and RAM
That's it your Pen drive works similar to Windows OS CD/DVD. Now you can use your Flash drive as a Bootable drive
How to make your system to boot from USB 
Till now you worked on Flash drive and you made it completely perfect to install Windows 7 and now you have to change boot setting in your computer to USB drive.
By default Boot order in your system starts from CD/DVD. It means your PC always try hard to boot from CD or DVD and it won't check for USB and remaining drives. So we have to change the boot order and we should place USB on top
To do this, restart your PC and click F2continuously until you get different color screen. (In general Blue or Green)

Using arrow keys on your keyboard set USB as first boot device and exit the setup after saving all settings
That's it you have done everything now. You can now install windows 7 using flash drive
Comment below for any query and BE SOCIAL DUDE