This guide will show you how to get Facebook Chat heads in Google Chrome. Before you start to use chat heads on Google Chrome, lets see what is Facebook Chat heads and what we can do with it. Chat heads is an interesting feature introduced by Facebook on its official Facebook Messenger for Android and IOS operating systems. Facebook Messenger let you chat via text messages and even we can make voice call to the Facebook Friends. Facebook messenger is one of the top application in the world of mobile applications. Chat heads act like a key to shortcut to revert messages without leaving your actual screen. It simply popup on current screen, no matter you're playing games or using other applications. These chat heads helps the user to reply to their messages with ease and comfort.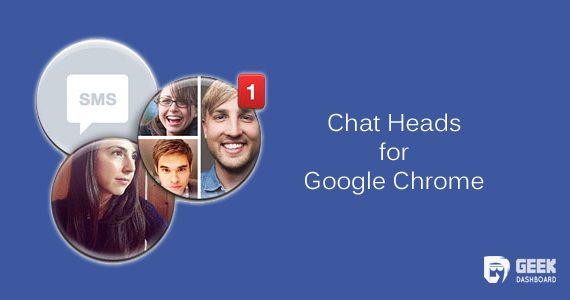 Now these chat heads can also be used over the PC's but this is possible only with the Google Chrome browser. We know Google Chrome had a built in support to add third part extensions to add some very useful features. So, by following below steps you can use Facebook Chat heads in Google Chrome. It is very simple process to add this exciting features to your Google Chrome desktop.
Steps to get Facebook Chat heads in Google Chrome
Before getting started, login to your Facebook account from the Google Chrome browser. Once you are logged in, move forward to further steps to get Facebook Chat heads in Google chrome.
Also Read: How to make Google Chrome Faster
Installing Faces.im Extension
After logging into your Facebook account, Click here to reach faces.im extension page and once page loaded completely, click +Free to add it to your browser.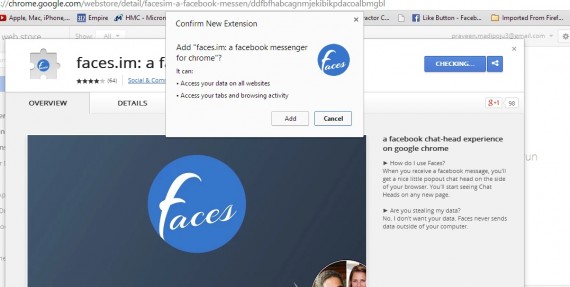 Then a conformation box appears over the screen, confirming to add the extension to your browser. Just click Add to start download. Once download completes; extension will get added to the browser automatically and you can see F symbol appearing over the right top corner indication you that Faces.im extension has been successfully added.
Also Read: 10 Best Google Chrome Themes
How Chat Heads in Google Chrome Works?
Once you started to see new Faces.im extension on top right corner, you are everything set to done. From that moment of time, you'll start getting chat heads as shown in below image while you're away from Facebook accessing other tabs. You can click on those bubble icons to reply them from your current tab without navigating back to Facebook again.

This is all about how to get Facebook Chat heads in Google Chrome. Currently this extension is available only for Chrome and we'll let you know if Faces.im gets released to other best web browsers. Hope you enjoy this article and feel free to ask us, if you have any queries regarding the above steps to get Chat heads in Google chrome. These chat heads will really make you work easier by enabling you to do the work and reply to Facebook messages simultaneously.