Sometimes knock offs are a great bargain; who doesn't love getting a flashy Rolex look-alike for $20? But when it comes to technology, especially the mobile phones people rely on for work and family functions, a knock off is no bargain, and only the real thing will do. Plus, reliable carriers like T-Mobile offer great deals on top-of-the-line smartphones, so you never have to settle for a knock off.
Counterfeit products are a huge business, generating almost $700 billion in sales a year world wide. Besides being unreliable compared to their authentic counterparts, counterfeits can also be dangerous. Two people in China were actually electrocuted by the counterfeit charger that came with their clone phone. Recently got a deal on a new smartphone? Here's how to know if you've purchased a fake. 
Start with the Screen
The latest, high-end Samsung mobile phones or iPhone have a high-quality, scratch-resistant glass screen that feels substantial when you touch it. The glass screen runs nearly to the vertical edges of the device. Many fake smartphones have several millimeters of border between the edge of the screen and the side of the device. This is a huge red flag that your phone may be a fake. 
With authentic mobile devices, the touch screen is quite sensitive and responsive; it's easy to launch apps and make calls. Clone phones are slow and inconsistent, and some areas of the touch screen may not respond to taps at all. If troubleshooting your touch screen doesn't fix the problem, you make have a fake. 
Check Button Placement and Spacing
Another way to spot a fake is by checking the placement of the home button, volume buttons, and the on-off switch. Clone phones often put the home button closer to the bottom of the device than authentic ones do, and the volume buttons are either spaced too closely or too far apart compared to the original models. 
Compare Icon Design and Location
Current generation authentic iPhones and Samsung phones arrange their screen icons in neat horizontal rows, and the edges of the icon designs are crisp and clean. Check the background color and default design on the home screen when you turn on the phone, and compare it with the manufacturer's specs. 
Take Some Pictures and Video
Today's current generation smartphones can take photo bursts, pictures within video, and multiple shots in quick succession. If your phone doesn't take pictures rapidly, responds slowly to the photo button, or isn't able to take pictures within video, chances are good you've got a fake. 
Verify the Serial Number with the Manufacturer
A common tactic among counterfeiters is to reuse legitimate serial numbers on their fake products. All legitimate smartphones have a unique serial number and International Mobile Equipment Identity (IMEI) number. With Apple products, you can find this information on the original packaging, on the device itself, and in iTunes. With Samsung mobile phones, the information can be found by removing the back cover and battery and looking for the product sticker. Visit the manufacturer's website and check your serial number for possible duplication. Samsung also makes a Kies app device owners can use to verify serial numbers.
Bonus: How to Find Lost Phone using IMEI Number
Check the Packaging and Accessories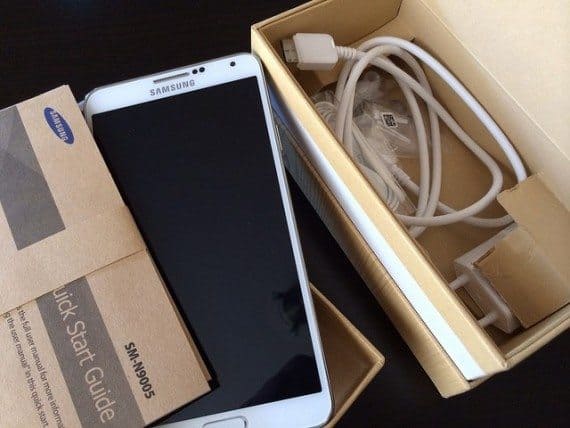 Image via Flickr by JohnKarak
Before you buy a phone from a third-party vendor, go to the phone manufacturer's website and pay close attention to the packaging and included accessories. Compare the packaging carefully, paying special attention to sticker location, cut-outs in the packaging, and included accessories. Often, counterfeits will have visible variations from authentic packaging.
Pay special attention to the charger, as this is an element counterfeiters frequently get wrong. Fake chargers weigh about half as much as original ones and have about half the circuitry inside. In addition, the safety marks and UL numbers are also placed differently than on the originals. Finally, the metal pins that plug into the wall have a matte finish while most counterfeit models are shiny and bright.
One Last Thing
Authentic phones are never available for purchase prior to the announced release date and never at a bargain price. This should be obvious, but many eager new tech adopters unwittingly get fooled into buying fakes in their zeal to have the next new thing. If your new phone is available prior to release or costs less than the list price, you can be pretty sure it's counterfeit.