With the millions of users online on the web today, there is always something new that every one of us wanted to try for at least once. Apart from trying something new, who wouldn't want some privacy online? Do you know, that every one of us, every bit of data we transfer/share online, every image, every email and every message is spyed? Can't we have our privacy? For this, the answer is partial Yes and partially No. Many search answer for the question, "How to change IP Address?" for this very particular reason for being spied constantly on the Web. Here in this article will give you the possible ways to hide/change the IP address so that you can have some privacy online. But before it, here's a brief on IP address and also MAC Address.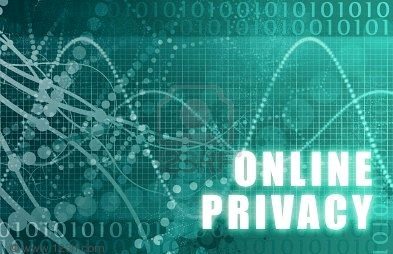 What Is An IP Address?
An IP address is an Internet Protocol. Every device has its IP address depending on the network it uses. IP addresses are mostly static(variable) addresses. They vary according to the network they use. So, whenever you connect to a new network, you get a new IP address. But the routers are given with fixed IP's (Dynamic IP) and so when you connect to them, you attain their IP addresses. IP(Internet Protocol) is a part of the TCP/IP layer. If you are aware of Computer Networking, you can have an idea on the layers of the Internet where TCP/IP is one among the layers.
What Is MAC Address?
Unlike the IP address, the MAC address is dynamic(fixed). MAC address is assigned to the LAN card of your device. Each LAN(Ethernet) card has one unique MAC address and you cannot change it. If it is for the PC, you can replace the LAN card easily. But, if it is for a Laptop, that is slightly a difficult task.
IP and MAC addresses enable identification of your system and location in case of emergency. These two are the sources from where the investigations would start in case of a CyberCrime.
So, now moving on to answer for the question, "How to change the IP address?"
HOW TO CHANGE IP ADDRESS?
As I have already mentioned that IP address is a static address, it isn't very difficult to change it. You can easily change it using a VPN. VPN stands for Virtual Private Network and it creates a Virtual IP for your device to hide its IP. What can you use it for? Suppose you have an iPhone or any Apple product manufactured and designed for the US, you cannot use it here in India. Even if you unlock the piece, you still cannot access the iStore in India. In this situation, you can use a VPN to access the store. If someone of your family resides in the US, ask them to add a VPN to their home network. Get the login details and access it through your phone. Once you are successfully logged in, you can access the store. What does that happen here? VPN simply manipulates the IP, so your phone now is virtually in US. Using VPN may come handy also when you try to access a website that is banned in your country.
Other Ways To Change IP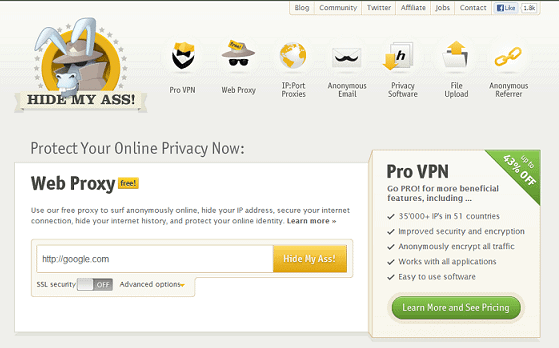 What if you do not have someone abroad? Can't you access websites banned in your country then? There still are many ways for this. You just have to find a website that hides your IP. The best site is HIDEMYASS, where it makes anonymous browsing easier. It changes your IP location to some random country and allows you to access all Websites available on the WEB. In fact, it is an IP changer. But, do not commit any Cyber Crimes using this. You can still be caught tracing your MAC address. Using these proxies and VPN, you can access blocked websites in your offices and colleges.
How To Get Your IP Address
There are lots of people who always wanted to know their IP address. And it is so simple to find your own IP address. If you have an Internet connection enabled, go to Google and search for "My IP Address" and you can get your public IP address. If you do not have an internet connection, you can get your private IP address using Command Prompt. Just type "ipconfig" in the console and iPv4 address is your private IP address. Below are the images attached for reference.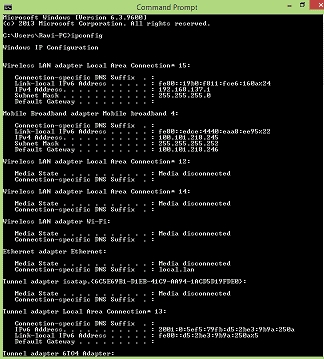 Proxy
Ah, Proxy is another irritating thing if it is in your college. Generally, they set up a proxy, so that no student can ever be able to access any websites other than the one's allowed by them. But you could still access all the websites by using WEB4PROXY. It can also hide your IP, helps you for anonymous browsing. If you are unable to open it directly due to the same Proxy issues, search it in Google and then click on the website link. There is a maximum probability for it to load since the proxies are set to allow any results that appear in Google.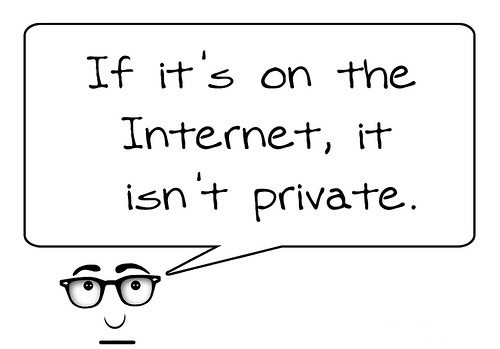 HOW CAN YOU HAVE PRIVACY?
Now that you have enough idea on IP address, MAC address, and Proxy, its time you know the ways to have some privacy on the WEB. The first thing you could do is to hide your IP as mentioned above. But, the below mentioned are some ways to have some privacy on the WEB.
Try using sites with "HTTPS" protocol instead of "HTTP". "HTTPS" stands for Hypertext transfer protocol secure. The sites with "HTTPS" protocol enabled are safe to use.
Never give your card details or bank details or any other personal information on sites which do not have "https" protocol.

Try not using sites that you do not trust. Some sites can inject malware once you just open them.
Do not use softwares which you doubt. Malicious softwares on your system can reduce your privacy on the web.
Try avoiding sites that allow multiple popups while browsing. There is a maximum risk to your system while browsing such sites.
Install Internet Security on your system for better and secure browsing.
These are the possible ways to hide or change your IP addresses and also to get some privacy online. Hope you found your answer to the most frequently asked question "How to change the IP address."