Love using Instagram? If yes, losing your Instagram might turn out to be a nightmare for you. You might feel disconnected from the world as you realize your Instagram account was disabled. Don't worry; calm down for a moment and accept that your Instagram account is no longer accessible and you can submit an appeal form to reactivate the disabled Instagram account.
At this moment, you are looking for ways to enable the disabled Instagram account. There might be several reasons for Instagram to disable your account. The reasons could be the effect of violating their terms of use or a technical/human error at Instagram's end.
Don't stress yourself; we at GeekDashboard will show you how to reactivate a disabled Instagram account. This guide will show you how to appeal to Instagram to reactivate your Instagram account.
Why Instagram Disabled Your Account? – Identify the Problem
There could be various reasons for Instagram to disable your account. In addition to that, Instagram would log you out of your account without any notice (except through an email). When you log in again, it'll show you a pop-up stating "Error: Your account has been disabled for violating our teams. Learn how you may be able to restore your account". The pop-up sometimes may also mention the reason why Instagram disabled your account.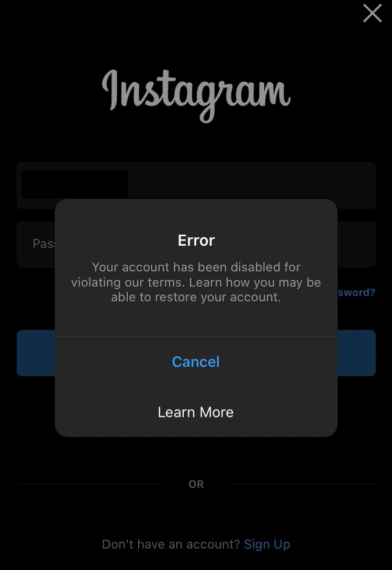 Instagram disables the accounts that usually don't follow their Community Guidelines or Terms of Use. Here are a few of the common reasons that may lead to disabling your Instagram account.
Posting illegal, inappropriate, NSFW, or copyrighted content.
Direct Messaging, Following, or Unfollowing accounts aggressively.
Misrepresenting someone else.
Multiple reports of spam on your posts.
Using foul language in comments or direct messages.
You may have disabled your account unknowingly.
Using tools or paying others to increase the likes/followers count.
For installing mobile apps like Story Savers, Bulk Follow/unfollow, etc.
For using fake names, and alias while creating the account.
Faking your real age during signup. You must be at least 13 years old to create and use an Instagram account.

Due to a technical/human error.
Might be due to Third-party code bug.
If your Facebook account is disabled recently for any violation, it may also lead to the ban of your Instagram account.
Instagram is becoming strict with its guidelines over time, especially after Facebook's acquisition. To avoid losing your account in the future, make sure to go through Instagram's Community Guidelines. However, your Instagram account can recover if you haven't violated the Community Guidelines numerous times.
Update (October 31, 2022): Due to an outage, a large number of users are unable to access their Instagram accounts. A lot of user accounts have been suspended wrongly and many users lost their recent followers. Instagram has already acknowledged and fixed the issue.
If your account has been suspended during this period, don't worry; you will get access to your account very soon once the issue is resolved.
Types of Disabled Instagram Accounts (Bans)
Whatever led Instagram to disable your account, you need to know that there are two kinds of disablements. And the process of appealing or reactivation depends primarily on the type of ban Instagram placed on your account.
Temporarily Disabled Instagram Accounts
If Instagram mentions that your "account is disabled," then your account is safe. It means Instagram disabled your account temporarily, and you can recover it back. So if it shows that message, you're in luck and can get your account back.
Permanently Disabled Instagram Accounts
As long as your account is permanently disabled, your chances of getting it back are less to none. In addition to that, your followers will no longer see your account and the posts. If you get an error message saying your Instagram account is disabled permanently, it is highly impossible to get it back.
How to Bring Back Disabled Instagram Account with Mobile App
Given that your account is temporarily disabled, you can rest assured that you can get it back. The "Disabled Account" pop-up on a smartphone would give you the Learn More option when you log in to Instagram. If that's the case with you, then go through the following steps.
Open the Instagram app on your smartphone.
Log in to your by entering your username and password.
A prompt should pop-up stating that your account is disabled.
Click on the Learn More option from the prompt.

Go through the on-screen instructions, and you'll get to the Appeal page.
Once you submit the request, you need to wait for a few days to get a response.
Be patient. Sending multiple requests won't speed up the process. Also, be polite while requesting the reactivation of your account. Don't show your frustration over there; it might just delay the process further.
If you feel you have violated Instagram policies unknowingly, explain them in the appeal form and assure them they won't be repeated again.
If the "Learn More" button didn't appear on your Instagram app, don't worry, you can still submit an appeal form requesting the Instagram team to manually review your account.
Requesting to Reactivate Instagram Account with Appeal Form
If you strongly believe your Instagram account is deactivated by mistake, you can submit a form to contact the Instagram team. Once you submit the form with detailed information, someone from the Instagram team reviews your appeal and manually checks your Instagram activity.
If they find your account is deactivated by mistake, you will receive an email communication and the account will be reactivated immediately.
You can also use the above contact page to appeal. The appeal form will ask you for your Full name, email address, Instagram username, mobile number.
Finally, write a detailed explanation to let Instagram know why your account shouldn't be disabled.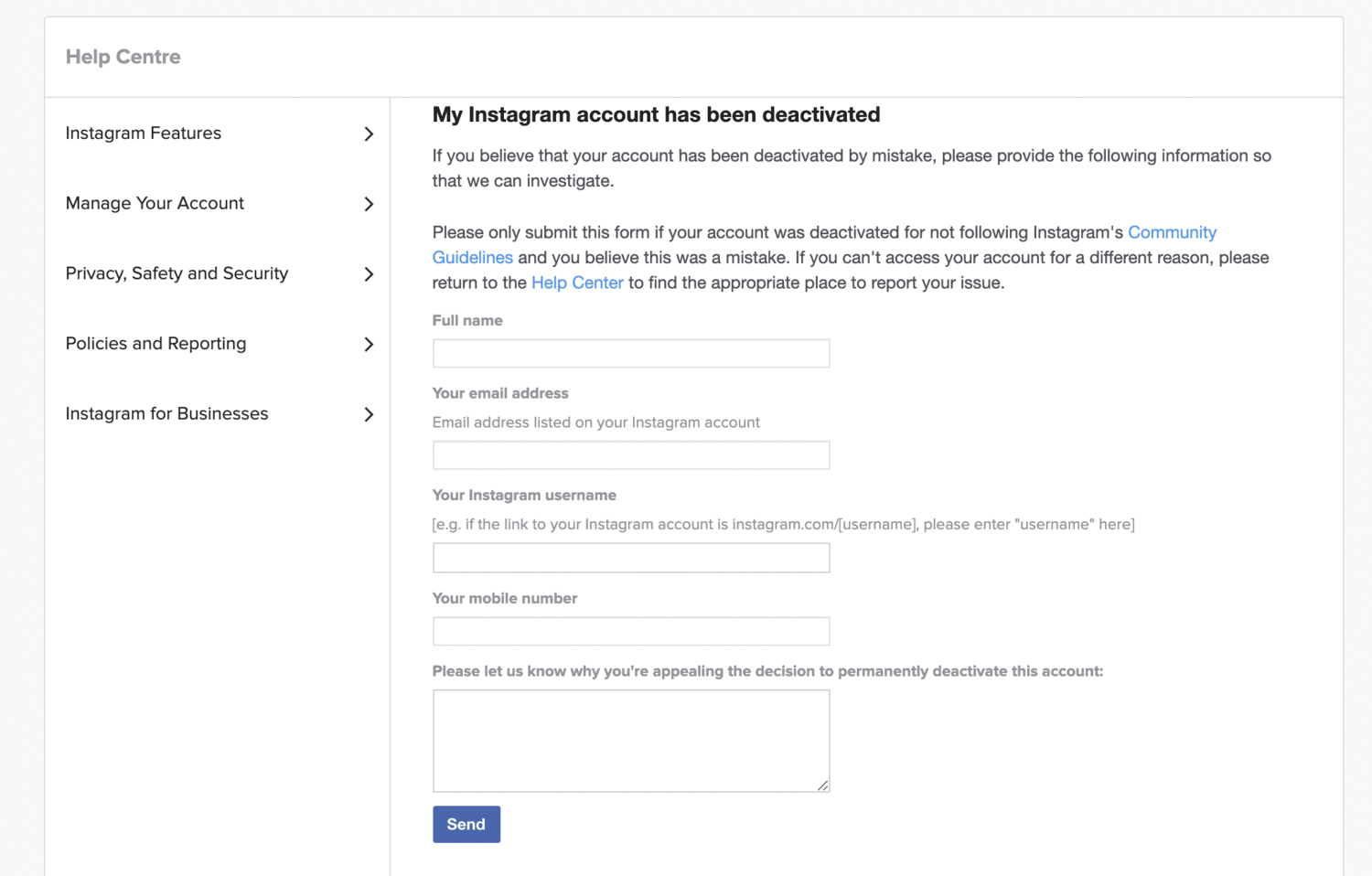 Fill in the details and click the Send option for Instagram to review your case. It might take around 5 to 20 days for Instagram to review your case and take action on it.
Be persistent and wait for Instagram to answer your case officially. However, if you can't wait and want to get back to Instagram as soon as possible, then you'll be better off creating a completely new Instagram account.
How to Recover Hacked Instagram Account?
Hackers usually go for Instagram accounts to sell your usernames or anything personal. If you think your Instagram account was compromised, it's best to report it to Instagram as early as possible. To know if you're account was hacked, check your mail for an email stating, "your account information has been changed."
If you don't see an email, open Instagram mobile app and tap on Forgot Password (iOS) or Get help signing in (Android).
Instagram will ask you for your phone number. Provide it, and you'll receive a code. Enter the code, and you'll be redirected to the password reset process. Reset the password, and you can log in again.
If you fail to recover your password, the best way is to report the case to Instagram. Instagram will investigate this issue and try to regain access to your account. To report a hacked Instagram account, follow these steps.
On Instagram's login screen, tap on Get help signing in (Android) or Forgot Password (iOS).

If prompted, enter your username, email address, or your phone number, and hit Next.
Then, tap the Need more help option and follow the on-screen instructions.
Wait for few hours/days until you receive an email from Instagram with 5 digits verification code.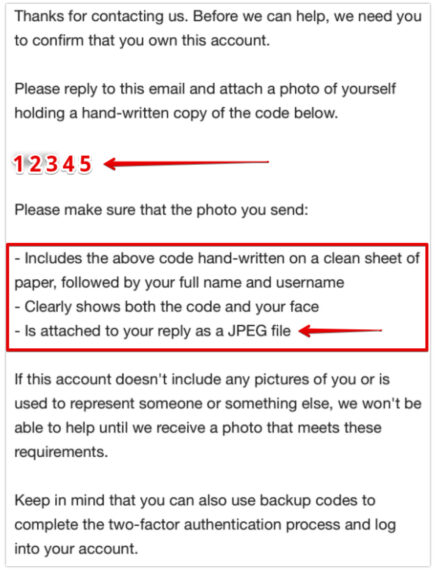 You might have to write the verification code, your name, and your Instagram username on a white paper and upload a photo of you holding it. Make sure you write the text with your own handwriting using a marker and your face & both hands must be clearly visible in the photo.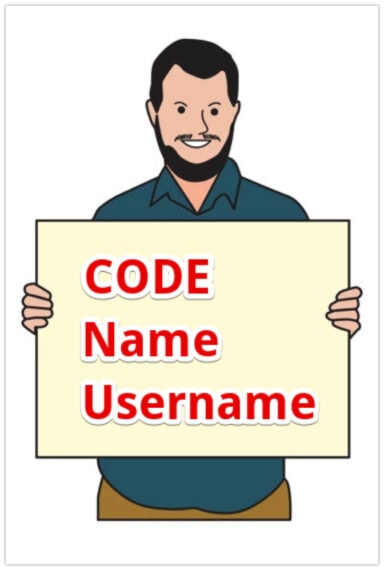 Once verified, you'll receive an email with the password reset link, and you can regain access to your account.
However, remember that if hackers deleted your Instagram account, you can't get it back again. Albeit, you can create a new account with the same email and phone number.
As you can see from the above steps, reactivating or appealing a disabled Instagram account is fairly easy than you would expect. If you've followed the tutorial, you might get your account back in under 5 days. Sometimes, it may take longer, up to 20 days. So don't worry, and be patient.
If nothing looks working for us, it is best to take the help of community. If your Instagram account is big and has a good active user following, make use of other social media platforms like Twitter and Reddit to create hype. Request your audience to tag Instagram's official handles to let them know about the issue.
Frequently Asked Questions