If you come around Task Manager any time on your Windows, then you might have probably taken a glance at the "Host Process for Windows Tasks." You might see multiple instances of the same.
That said, you might wonder what exactly are "Host Process" and "Windows Tasks." There are also times when they take up a lot of resources; it makes you think about whether it's a virus.
If you've wondered the same, we'll explain the Host Process for Windows Tasks is and why it is essential for your Windows PC. We'll try to keep everything in simple terms to understand it easily.
What is Host Process for Windows Tasks?
Host Process for Windows Tasks is a core process of the Windows operating system. Windows uses many executable processes like these for the proper functioning of the operating system and the installed apps/programs. Host Process is one of those tasks responsible for the appropriate function of Windows.
There are generally two program types running on Windows — EXE (Executable files) and DLL (Dynamic Link Libraries).
When you open a program, you'll see its executable file in the Task Manager as "programname.exe." These executable files can work on their own. They wouldn't need any assistance to host them.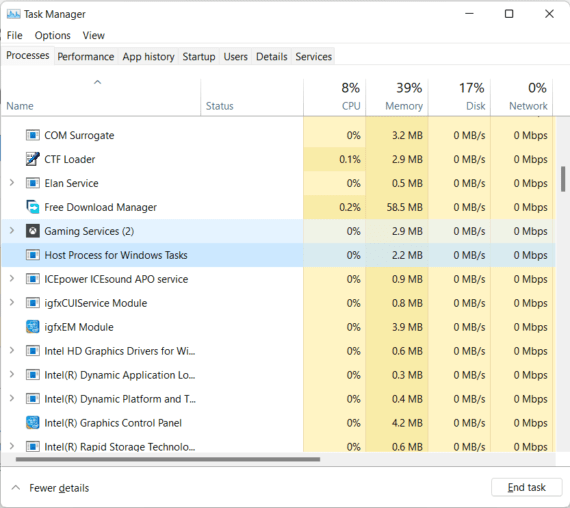 When it comes to DLL files, they can't run independently. That said, to exist in the Task Manager, they'd need assistance. It is where the Host Process comes into play.
The Host Process serves as a host to these DLL files. Also, multiple DLL services can attach to a single Host Process. However, there is a limit on how many processes can attach to a single entry.
To put everything in simple terms, the Host Process for Windows Task isn't a task of its own. Instead, it is more of a label to other DLL-based programs on your Windows PC.

If you see many of these processes running simultaneously, it means several DLL-based programs are using the host service.
Why Are There So Many Host Processes in Task Manager?
Depending on the number of programs and their type, there could be multiple instances of Host Processes running on your PC.
One Host Process for Windows Tasks gets assigned to one DLL-based service, while some DLL-based tasks use the same Host Process in some cases. As a result, a Host Process can group multiple DLL services into one task.
Alas, Task Manager doesn't provide you with the names of the DLL services (or the group of services) running in an instance.
Nevertheless, if you're interested in knowing which processes are using the Host Processes, you can download Process Explorer from Microsoft. In the Process Explorer app, all you need to do is head over to View > Lower Pane to see which exact processes are using the Host Process.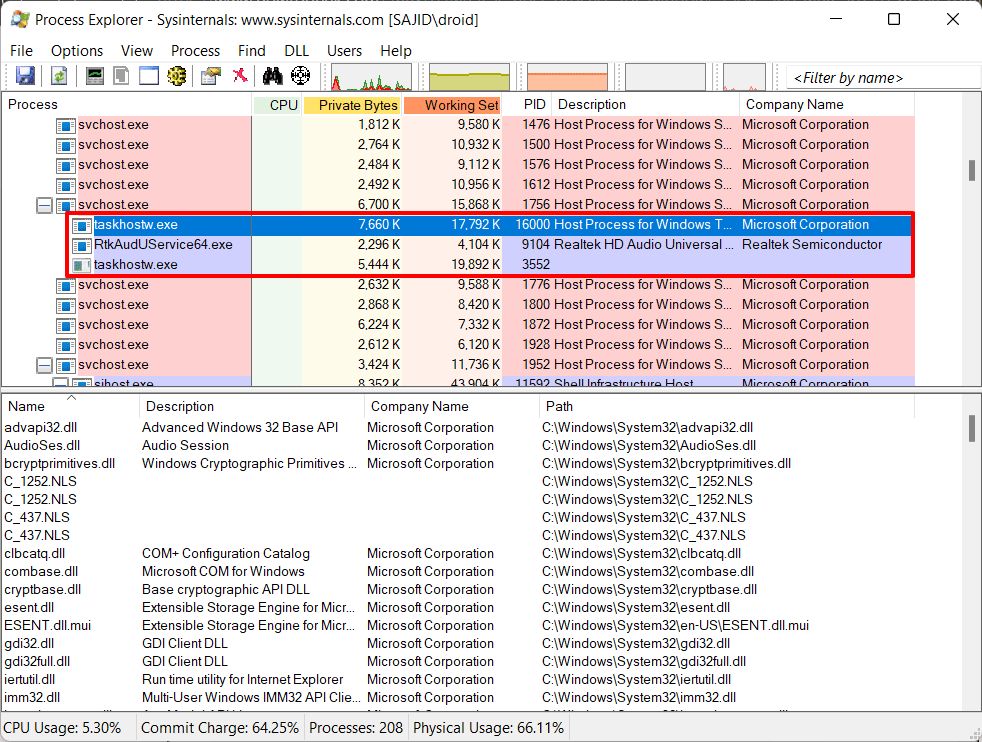 Why Does It Use So Many Resources at Startup?
These Host Processes on your Task Manager won't consume many resources on your computer. It is usually the service entry that is attached to the process.
Although you might have seen an incredible amount of resource consumption in the Task Manager, the answer is quite simple — the more the services use Host Process, the more resource consumption you will see.

Be that as it may, you may see many instances of Host Process for Windows Tasks running simultaneously. This behavior is entirely normal, and the resource consumption should settle down in some time.
Host Process scans your PC for service entries in Registry and DLL-based services that it should load. Afterward, it loads all those essential services, which might consume a good amount of resources.
Should You Disable It?
No, you can't disable Host Process for Windows Tasks, nor should you remove it or stop it. It plays an essential role in loading DLL-based services on your Windows computer, and stopping it would only lead to a system crash. On top of that, Windows wouldn't let you eliminate the process as well.
Also Read: Mouse Cursor Moving on its Own? 13 Easy Solutions to Fix it on Windows
Is Host Process for Windows Tasks a Virus?
The Host Process for Windows Tasks isn't a virus in most cases. It is a Windows component, so it can probably not be a virus. So far, there are no reports of viruses hijacking this process.
You can ensure its legitimacy by right-clicking on the Process in Task Manager and choosing the "Open File Location" option.
If you see the file stored in Windows' System32 folder, it's not a virus. Again, don't disable, delete, or stop this process thinking it is a virus.
If the process redirects you to any folder other than System32, you're dealing with a virus. In this case, you can delete the file without hesitation.
Conclusion
Host Process for Windows Tasks isn't a knotty process that lies in your Task Manager. We hope this article provided you with sufficient knowledge to deal with it. If you have a little patience and use tools like Process Explorer, you won't find it tricky to deal with it. You should take help from Process Explorer to better understand what processes are using up your resources.
At moments, you may even find spyware lurking under a Host Process. So it's best to double-check and verify if it's a virus or not. If you have any questions or suggestions regarding the Host Process for Windows Tasks, you can leave them in the comments below.