Consumption of video content has increased massively, and creators look for different options on the internet to enhance their content. Out of all the possibilities, HitPaw Video Converter is one of the most reliable software for downloading and converting videos.
The web world has expanded drastically, with content uploaded daily on various social media and streaming platforms. Mainly, video content has increased majorly due to the increase in usage of the internet all around the world. The increased media consumption made many users rely on software tools. These tools help them download, convert, and edit their videos quickly.
The video converter tool from HitPaw shines as one of the best ways to download your preferred video from any platform. The software combines as a downloader, converter, and mini-editor with multiple options for instantly making your videos crisp.
The video converter and downloader from the company claim its conversion speeds are 90x times faster than other vicinities out there. HitPaw Video Converter supports more than 500 video formats and more than 300 audio formats.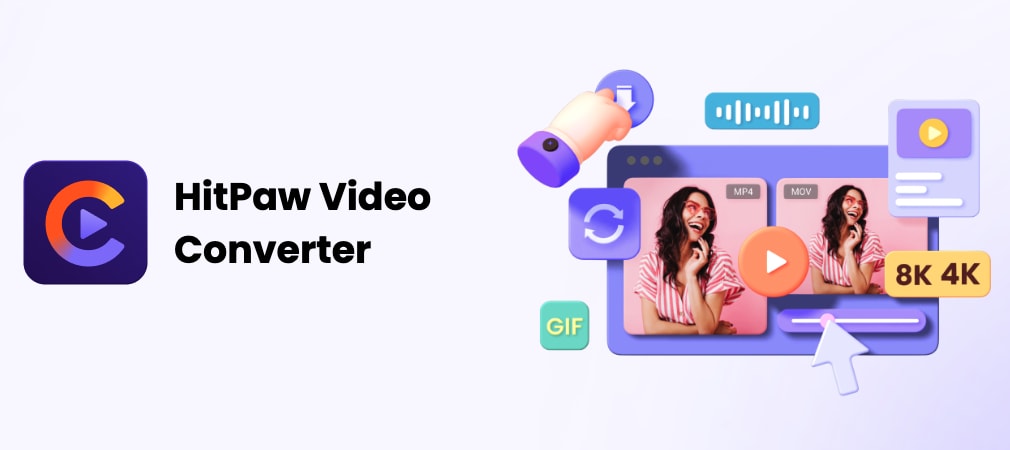 Let's immediately jump to the critical feature list, review, and tutorial of the HitPaw Video Converter.
HitPaw Video Converter Key Features and Supported Platforms
The HitPaw Video Converter can convert a wide range of audio and video files in a jiff without hiccups. The software interface comes with a user-friendly menu with four options. This software can convert up to 1000+ formats of audio and video files.
In the list of supported conversions, the software can even convert Apple Music, iTunes M4P music, and audible books on the Windows version. The HitPaw converter even has the ability to convert images in batches and can create GIFs from videos.
The tool uses its intelligent conversion process for the video and audio files on different mainstream devices, players, social platforms, TVs, iOS, Android, etc. HitPaw Video Converter also supports various devices and brands like GoPro, DJI, iPhone, DSLR, camcorders, etc.
Albeit, the video converter combines as a downloader where you can easily download videos and thumbnails from 1000+ websites, including YouTube, Facebook, and Vimeo. On the other hand, the software features powerful acceleration options with the assistance of NVIDIA CUDA, AMD, Intel Core, and M1 acceleration technology. HitPaw Video Converter can decode and encode videos without compromising the quality.
Key Features of the HitPaw Video Converter
Support PC Platforms: Windows and macOS
Extensive Support: Supports devices and platforms like TVs, iOS, Android, GoPro, DJI, iPhone, DSLR, camcorders, etc.
Batch Processing: Can process up to 5000 files simultaneously with GPU accelerated.
Playlist and Channel Downloading: Support downloading all videos on YouTube playlists or channels
Video Acceleration: Up to 90X real-time faster video/audio processing equipped with NVIDIA CUDA, AMD, Intel Core, and M1 acceleration technology.
Supported Video Resolutions and Formats for Conversion and Downloading
Video Resolutions: 8K, 4K, HEVC, MOV, MP4, MKV, AVI, M2TS, Apple ProRes, etc.

Audio Resolutions: MP1, MP2, MP3WAV, WMAA52, AAC, AC3, DTS, FLAC etc.
Supported Encoders and Video Formats: H265(HEVC), VP9, and other h-
HitPaw Video Converter Review and Tutorial
The installation process of the HitPaw Video Converter doesn't take up much of your precious time. Initially, any software installation package file shouldn't end up taking up your space, and HitPaw took care of this situation. The package file downloaded from the official website comes in less than 200MB.
Apart from video conversion, the inclusion of a video downloader and editor comes as a bonus, along with a GIF maker, Image converter, and Instagram downloader. Besides, the Patented Technology to Convert Apple Music and Audible Books comes pre-loaded with the tool.
The additional tools like an editor and image converter will help the creator in doing quick work without any interruptions or jumping to other platforms. The tool helps you merge, cut, crop & rotate, add any filters & effects, change speed, and add watermarks to your videos.
The HitPaw Video Converter is a feature-packed software that can even help you make GIFs instantly from your downloaded or converted videos. There's also an Instagram downloader on the tool that lets you download Profile pictures, photos, videos, stories, and reels with just a username.
Try HitPaw Video Converter for Free
Let's check out the process of downloading, editing, and converting videos using the HitPaw Video Converter tool.
How to Download Videos with HitPaw Video Converter
You can easily download videos from up to a thousand websites with the URL of the source file. The HitPaw Video Converter can cleverly bring the file right onto your system at decent download speeds.
Open HitPaw Video Converter.
Click on the Download tab.
Copy the video URL you need to download and paste it into the URL field.

Now, select the format and quality that you want to download.

Lastly, click on the Download button, and the video will start downloading to your computer.

You can check all your previously downloaded videos in the Downloaded tab
How to Edit Videos using HitPaw Video Converter
As you have downloaded the video, you can now directly edit the video right on the application. HitPaw Video Converter has an inbuilt editor that includes an array of options.
Open HitPaw Video Converter on your computer.
Directly head to the Edit tab to start editing your video.

Now, add or drag any of the videos or your downloaded video to start the editing process.

After editing, you can choose the output format and export it by clicking the Export All button.

You can check all your previously edited videos in the Edited tab
How to Convert Videos using HitPaw Video Converter 
Now that you have downloaded and edited the video as per your needs. You may have encountered errors while playing videos on TVs that don't support these formats. In those cases, you can pull the tape, bring it to HitPaw Video Converter and convert it to your desired format.
In the HitPaw Video Converter tool, directly head to the Convert tab available on the main menu.
Open the video file that you need to convert or drag the file and keep it inside the tool.

You can even select a single file to convert or bring multiple files in bulk to convert them simultaneously.

Select an output format or profile you need, and choose the output destination folder for easy access.

Click the Convert All button, and the conversion process will begin immediately.
Wait for the process to complete, and you can finally see the converted video.
The Tool Every Content Creators Need for Quick Tasks
The HitPaw Video Converter, with its wide range of features and options on its sleeve, works as a charm for budding creators. The ease of downloading, editing, and converting videos all in one place makes it one of the most powerful tools for enhancing your preciously captured moments. The GIF maker for videos and Instagram downloader become hassle-free work for you as you can download and create these things in one place.
If you are looking for an all-rounder tool that not only performs one operation but helps you go the extra mile with additional tools. Then, you can definitely try out the Video Converter tool from HitPaw which even comes with a premium version that let you enjoy many features right on your desk.
These plans for the premium version start at $39.95 for 1 year, $19.95 for 1 month, or opt for the $79.95 option for a lifetime license. Besides, the company is even running a 30% OFF sale with the coupon code EDM-30OFF for a limited period of time.