What we think about
HiPDF
HiPDF is an online tool for your PDF needs. You can edit, convert, compress, merge, split PDF, and many other things right in your web browser. HiPDF works instantly on Windows, Mac, Linux, iOS, and Android. No additional downloads and installation are required.
When you are working between documents such as Word, Excel, and PowerPoint files all day long and converting them to PDFs and then back again, you need an excellent PDF tool. A tool that can perform various functions with ease and precision.
And for that, there are many paid and unpaid tools out there in the global market. Some of them operate online, while some work offline, and some are a mixture of both online and offline.
These tools help simplify the tedious process of editing, converting, compressing, merging, and other tasks that take too much effort and time.
One of these PDF tools is Wondershare HiPDF.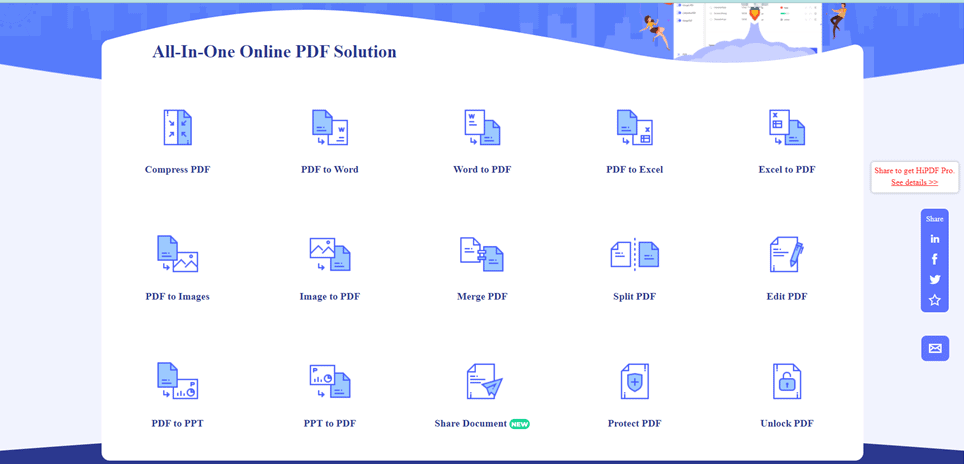 HiPDF Features
Let's have a deeper look at what Wondershare HiPDF has to offer us:
1. PDF Converter
An essential task of any PDF managing or editing tool would be converting PDFs to other formats. Converting PDFs to Word, Excel, or PowerPoint is the basic conversion most tools offer.
HiPDF has tools to convert PDFs to Word, Excel, PPT, JPG, PNG, GIF, TIFF, BMP, Text, EPUB, HTML, RTF, PAGES, DXF. And it also has tools to convert these formats into PDFs except DXF and PAGES, which have been recently added.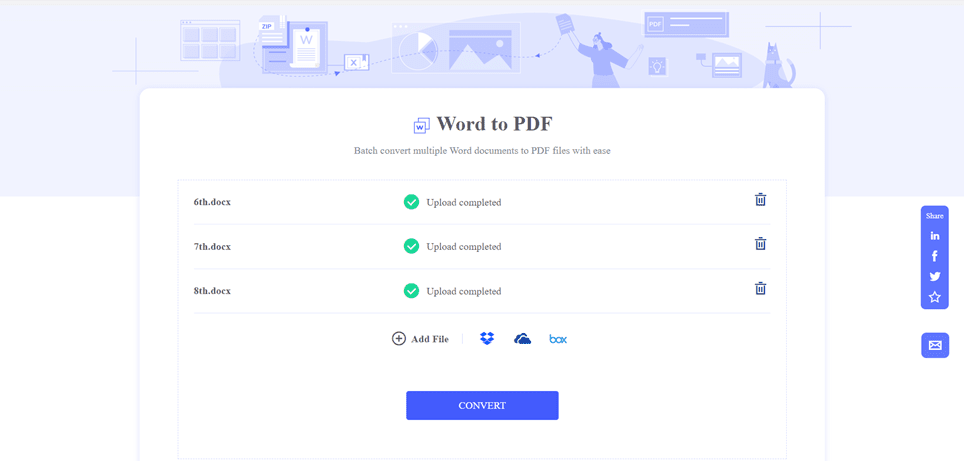 After the conversion, the tool maintains text, images, graphs, fonts, and embedded elements from the original document.
Its drag and drop UI makes it stress-free to convert documents in bulk or single.
2. PDF Editor
The PDF Editor tool lets you add text that you might have missed writing the first time. That way, you don't have to convert the document to Word, make the changes, then convert it back to PDF.
Not only text, but the tool also lets you insert three shapes: circle, line, and square. You can also insert images from your media.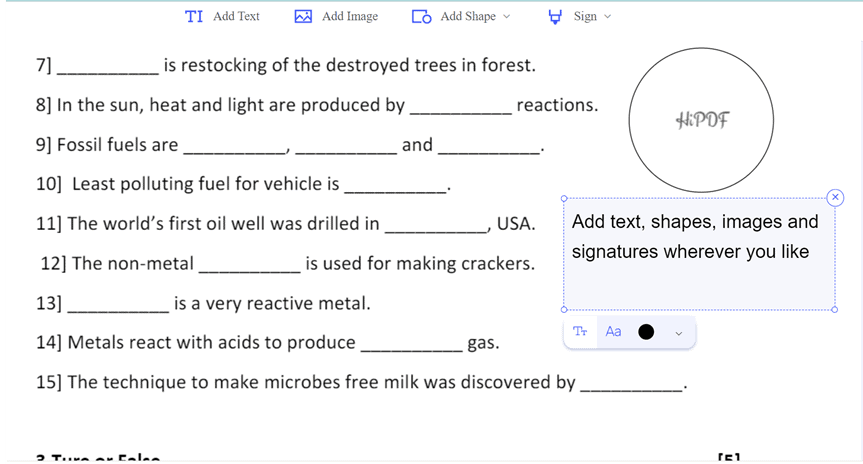 And the cool part is that you can add a signature to your PDF. You can import the signature from your media, draw one yourself or type your name and choose from options of calligraphy fonts.
One thing missing is that you cannot edit the original text in the document.
3. Merge PDF
Whether you have various documents for different parts of a book or other pages of the same presentation, merging them together is an important task.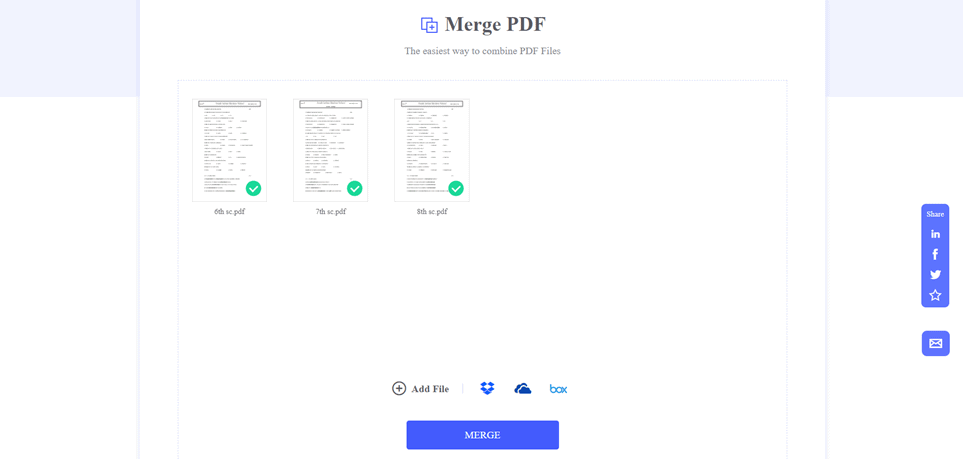 The PDF Merge tool allows you to merge two or more PDFs into one. The tool is straightforward and works smoothly. Again, the drag and drop feature in HiPDF's tools is one big step ahead of its competitors.
4. Compress PDF
We all hate forms where you have to insert documents only to see a "less than 100KB" below the plus sign. It's frustrating to have to work extra to get the size of the PDF down.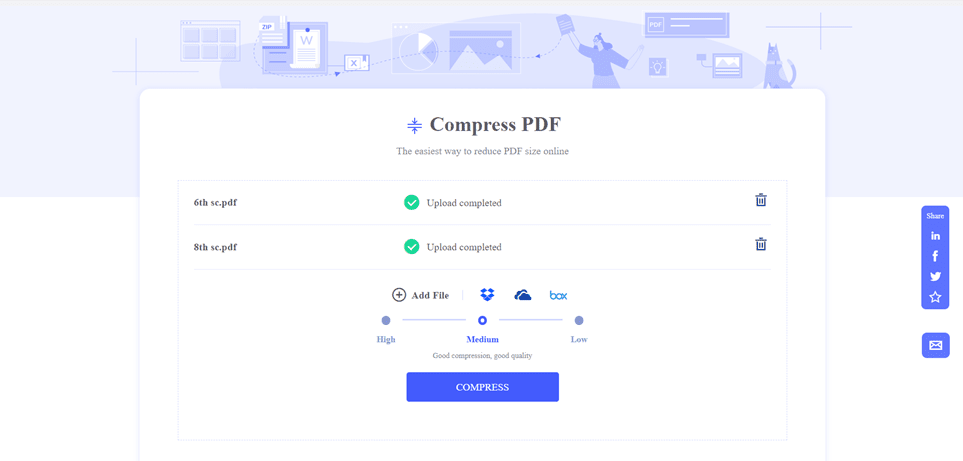 The Compress PDF tool makes it easy for you to reduce the size of the PDF in just a few clicks. You only need to choose between three filters: High, Medium, and Low.
5. Password Protect PDF
Nobody wants unauthorized users snooping around our documents. The Password Protect PDF tool allows you to encrypt your PDF by putting passwords on them. You can choose whatever password you like. No numbers, symbols, or capital letters are needed.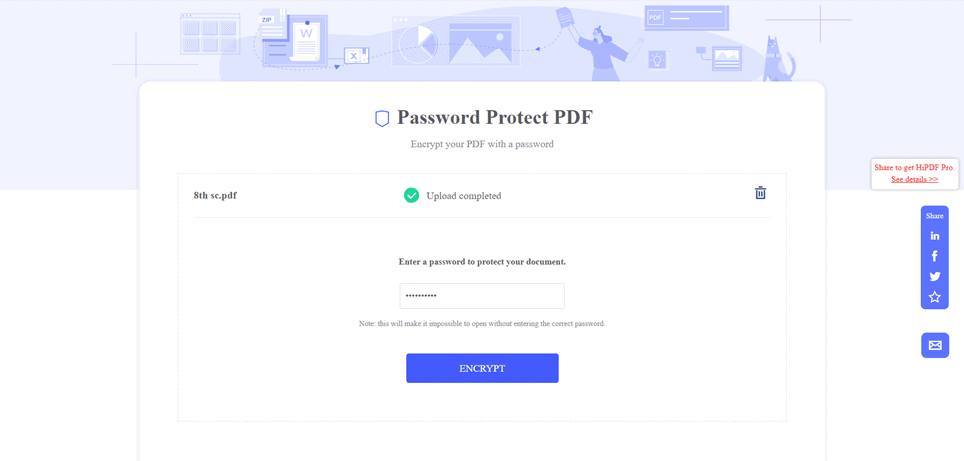 Once you have put the password, click on encrypt and download the encrypted file.
6. Unlock PDF
Another cool feature of HiPDF is that while it can set passwords on your documents, it can also remove them with ease if you are tired of typing in the password every time you open the document.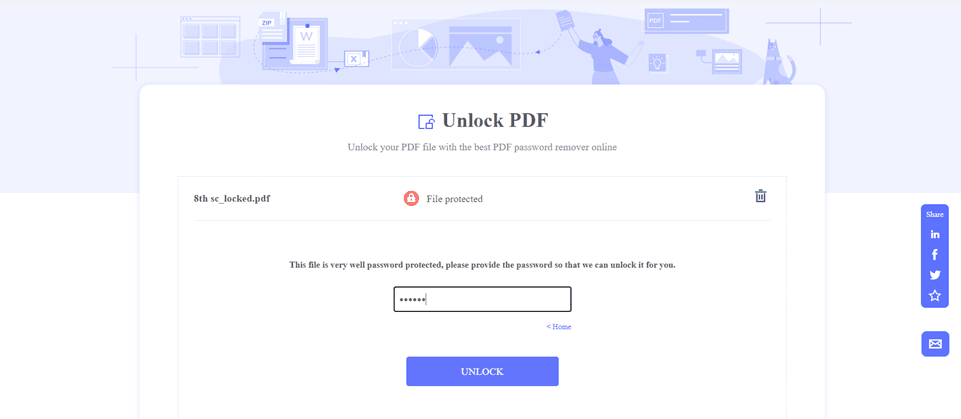 Drag and drop or select the document, type in the password, click on unlock and download the unlocked version of the document.
One thing we absolutely loved in this tool is its Share Document feature. No need to open Email or any other mailing app. You can easily share your edited or unedited documents via this tool.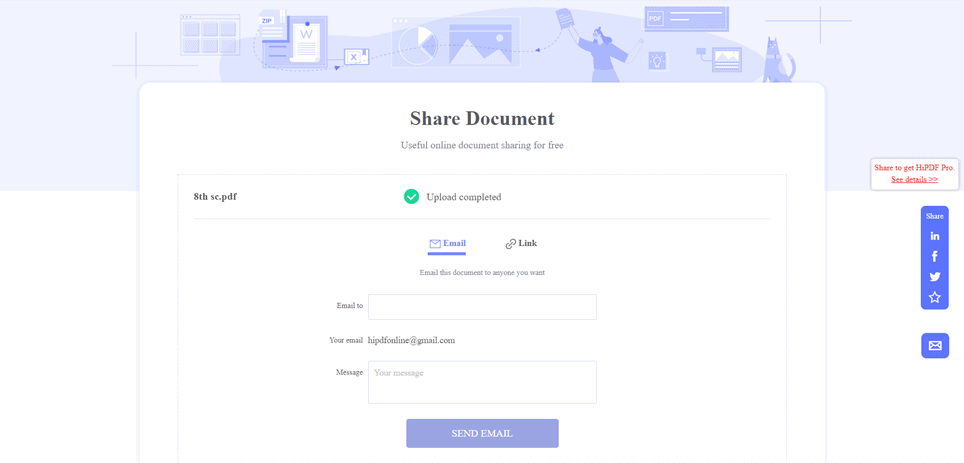 You have to select the document, type in a mail address and a message, and press Send Email. Alternatively, you can also share a link provided by HiPDF that will expire in seven days.
8. Split PDF
Another one of HiPDF's features is the Split PDF tool. This tool allows you to divide the pages into your PDF and download the divided version.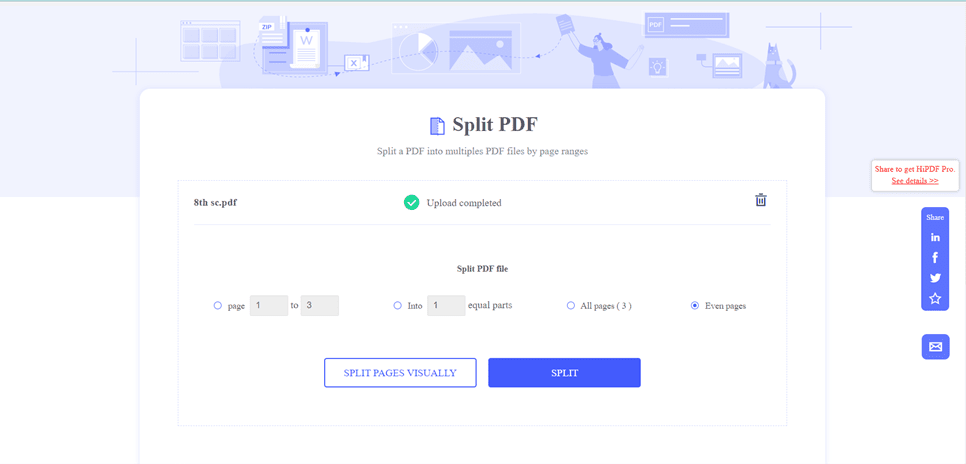 The tool lets you split PDF into equal parts, all pages, even pages, and manually enter page numbers. You can also divide the pages by clicking on Split Pages Visually.
9. Other Tools

Here are some other tools that HiPDF offers:
Crop PDF: The tool allows you to crop the pages of your PDFs.
Rearrange PDF: This tool is wholly dedicated to rearranging the pages of your PDFs in the right order.
Extract Images from PDF: With this tool, you can extract and download the images used in the PDFs.
Rotate PDF: As the name suggests, this tool lets you rotate the pages of your PDFs.

Delete Pages: This tool allows you to delete unnecessary or duplicate pages from your PDFs.
Redact PDF: With this tool, you can permanently remove sensitive content from your PDFs.
Replace Text in PDF: The tool allows you to find and replace text in your PDFs.
Pros of HiPDF
HiPDF has a highly beneficial drag and drops interface.
You can edit multiple PDFs at a time.
The UI is navigable, so beginners would not have a hard time getting the hang of the tools.

It has all the tools you will need in one place, so you don't have to pay for a lot of software.
You can also download the desktop version and use the tool offline.
The desktop version of HiPDF is available on many platforms, including Windows, Mac, IOS, Android, and Linux.
The price is affordable, and you can cancel any time in the first 30 days.

Besides all these PDF tools, HiPDF also offers many tools for image editing, like conversion, rotation, crop, etc.
Cons of HiPDF
The free version of HiPDF has minimal features and tools.
The free version also has too many ads.
The tool takes a few seconds before uploading the file that you have chosen.
The PDF Editor tool is quite limited.
Pricing
Now that we have discussed the pros and the cons let's talk about the pricing. HiPDF offers a free version with a limited number of tools and features. There are two paid versions: HiPDF Pro at $6 per month and HiPDF Pro Plus at $8 per month.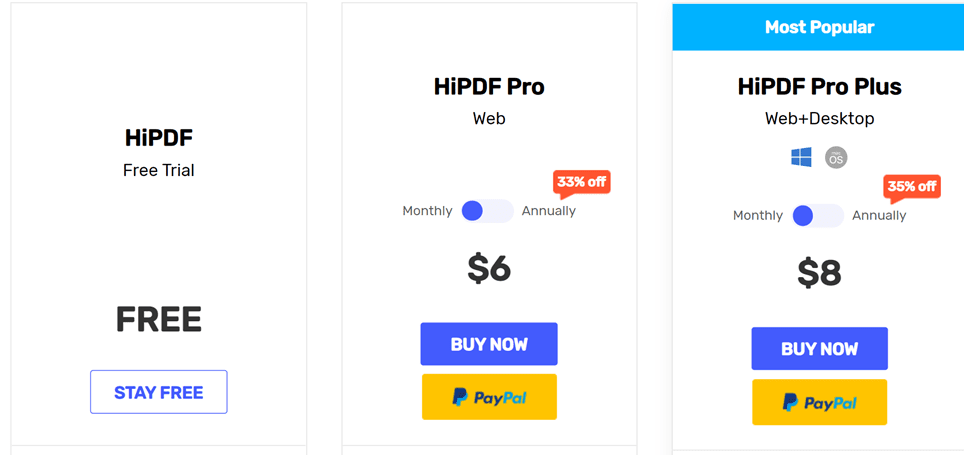 There are no free trials for the paid versions.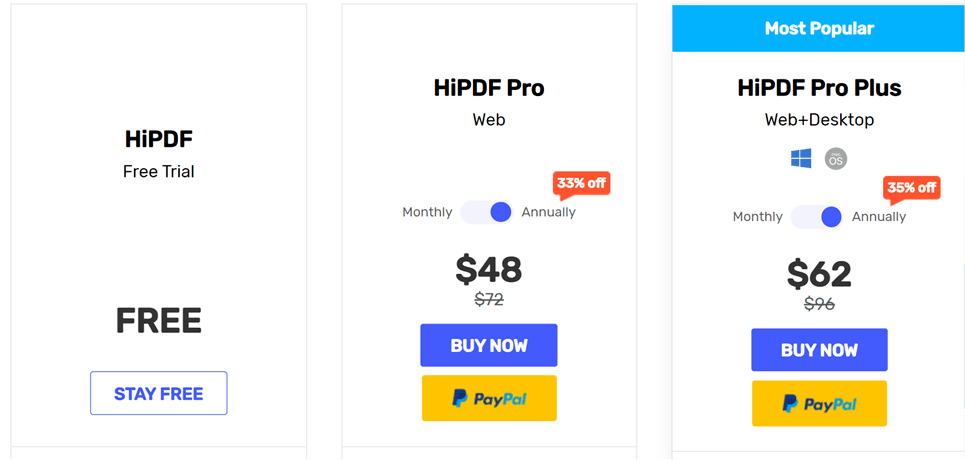 You can also pay annually and save money. You get HiPDF Pro at $48 per year and HiPDF Pro Plus at $62 per year.
Final Verdict
We discussed Wondershare HiPDF, its features and tools, pros and cons, and its pricing. With all that in mind, it is clear that HiPDF is a great tool that you can use in both your work and personal life.
It offers a load of tools at a reasonable price compared to its high-priced competitors. HiPDF is designed neatly, so you will not have a tough time finding the tools you need.
The only problems are that the free version is limited and filled with ads and that it takes a few seconds to start the processing of a document. If you are using one of the paid plans, you won't have much problem.
All in all, it's a great suite of tools, and it really speeds up your work.
What we think about
HiPDF